Celebrity Style Beauty Secrets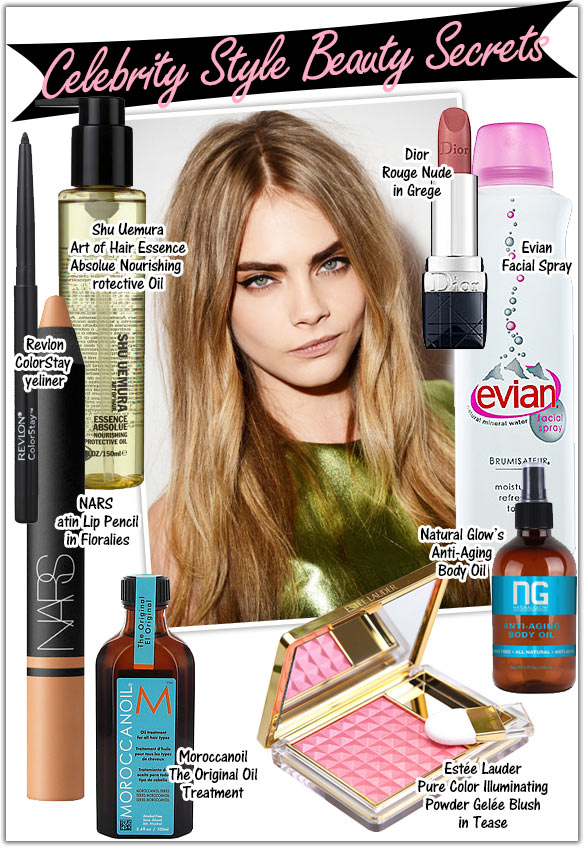 You don't have to look far to find gorgeous celebrity faces, from People magazines Most Beautiful Woman Gwyneth Paltrow to the fresh face of Burberry, Cara Delevingne. Beauty at every age is defined by glowing skin, a rosy pink cheek, a smoldering eye, and a glossy mane. Add these beauty essentials to Spring 2013's nude lip, and you've got the celebrity face everyone's after. Here are a few of my beauty secrets, celebrity and fashionista approved, to revamp your beauty routine and attain that enviable celebrity glow.
NUDE LIPS: Nude lips are having a moment right now. Keep the look pretty—not pasty!—by choosing a warm peachy shade that has a shiny finish to help liven up your skintone.
1. NARS Satin Lip Pencil in Floralies: There's something so sexy about a nude lip, and perhaps it's because it's just that: naked. Grab a lip pencil with a warm hue like this one, because we're not going for white, we're going for nude.
2. Dior Rouge Nude in Grege: Cara Delevingne rocked a natural lip in her close up. This warm rosy neutral works as a nude because it's so close to your natural lip color, but gives it a little depth and subtle sheen.
GLOSSY HAIR: Hair looks amazingly glossy when you apply a hair oil. An often overlooked part of a hair regiman, hair oil might be your missing link to shiny, lustrous hair.
3. Moroccanoil The Original Oil Treatment: Apply this hair oil to your damp hair, then style as usual. The product absorbs into your hair, giving it a luscious, luxurious gloss.
4. Shu Uemura Art of Hair Essence Absolue Nourishing Protective Oil: For deeper treatment than just a styling aid, hair oil can be used before you shampoo or even left on overnight for an ultra conditioning treatment. A great way to revive dull winter hair!
METALLIC SMOLDERING EYES: Enough said. Smoulder with a metallic eyeliner, layered over a smoky eye to nab that come hither stare.

5. Revlon ColorStay Eyeliner: When venturing a smoldering eye, choose a liner that will stay put. Revlon's ColorStay liner is one of my favorites, as is any waterproof liner.
ROSY GLOW: Get glowing! Use a rosy pink blush to capture that celebrity glow. I especially love the way Cara Delevingne paired her glowing cheeks with a subtle nude lip.
6. Estée Lauder Pure Color Illuminating Powder Gelée Blush in Tease: Estee Lauder called this vibrant pink "Tease," and I think it's the perfect name. The color it lends will have everyone asking, "Where'd she get her glow?"
HYDRATED SKIN: It's no secret. Celebrities have the best skincare that can be bought, from regular facials to expensive skin treatments. But the key is always hydrated skin, which can be difficult to maintain during the summer months (more beach beauty essentials here).
7. Evian Facial Spray:  Spray this on after applying your makeup. It enables foundation to set in instead of sitting on top of the skin, providing another layer of hydration.
8. Natural Glow's Anti-Aging Body Oil: The fight against the signs of aging also begins with regular hydration. Use a body oil for ultra deep moisture that comes from rich and silky essential oils.
Most Read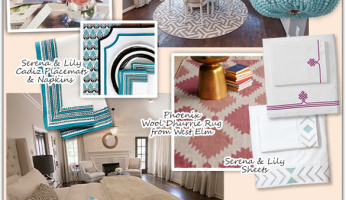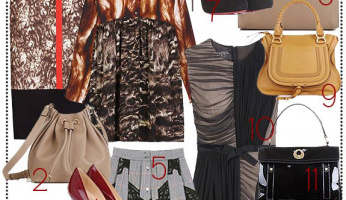 Subscribe to our Newsletter