What She Wears: Kourtney Kardashian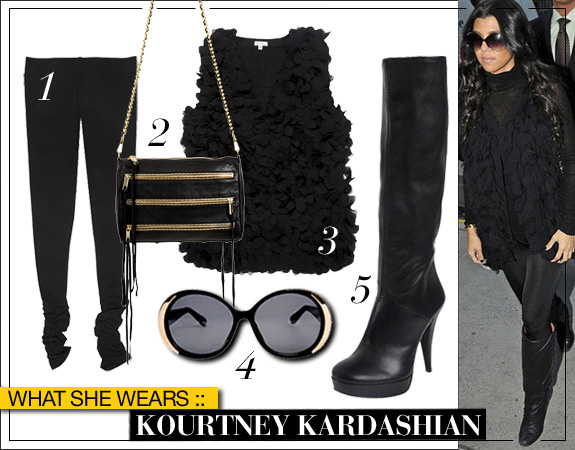 I can't get enough of reality star Kourtney Kardashian and her killer fall frocks.  Keeping up with Kourtney's look might seem hard, but it only takes a few key items to complete a perfect base for your fall wardrobe.
Kourtney Kardashian was spotted in the concrete jungle recently looking very chic and ready to take the holidays by storm. There's nothing she can't do in her all black stylish outfit, and here's how you can get the look:
1.
Vince Ribbed Cord Scrunched Ankle Leggings
($195)
These Vince ribbed corduroy leggings are perfect for the fall and winter. They'll keep you warm but have a stretch so they'll breathe. The scruched ankle detail makes them perfect to wear with booties or you can add knee-length boots like Kourtney.
This 5-Zip Rebecca Minkoff Cluth couldn't be more perfect for the holiday season. Adding a little edge to your outfit with decked out zippers, the clutch can be worn across your body with it's long strap, or clutched underneath your arm with a cocktail dress.
3.
Foley + Corinna Chiffon Petal Vest
($390)
Kourtney wore her Foley + Corinna Vest perfectly by pairing it with all black.  The textured petals give an added oomph to wearing all black.
4.
House of Harlow 1960 Sunglasses
($125)
Anna Wintour called and said she wants her sunglasses back!! Nicole Richie's House of Harlow 1960 shades are made to perfection and are a must have staple for every woman's wardrobe.
Top off this look with a platform boot and you'll be struttin' your stuff like Kourtney in no time.
Most Read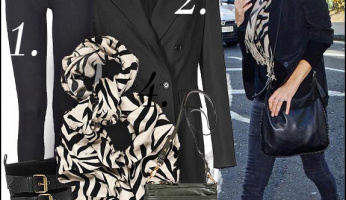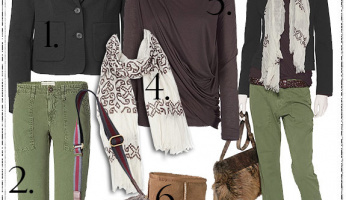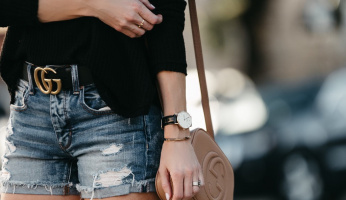 Subscribe to our Newsletter