Celebrity Style: Out & About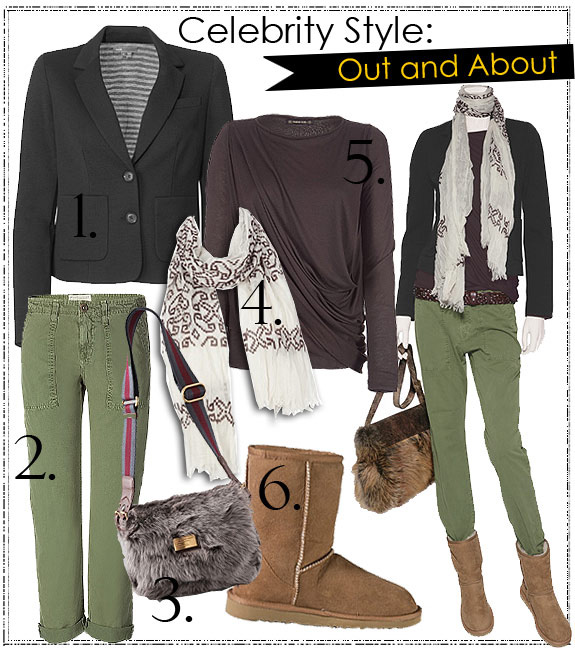 Yes, I enjoy flirting with high heels and evening dresses. But I also love outfits that make sense in everyday life. Like this perfect fall look. The base: brown Ugg boots and casual olive green cargo-style pants. The topping: an elegant blazer and a scarf that sets a cool contrast to the muted colors. Simply great.
1. Vince Black Two-Button Blazer ($625)
Stylish short jacket in black stretch wool. Hip jersey quality, a kind of modern club blazer with collar with slim revers and two buttons, added pockets and long sleeves. New silhouette: short and square, a modern replacement for a classic long blazer. Pair with slim base pieces, i.e. a pencil skirt or skinny jean.
2. Current/Elliott The Army Pants ($188)
Stylish pants in army-green cotton. Chinos are in, in, in!
Large pockets, slim waistband with loops – hot with a designer belt in a slim and straight legs in new ankle-length – with turn-up hems. Easy to match, wear at the office with a white blouse, blazer and pumps – at leisure time with a polo shirt and ballet flats.
3. Marc by Marc Jacobs Cheeky Nico Messenger Bag ($498)
Wildly quirky, this dyed lamb fur design will add an offbeat charm to any ensemble. Perfect for the chilly season, this luxe fur bag with preppy strap the Marc by Marc Jacobs Cheeky Nico Messenger Bag makes a chic addition to your look.
4. Closed Creme/Brown Patterned Scarf ($135)
Stylish scarf in fine wool in new shape: long and slim. Basic color cream with decorative brown print, nice and soft and utmost stylish. A must-have accessory for the upcoming season. You can pair this scarf with everything from a little black dress to a cool biker look.
5. Plein Sud Dark Chocolate Draped Top ($360)
Stylish top in fine rayon and cashmere in elegant dark brown with outstanding pleasant and soft falling material in a slim cut with feminine crew neck. A fashionable asymetrical Toga drape and long slim sleeves. A favorite for chic and casual events. A dream partner for slim base pieces, at the office with a pencil skirt or business pants, in the evening with tube jeans or leather leggings.
6. UGG Australia Classic Short Boot ($140)
Stylish UGG Australia Classic Short Boot in chestnut. Very comfortable, outside suede, inside nice and cozy (in summer cool!) sheep's wool. Cute with flower-dress, sexy with jeans mini.
Most Read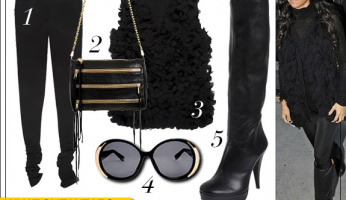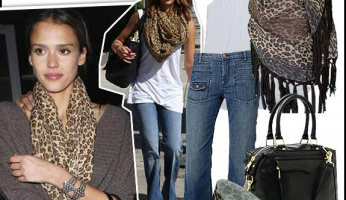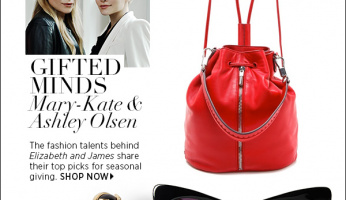 Subscribe to our Newsletter