Trending: Black and White Stripes for Spring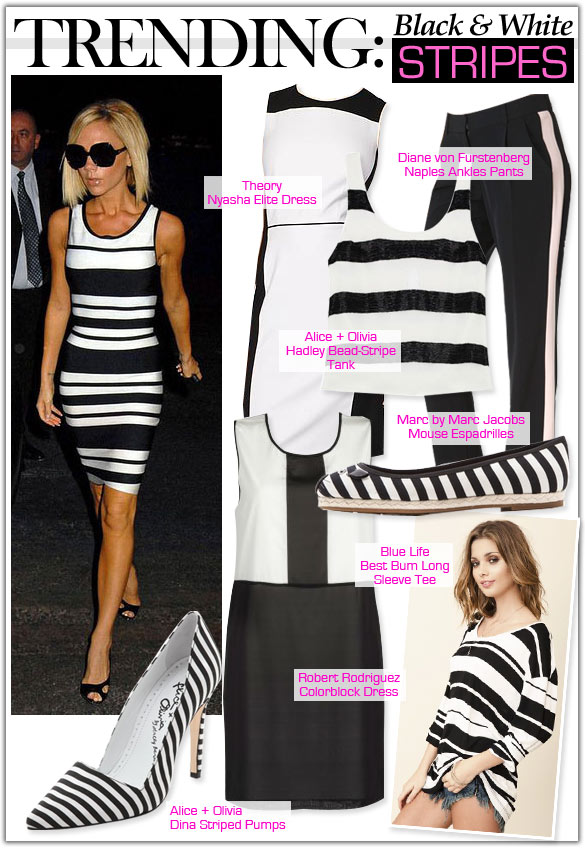 Black is a huge color right now (as evidenced by last night's Golden Globe gowns), and looking ahead to spring, black is sticking around as a trend color…but with the addition of white stripes. This classic combo is memorable when done right, but can induce thoughts of jailbird-wear when done wrong. To avoid looking like a convict, try a black pant with a white tux stripe or a colorblock dress with a large black block down the center and smaller white blocks on the sides. Both of these pieces are instantly slimming. To use stripes to slim, avoid them around your problem areas, go for vertical or skinny stripes, and cinch your whole look with a belt. Stripes on your bust and hips will make these areas look larger, so choose wisely. (If curves are what you need, try a clever striped tee or sweater that enhances your bust line).
Stripes make a statement, but there is such a thing as too much of a good thing. Limit yourself to one striped item per outfit. A striped accessory is a great way to get the look without worrying about making a striped faux pas (especially one makes you look the opposite of slimmer). Wondering what to wear with stripes? A striped dress is a no-brainer, but striped separates look fantastic mixed with a tiny floral or pin-sized polka dots and grounded with solids liked black, khaki, and denim.
Mix these separates into your spring wardrobe to bend it like Victoria Beckham:
1. Diane von Furstenberg Naples Ankles Pants: Highly recommended. DVF does the trend right with this tux pant: versatile black bottoms are made even more slimming with the addition of vertical white tux stripes down the leg. This optical illusion makes your legs go on FOREVER. Pair with your favorite black heels, some girly glitz and a simple top for cocktails.
2. Theory Nyasha Elite Dress: Bold blocks of white and slimming blocks of black join forces for a wow silhouette. This throw-on-and-go dress works for many an occasion: work to play, day to night. Any way you wear it, you've got the black and white trend well in hand.
3. Alice + Olivia Hadley Bead-Stripe Tank: Bang for your bust. Looking for some enhancement? These flirty horizontal stripes will do the trick. A slightly cropped top, black beaded stripes, and fresh white contrasts attract attention in the right places.
4. alice + olivia Dina Striped Pumps: Just a hint of trend. These black and white stripes lend the trend to any look without ever making a striped blunder. Pair with simple boyfriend jeans and a black blazer for a fun weekend look. Or let them revitalize a basic black pencil skirt at work.
5. Marc by Marc Jacobs Mouse Espadrilles: Made for the weekend, made for fun. These adorable espadrilles are summer's answer for flats. The charm comes not only from the flirty stripes, but also from the cute little mouse face on the toe. Pair with crops for walking the boardwalk.
6. Blue Life Best Bum Long Sleeve Tee: Slouchy, sexy and sultry. This tee was meant for bumming around in style. Pair with cutoffs for spring break, skinnies and black pumps for lunch with the girls, and a black mini for date night. Comfort meets style in this Blue Life tee.
7. Robert Rodriguez Colorblock Dress: Color-block your way to cool in this Robert Rodriguez Colorblock Dress. This dress will make a stylish first impression! A color block dress with a central, vertical swath of black in the front flanked by narrower white stripes on either side fools the eye and is extremely flattering.
Most Read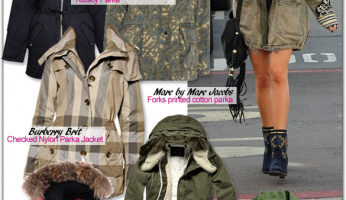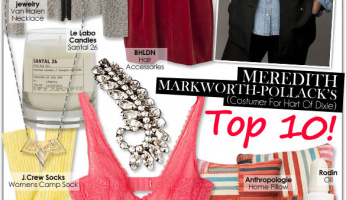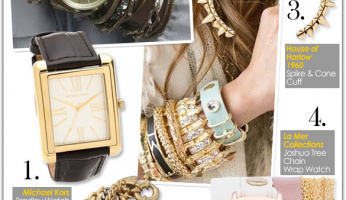 Subscribe to our Newsletter