Top 6 Fall Denim Trends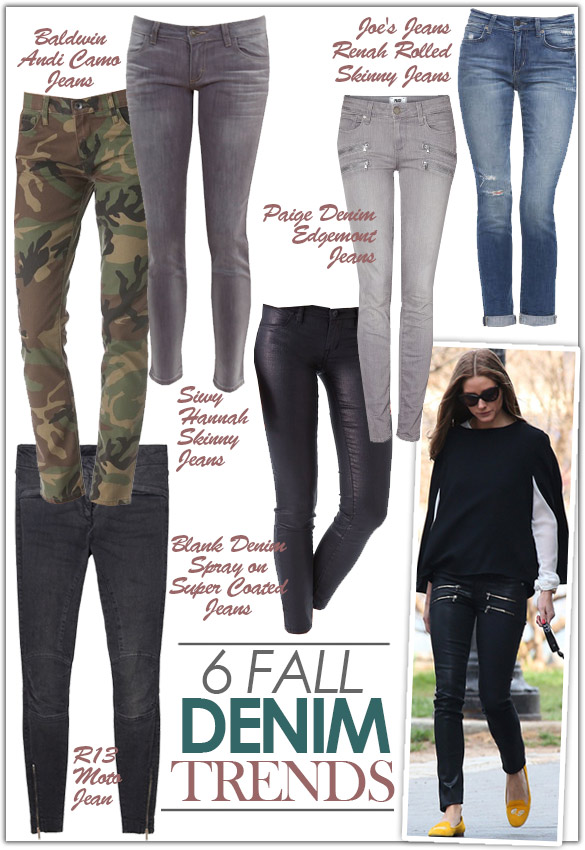 Last week I gave you my Summer Jacket Guide, and today I'm looking ahead with another buying guide. It's my favorite kind of guide to pull together, and I hope you have as much fun reading it as I did writing it! Today I present you with my Fall Denim Guide. The six best trends of the hardest working pieces in our closets. Jeans are better than ever! Close cropped and second skinned, skinny jeans are still IT, but for Fall 2013 the crops have it. As far as pattern goes, summer's plethora of prints has given way to the more demure colors of cooler weather like faded black and military camo. Prints and patterns may have taken a step back, but details like moto seams, ankle zippers, and tiny rips have climbed to the top of trend. Read on my fellow denim lovers; Fall 2013's denim trends are swoon-worthy!
(Moto)
1. R13 Moto Jean: Moto jeans have the edge, quite literally. I'm embracing my inner motorcycle mama with glee. Toughen up the look even more with leather or soften the moto hardware with a chunky knit.
(Military)
2. Baldwin Andi Camo Jeans: Florals, paisleys, dots, and stripes…these were the prints of summer. Fall denim looks ahead with classic military camouflage. I adore the crisp tailoring of these Baldwin Andi's…the cigarette leg and higher rise look perfect with a tucked-in top and pretty pump.
(Faded Black)
3. Siwy Hannah Skinny Jeans: One of Siwy's best-sellers, the Hannah Skinny is back for another season, this time in must-have faded black. Wear these like last year's gray denim: with moto booties, slouchy sweaters, and leather.
(Coated)
4. Blank Denim Spray On Super Coated Jeans: Speaking of leather…a huge trend in '13 denim is the coated finish. The look of leather without the fuss, I wear my coated jeans just like I do my leather leggings. I'm taking these Spray On Super Coated Jeans out whenever I can with strappy sandals and a graphic black-on-white printed top.
(Zipper Detail)
5. Paige Denim Edgemont: Much like its moto cousin, jeans with zipper details on the ankles are uber chic. I love the extra hardware that these zippers bring; metals adds edge and makes me walk a little taller, too. I like to wear them with feminine tops and smoky eye make-up. Check out Olivia Palermo rocking her pair all over New York City!
(Subtle Rips)
6. Joe's Jeans Renah Rolled Skinny Jeans: Weekend-wear! There's nothing better than a crisp fall afternoon…except for a crisp fall afternoon in your favorite pair of jeans. Joe's Jeans feel like an instant favorite because they are part of their Vintage Reserve Collection and feature my final Fall 2013 trend: subtle rips. Pair these with your favorite sweater and nubuck booties for a Saturday in September.
Most Read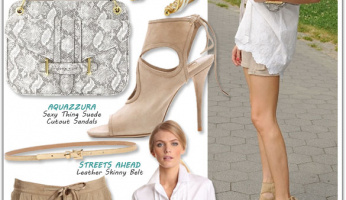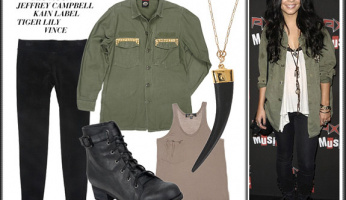 Subscribe to our Newsletter