Steal Her Style: Christina Aguilera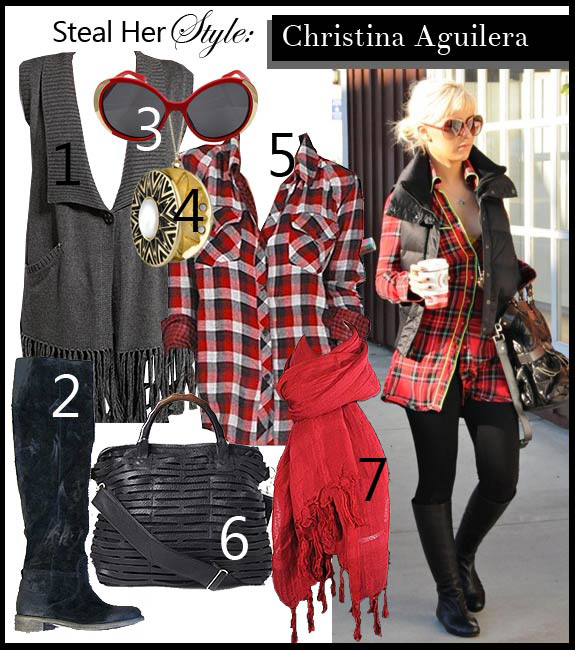 Christina Aguilera's big voice calls for an equal measure of style. A mix of laid-back and luxe, this girl gets her signature look by mixing her tees and skinnies with glamorous platinum blonde hair, Old Hollywood-inspired sunglasses, and fire-engine red lips. Kick back in this outfit without kicking any style to the curb…it's up to you to find that perfect shade of red lipstick!
Left on Houston Nation Sweater Vest-$135
The Left on Houston Nation Sweater Vest is an outfit-maker. Throw this over-sized piece on over anything for a cozy, relaxed vibe. This sweater vest struts its stuff with an extra large collar, front pockets, and long fringe at its bottom hem.
Boutique 9 Nichola Boot in Black-$149
A slouchy solution to the tall boot trend! A comfortable and stylish boot that makes this trend an easy and understandable one to obtain. The Boutique 9 Nichola Boot can be worn day or night and with everything from dresses to jeans. Features tonal elastic at the back of the top of the boot for ease of wear.
House of Harlow 1960 Nicole Red Sunglasses-$125
For the ultra fashionista, the mod-inspired House of Harlow 1960 Nicole Red Sunglasses from House of Harlow are absolutely fabulous! With classy gold details, these glasses are glamorous to the max. Make sure to mix with lots of House of Harlow jewelry to get Nicole's look!
House of Harlow 1960 Tribal Locket with Center Cabochon– $165
Nicole Richie and Kim Kardashian wear the gorgeous House of Harlow 1960 Tribal Pendant Necklace on the red carpet. This tribal-inspired pendant goes from red carpet to city street with ease. Pair with anything to get a hint of this season's tribal style! Long gold pendant necklace with black center on one side and white center on the opposite side.
Rails Kendra Red and Navy Plaid Gauze Shirt-$97
As seen on Kristen Stewart! The Rails Kendra Red and Navy Plaid Gauze Shirt is the perfect blend of European styling and California comfort. This classic button-down has a slim cut and button-up breast pockets. Made of red with navy plaid, this piece features a complementary plaid on the inside…roll-up your sleeves to show it off!
Romy Gold Biker Slash Tote in Black-$540
As seen everywhere with Selena Gomez! Rev up any outfit with the Romy Gold Biker Slash Tote in Black. This tote has plenty of biker style with its all over slashing, but gets a bit of polish with its polished wooden handles. Carry by wooden handles or crossbody with its detachable shoulder strap. Features include cell pocket, zipper closure, inside zipper pocket, and cotton lining.
Love Quotes Italian Linen/Viscose Scarf in True Love-$85
As seen on Nicole Richie, the Love Quotes Italian Linen/Viscose Scarf is a gorgeous scarf made from Italian linen. Available in "true love" red, this scarf drapes beautifully as a scarf, wrap, or belt. Each scarf comes with an inspiring quote about love, and 10% of Love Quotes proceeds are donated to international children's charities. Let your outer and inner beauty shine with one of these gorgeous scarves! Material: Italian Linen Viscose Dimensions: 36″ by 72″ with 4″ hand-knotted fringe
Most Read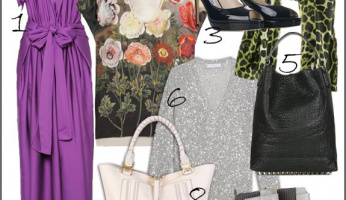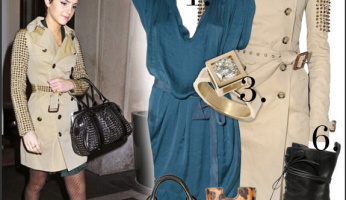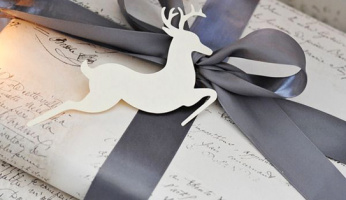 Subscribe to our Newsletter