Springtime Sweaters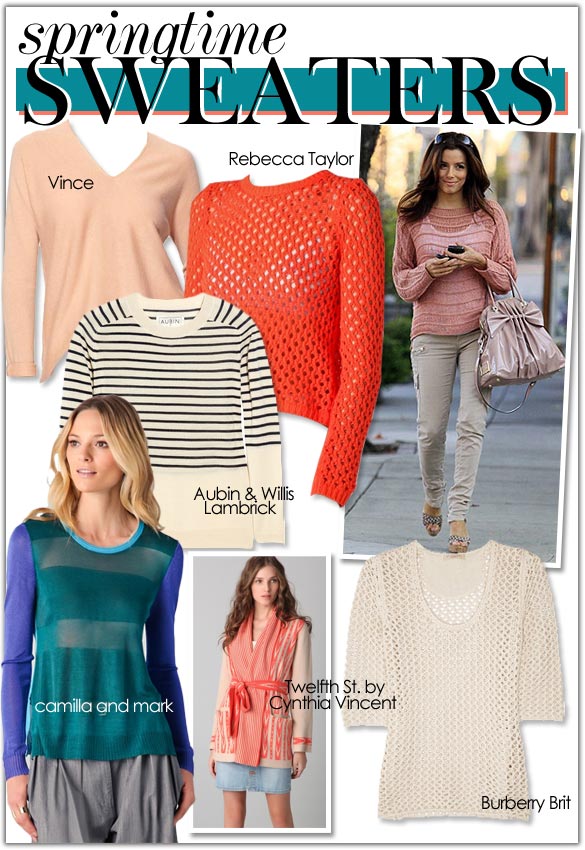 They bridge the gap from jacket weather to t-shirt weather, and for that we are eternally grateful. The springtime sweater traverses the seasons with just the right amount of warmth. A simple pairing to skinny jeans (both colored and classic) or shorts, the springtime sweater offers a multitude of options for work and play. Designers and fashionistas are loving sweaters with preppy stripes, open knits (like Eva Longoria's), hi-lo hems, colorblocks, pop colors, and the cardi coat.
1. Preppy Stripes: Aubin & Wills Lambrick Striped Merino Wool Sweater:
Trendy, yet timeless. Pair cream and navy stripes back to a colored jean or short to balance classic and current styles. This form-fitting sweater is ever so cute with its crew neckline and three-quarter sleeves.
2. Open Knits: Burberry Brit Open Knit Cotton Top:
Playing peek-a-boo, an open knit makes any sweater a bit sassy. Eva Longoria paired her blush-colored open knit with a neutral skinny jean and sandal. This Burberry Brit would look great sticking to a neutral color family as well, or back to a floral-printed skinny jean.
3. Hi-Lo Hems: Vince Double V-Neck Pullover Cashmere Sweater:
Not so classic cashmere. A v-neck cashmere sweater is traditionally a closet staple, but Vince's hi-low hem kicks tradition to the curb. A blushing neutral like this one works with anything, while its high front hem shows off a trim waistline.
4. Colorblocks: camilla and marc Leroy Brown Colorblock Sweater:
Colorblocked and ready to rock! Vibrant blues, teals, and smoky gray come together in harmony for this slightly see-through sweater. Pair with sleek black pants or leather for night, layer more modestly for daytime. Side slits provide extra ooh-la-la to shadow stripes.
5. Pop Colors: Rebecca Taylor Crossback Crew:
Bringing trends together. Match one of spring's hottest colors (tangerine) to one of spring's hottest textures (open knit) and you've got a must-have sweater. A playful cropped hem gets extra flirt with a crossback that ruffles playfully in springtime breezes.
6. Cardigan instead of Coat: Twelfth St. by Cynthia Vincent Tongal Intarsia Cardigan:
Toss the coat and embrace the cardigan. This cardi coat brings a freshness to any look with its cozy shape and warm nude and coral coloration. Throw on over any look now, and then for chilly summer nights by the sea. Shawl collar with open placket and self-tie waist.
Most Read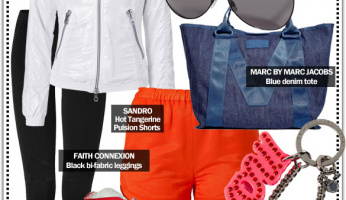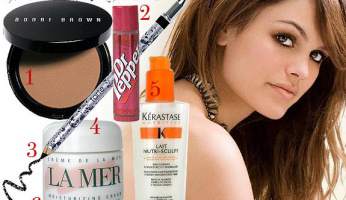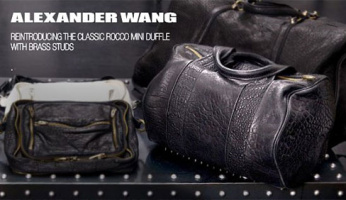 Subscribe to our Newsletter