Spring Celebrity Style Shopping Guide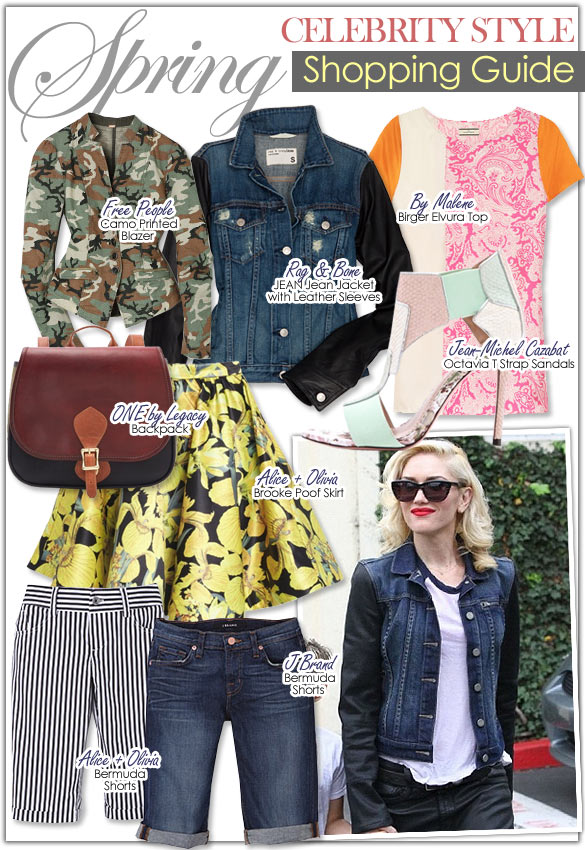 It's safe to say that spring is right around the corner. As I ripped February off my calendar, I felt the thrill of March. To celebrate warm rain, the return of the sun, and spring flowers, I'm making my shopping list. As the temperatures warm up, I'm getting ready to ease these pieces into my wardrobe. My favorite wear now/wear later piece is the denim jacket revitalized with leather sleeves, as featured here on Gwen Stefani. My favorite trend is the mix of colorful prints: in a radical camo-print jean, bold yellow floral skirt, mint-edged python sandal or print-blocked tee. This spring promises to bloom with color!
1.  Rag & Bone/JEAN Jean Jacket with Leather Sleeves: Rocker chic. Mod leather details were all the rage this winter, and I don't want to leave that trend behind. I'm picking up this leather-sleeved denim, inspired by the one-and-only Gwen Stefani, to throw on over any weekend look.
2. By Malene Birger Elvura Top: Mixing prints can be a daunting task, so if you're leary about doing it yourself, pick up a top that does it for you. This silk top is divine with a simple pant or colorful pencil skirt for work. Trendy, yet simple to work into your wardrobe.
3. alice + olivia Brooke Poof Skirt: Mini skirts, maxi skirts, hi-lo skirts…and now the latest evolution of the skirt: the poof skirt. Wearing a kicky skirt like this one makes me feel so feminine and flirty, perfect when spring fever is in the air.
4. Free People Camo Printed Blazer: Camo blazer? Yes, please! Camo is popping up everywhere, from a playful blazer to cozy knits to hard-working denim. Break up the neutral tones of camo with pops of neon, like yellow, orange, and (my favorite) pink.
5. Bermuda Shorts: Two classics, a seersucker stripe and a dark denim, get made into a easy-going bermuda shorts. I love the transition these longer shorts give you before going full-throttle into the shorty-shorts of summer.
6.  Jean-Michel Cazabat Octavia T Strap Sandals: Dainty, yet daring. There are so many beautiful things going on with this sandal: minty fresh green, sexy snake-skin, fun colorblocked panels, strappy stillettos. The name of the footwear game is simply finding what you love…and then finding all those things together in one shoe. Mix it up, ladies!
7. ONE by Legacy Backpack: Studious colorblocking. This satchel-meets-backpack plays with contrasting panels, but keeps its classic shape. I love how spring fashion is taking classics and reinventing them with colorblocking, bold prints, and mixed media color.
Most Read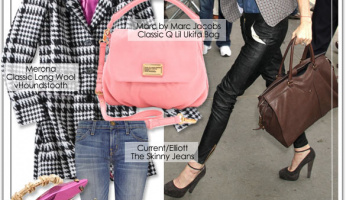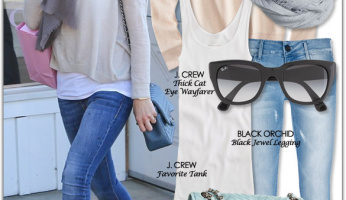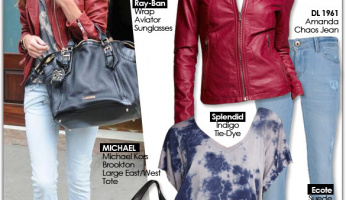 Subscribe to our Newsletter