Spotlight: Spring Coats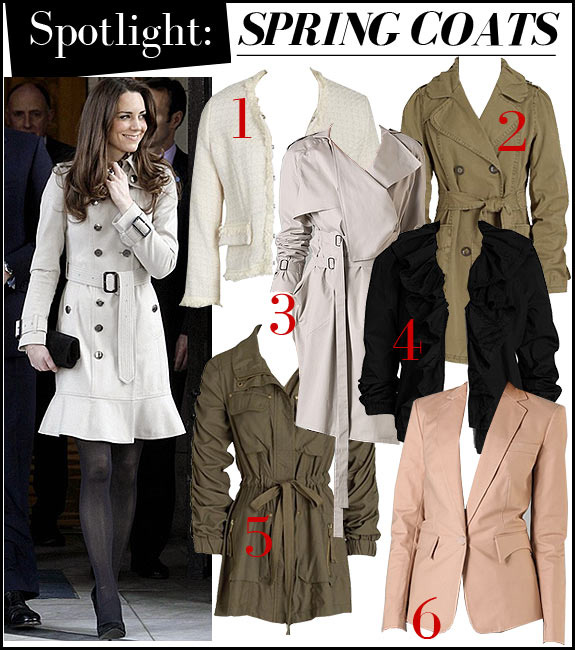 Shop The Look:
The royal wedding is right around the corner…and so is spring! With winter's chill still in the air, Kate Middleton is staying warm ever-so-stylishly in a chic Burberry trench. Her classic trench inspired me with its feminine ruffled hem and of-the-moment neutral color. Defined by classic shapes and feminine details, here is some other outerwear that will see you through April's royal wedding and into chilly summer nights.
1. Aryn K Summer Tweed Jacket ($78)
A nice diversion from a long trench, a short tweed jacket is a must for spring. Tweed is fresh off the runways, so you will be seeing a lot of it on fashionistas and royals alike.
2. Sanctuary Spring Trench Coat ($196)
A casual classic, this Sanctuary trench will see you through many seasons. Its rich camel color is right on trend, while its pleated back panels add feminine flair. A staple for every girl's closet!
3. Kimberly Ovitz Bradford Trench Coat ($610)
A trench with a modern edge, I adore Bradford's double belt detail and wide, foldover collar. This sleek stone-colored coat looks like it walked right off the runway, so it's perfect for the modern city girl (or soon-to-be royal) and looks great on its way to the office.
4. Juicy Couture Ruffle Jacket ($178)
Kate had a ruffled hem, this jacket has a ruffled front. Those feminine details make it completely modern, yet easy for anyone to wear. It's the perfect night-out-on-the-town piece!
5. Aryn K. Lightweight Military Coat ($89)
This military coat is made more feminine by a waist-defining drawstring and chic fit. Inspired by the Prince's military background, perhaps Kate will don one soon? Until then, I'm convinced that military style is here for another season.
6. Robert Rodriguez Saddle Stitch Blazer ($395)
Suits are part of a royal's wardrobe, so we've seen Kate in quite a few. I love this rosy-colored blazer with its fine cut and slightly padded sleeves. It's a great way to add structure to spring's full-bodied blouses.
Most Read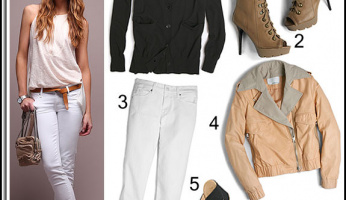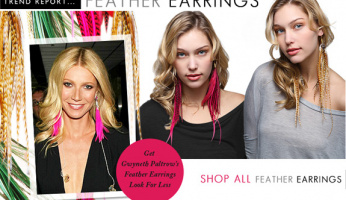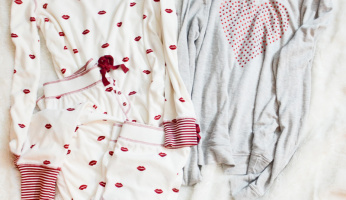 Subscribe to our Newsletter