The Carrie Diaries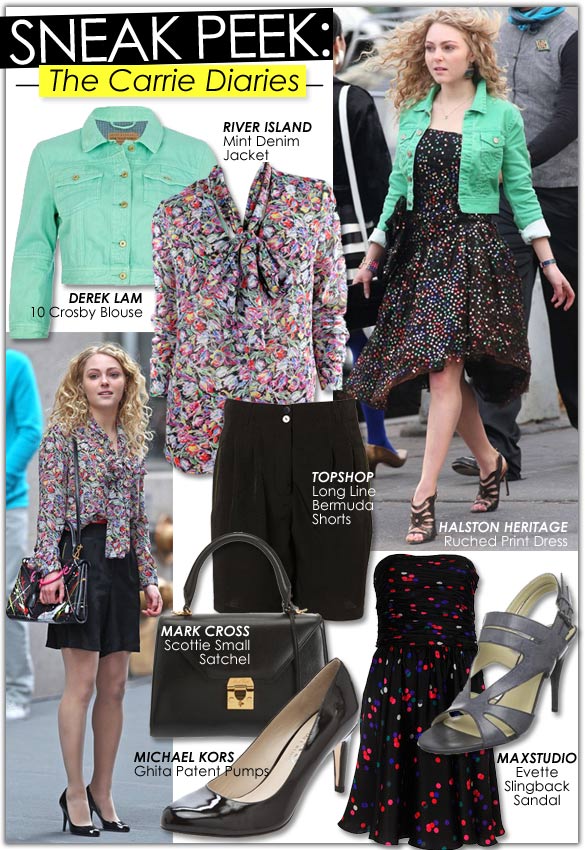 Sex and the City fans, it's time to get excited! You can never have too much Carrie, and the CW agrees. It's time to meet Carrie Bradshaw before Samantha, Miranda, and Charlotte. The Carrie Diaries chronicle Bradshaw's final year of high school in this Sex and the City prequel. I've snagged some of the upcoming season's fabulous looks, fresh out of 1984 (when this show is staged), yet somehow still so 2012. Colored denim jackets, girly polka dots, uptown girl shorts, and a colorful printed top…separates that worked as well in the eighties as they do in the teens. Paired with patent pumps and strappy sandals, these looks make us nostalgic for our own time in the 80's and the original Carrie Bradshaw.
1. 10 Crosby by Derek Lam Blouse with Neck Tie: The 80's were full of color and print, and that vibrancy has come back again. Liven up your work wardrobe with this Derek Lam blouse. A sophisticated silhouette loosens its collar with a vibrant floral print.
2. Topshop Long Line Bermuda Shorts: The Bermuda short is office wear when paired with a tie-front blouse. These shorts are figure-flaunters with their slim pleats and double button closure. Add a skinny colored belt to add another layer of color and style.
3. Mark Cross Scottie Small Satchel: Forever Carrie, forever classic. A compact satchel bag stands the test of time with its studious shape, luxe black leather, and elegant gold hardware. Pair back to any look, from office to play.
4. KORS Michael Kors Ghita Patent Pumps: Playfully polished, a classic pump is all the more fun with a patent leather finish and throwback lines like a rounded toe and low heel. Flirty with rolled cropped denim or a Bermuda short like Topshop's.
5. Halston Heritage Ruched Print Dress: No one rocks a full, flirty skirt like Carrie. This Halston Heritage dress channels vintage Carrie with its gathered skirt and pop print. Pair this strapless dress with a colored denim jacket and strappy sandals for daytime NYC.
6.  River Island Mint Denim Jacket: This year's love affair with colored denim continues. Minty green pairs back to neutrals like black and gray and punches up blushes and blues. Grab a denim jacket in your favorite hue; it's a fall must-have.
7. Maxstudio Evette Slingback Sandal: Slingback sexy. Pair these slingback sandals with your girly-girl looks, both uptown and down. A strappy style like this works well into cooler temps with its graphite gray color.
Most Read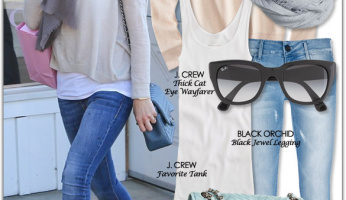 Subscribe to our Newsletter