Selena Gomez Takes A Stylish Step Wearing Stuart Weitzman Loafers
Selena Gomez can do no wrong when it comes to fashion lately and she continuously inspires fans with her casual everyday looks! The coat she is wearing, found HERE, seems to be her favorite as we have seen it many times before.
This time she was spotted headed out to dinner with friends and the style star of her look was definitely her loafers. It's been a while since we saw a celebrity taking loafers out for a spin with all the boots and sneakers being the shoes of choice, so it seems refreshing just in time for spring.
These ones are from celebrity favorite Stuart Weitzman! The Manila loafers have kept the popular masculine aesthetic we often see in loafers with the design finished via the front tassel and lug sole. The high gloss of the leather make it the ideal footwear of choice for day or night if heels or boots aren't your thing.
Hurry and shop Selena's by clicking HERE before they sell out then browse the carousel below for the details on the rest of Selena's outfit:

Most Read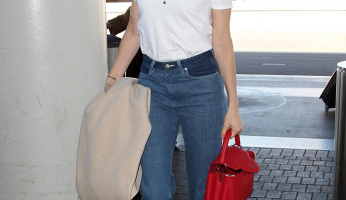 Subscribe to our Newsletter