Pretty Peplems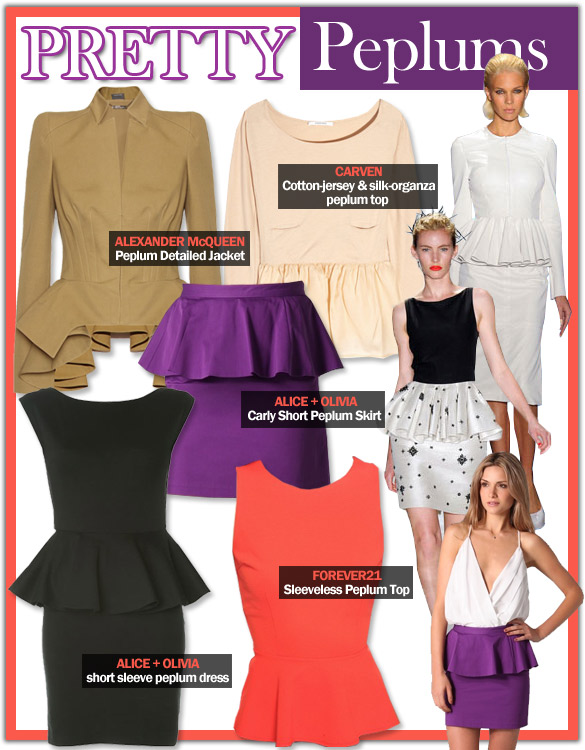 Dictionary Definition: pep·lum (p p l m). n. pl. pep·lums. 1. A short overskirt or ruffle attached at the waistline of a jacket, blouse, or dress. 2. See peplos.
CSG Defintion: peplum 1. Pretty, polished and polite, this dainty ruffle can look proper, yet extremely modern when worn for Spring 2012. 2. Workplace appropriate when attached to the waistline of a sheath dress or pencil skirt. 3. Provides hours of post-office fun when it adorns a bold-colored tank or chic, fashion forward jacket. 4. Soon to be seen on the likes of the frock-wearing Kate Middleton, but equally as likely on the edgy, yet glamorous Gwen Stefani. 5. See also flouncy, flirty, fun and feminine.
1. Alice + Olivia Short Sleeve Peplum Dress ($264)
Our prediction? You'll be seeing this LBD on Princess Kate Middleton. Its classic lines are adorned with a peplum, making it mesh with Kate's signature style, a mix of sophistication and youthful, modern style.
2. Alice + Olivia Carly Short Peplum Skirt ($198)
Purple perfection. Pair this plummy mini with a sleek black top or an equally feminine draped tank for your twist on the cocktail dress. Sleek mini skirt with waistline peplum.
3. Alexander McQueen Peplum Detailed Jacket ($2815)
Gwen Stefani style. Can't you see the songstress pair this edgy cotton jacket with a sleek, cropped pant and bold-colored platform pump? Its high, structured collar provides a stunning contrast to its ruffled waistline. Glam and edge at the same time!
4. Carven Cotton-jersey and Silk-organza Peplum Top ($265)
Just plain sweet, this top blushes its way into your wardrobe with its super soft fabrication, blush color, and neck-baring boatneck. Pair with boyfriend jeans or a simple pencil skirt.
5. Forever21 Sleeveless Peplum Top ($18)
The bold and the beautiful. This fresh tangerine top looks great with white, whether it be a crisp short or a pair of skinny crops. Add your favorite sandal for summertime fun.
Most Read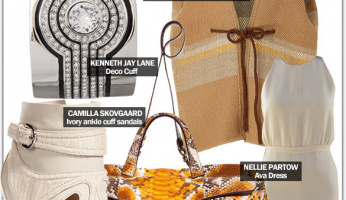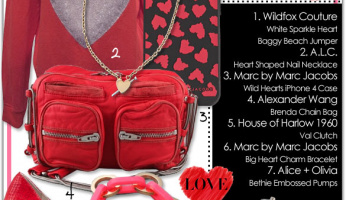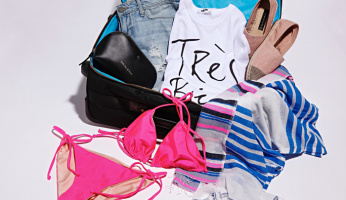 Subscribe to our Newsletter