Ultimate Guide to Buying, Wearing, and Rocking Pink Pants
Some people might call pink pants "extra," but what do they know, anyway? Colored pants are a great way to express your uniqueness and personal style through clothing.
Not only do they look great with a multitude of different colors and patterns, but there is also a wide range of shades available, allowing you to spruce things up or tone them down, depending on your mood.
Whether you have a new pair or an old dusty pair in the back of your closet, I'm going to help you decide how to break them in today.
Continue reading for style ideas and inspiration.
How to Wear Pink Pants
From dusty rose to hot pink pants, there are so many different options to choose from colorwise. In general, a black and white short-sleeve striped t-shirt is a casual yet chic and stylish option that goes with just about any pink on the color scale.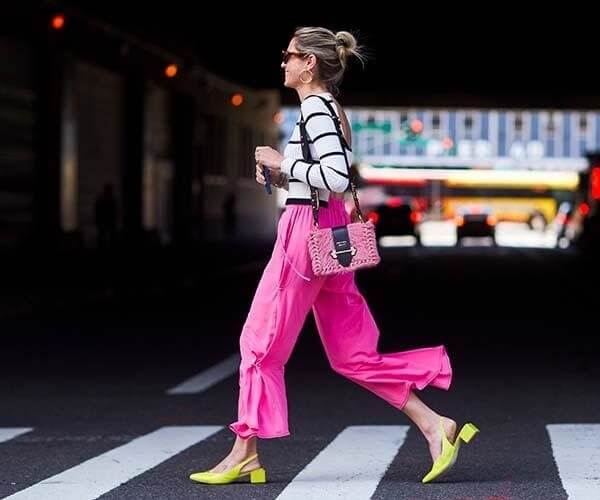 Additionally, a beige or any neutral color, sweater, or cardigan is great for cooler weather.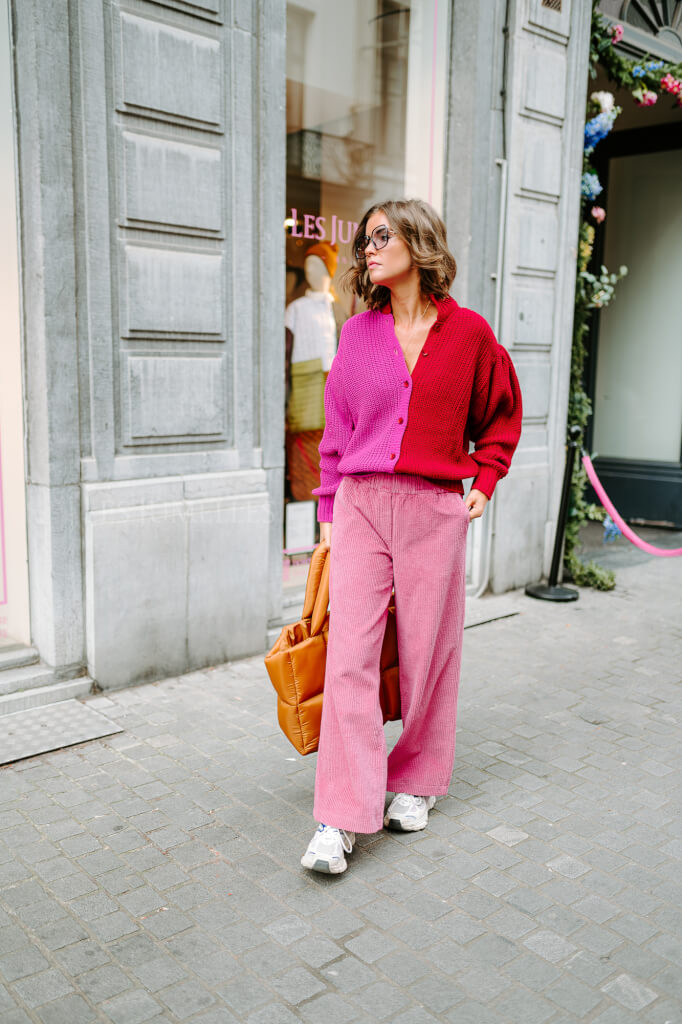 If you're feeling bold, matching your top to the color of your pink pants is a stylish way to attract attention. In the form of a pants suit paired with a blazer, you can also feel powerful at the office. Hot pink pants with a neon-colored top are also a head-turner.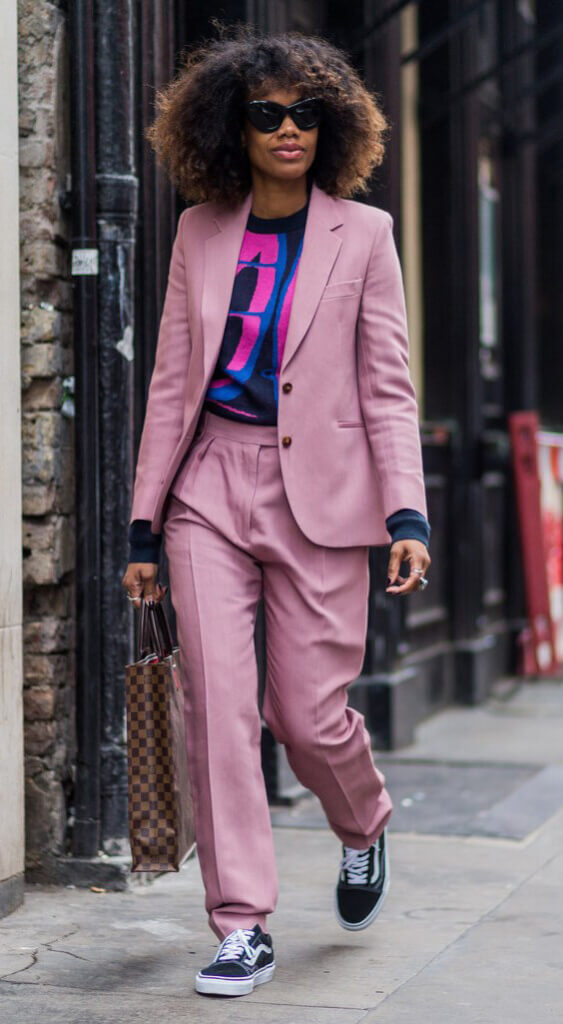 If you're somewhere between feminine and grunge, pairing a black or gray graphic tee with pink pants is a perfect balance.
Which Styles Are Most Popular Right Now?
First things first, I love skinny jeans and pants. However, if you've been following the action on the runways these days, you may have noticed that long-loved skinny pant styles are nowhere to be seen. These days, it seems like the roomier bootcut pants are, the better.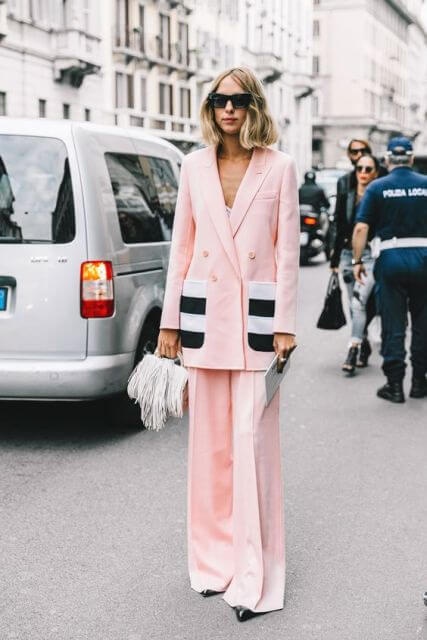 Luckily, that still gives us a lot of creativity when choosing the fabric and overall shape. Pink cargo pants, anyone? Pink flare pants? Pink joggers, capri, jeggings, sweatpants, lounge pants, wide leg pants? Count me in. If you're feeling really loud, pink leather pants will definitely get you noticed.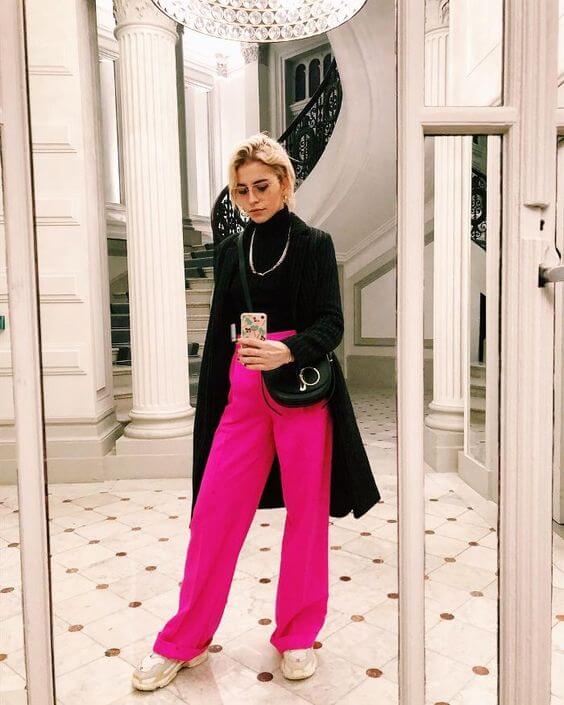 Much like the slim fit fit is gone, so is ultra-high rise and high waist pants. We are seeing more pants that come right up below the belly button, mid-rise, and even a few low-rise options. Looks like our mothers were right when they said that fashion always repeats itself.
How Should They Fit?
The simplest answer to this question is: comfortably. You should be able to easily fit one finger between the waist of the pants and your body.
It's always a good idea to walk around a bit and to sit down in the pants before purchasing. Make sure they don't pinch or rub you in a specific area that causes you pain.
Ideally, they should not pucker out in any places, including the upper-middle back.
Spotted: Celebrities Seen Wearing Pink Pants Recently
If you're looking for inspiration from your favorite celebrities, here is how they've been rocking pink pants.
Starting with Vanessa Hudgens, she went head-to-toe pink at Coachella this year and looked amazing! Her pink palazzo pants were slightly sheer, and she matched it with a pink bikini top, a light, sheer cardigan, and topped it all off with a printed pink hat.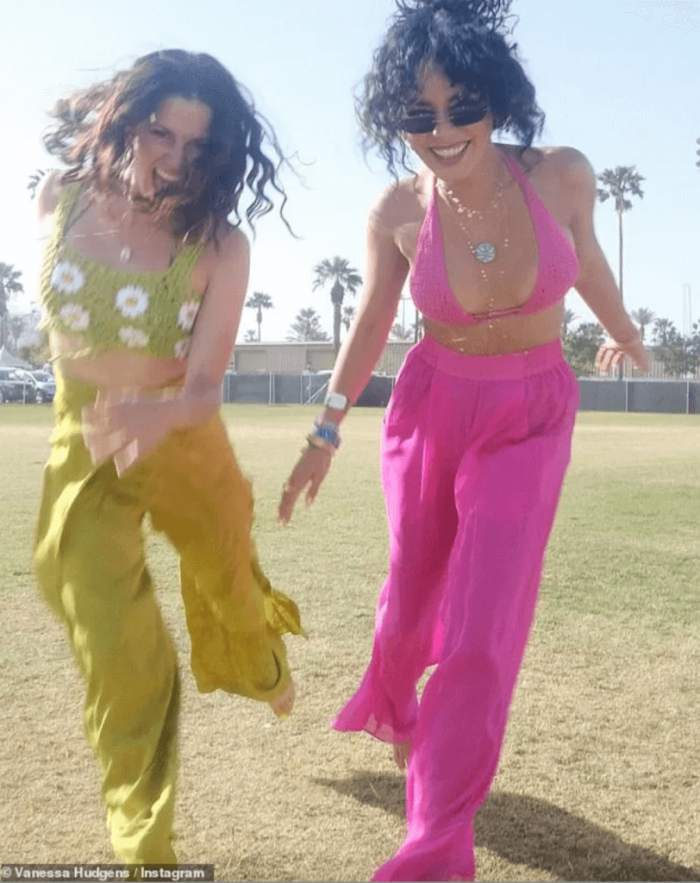 Even though Rihanna hasn't publicly announced the sex of her baby, she sure has been wearing a lot of pink lately. Is it a clue? I'm not sure, but I'm loving the style either way. She recently stepped out in loose, distressed, low-rise light pink jeans. She paired them with a bubble-gum pink bralette and a brown jacket.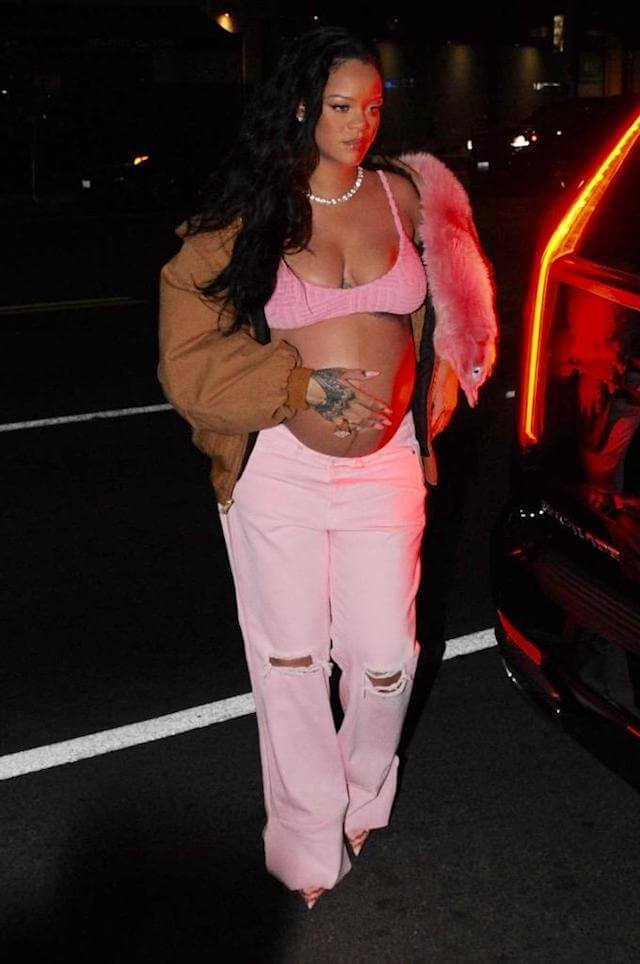 One style I can not recommend was worn by Angelique Morgan, AKA Frenchy, from VH1's Rock of Love series. She was recently spotted in buttless pink pants. Yes, that's right… there was a circle cut out of each buttcheek of the pants.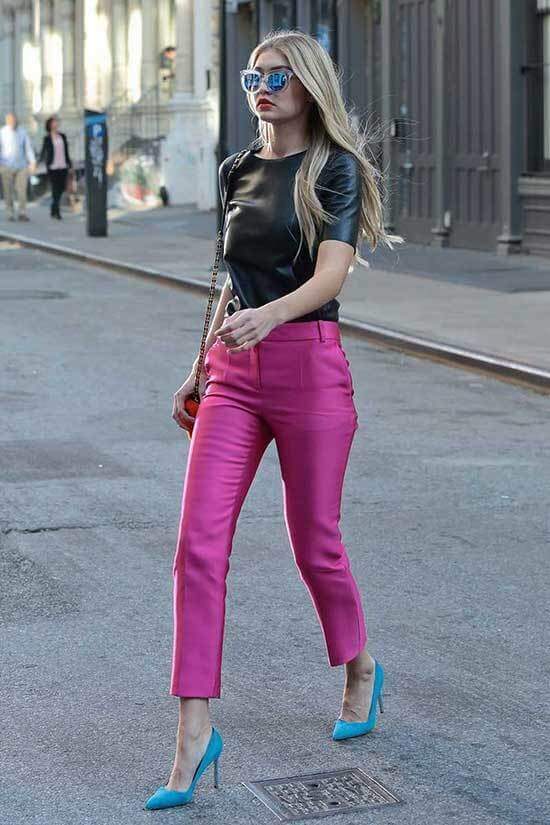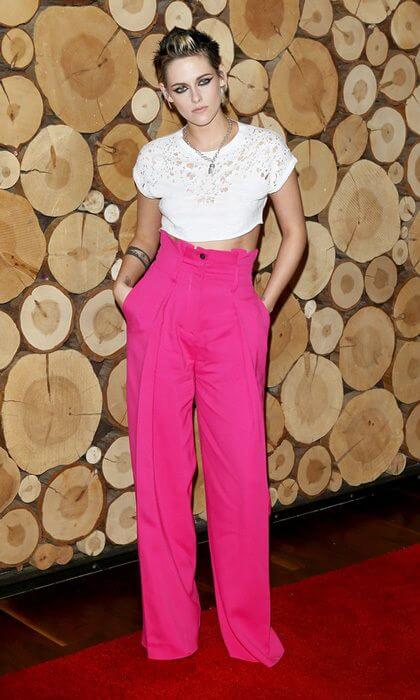 Even some men have been jumping on the trend of wearing pink pants. Take it from Nick Jonas, Ranveer Singh, and Neo, who make the style look effortless and masculine.
Our Pink Pants Top Picks
These best seller low-rise baggy jeans from Free People give me major 90s vibes, and I love it.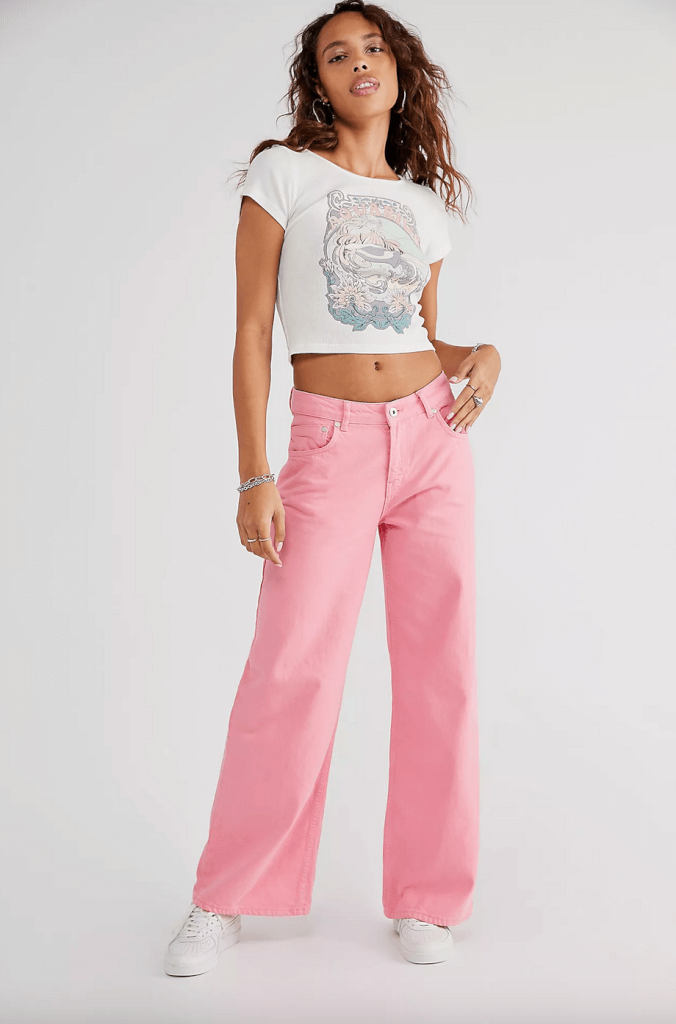 Going even further back in decades, these comfy pink flare pants, also from Free People, are a dream.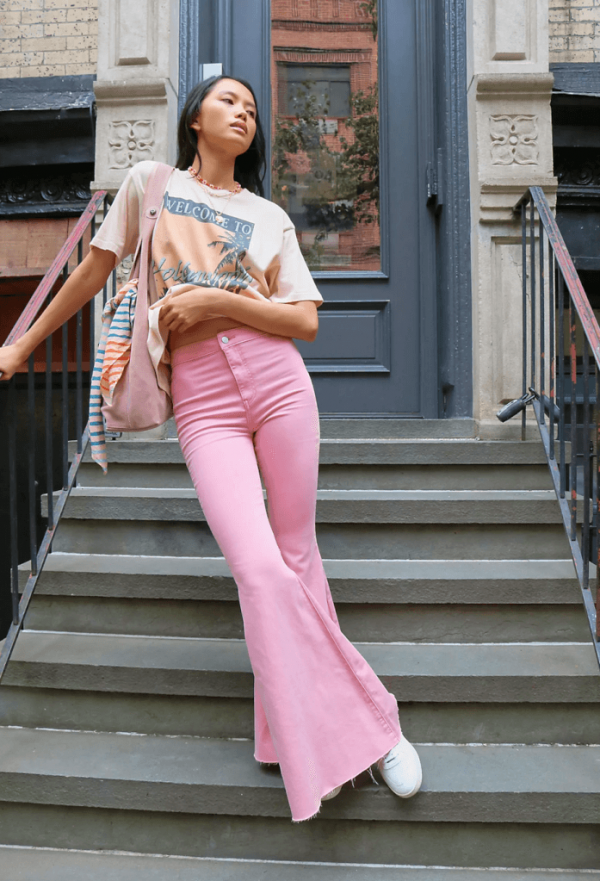 Bershka's wide-leg satin cargo pants are flattering on just about every shape. It's the Lara Croft look, but more feminine.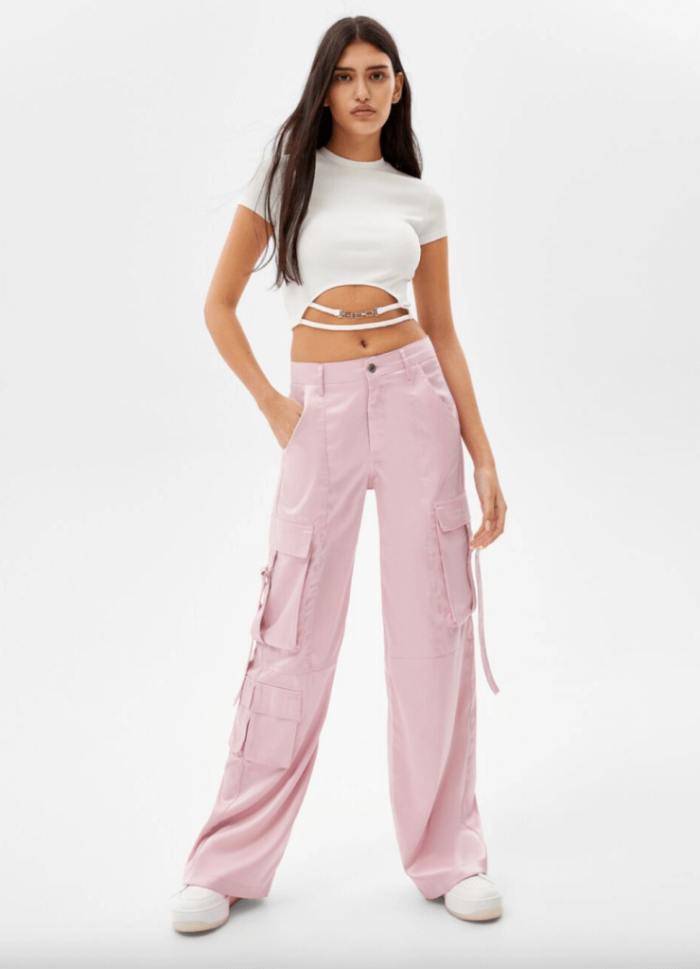 For a preppy style, Bloomingdales has a lot of great options, including these belted, cropped, straight-leg hot pink pants.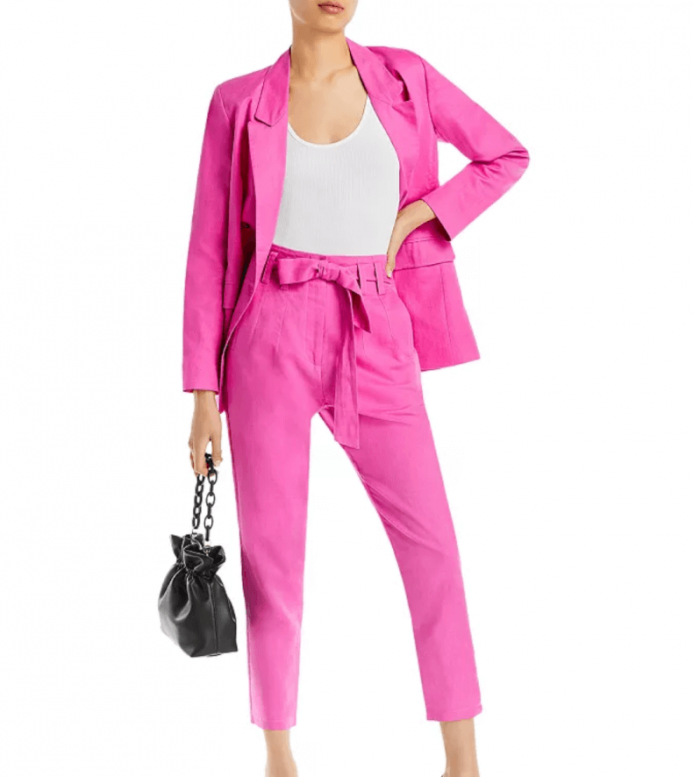 Arrive at work feeling more powerful than ever in this knit Ann Taylor pants suit. Besides the amazing color and style, it's also wrinkle-resistant.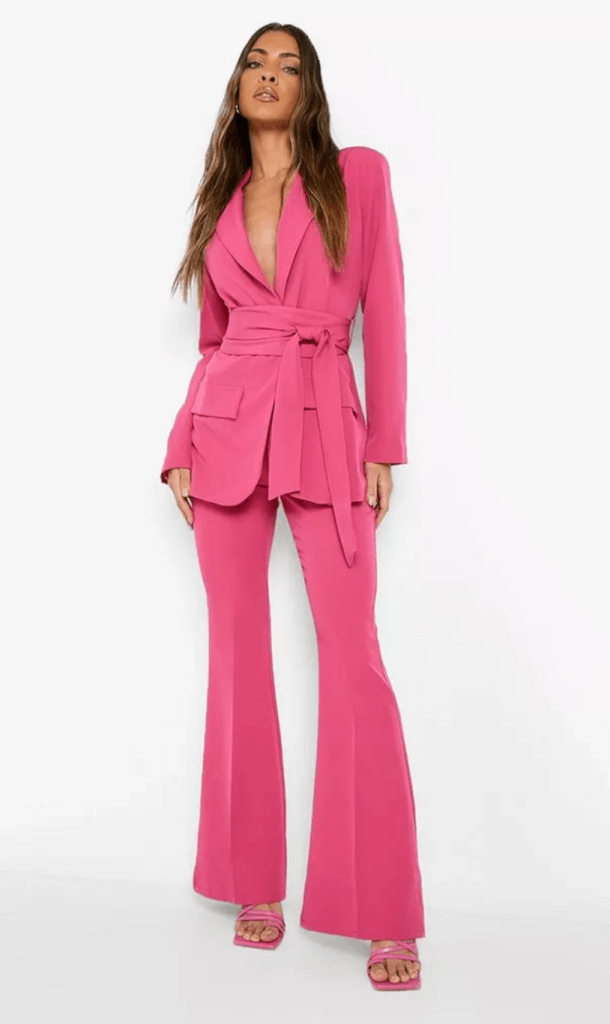 Conclusion
Pink pants for women is a movement. Pink is no longer seen as a weak color- it's a powerful color. Combine it with one of these great styles, and you've created an outfit that will have you feeling confident and beautiful.
It is important to keep in mind that the key aspect of any style or fit of women's pants is that you feel confident in them. Who cares if the style is last season- if you feel good and happy, that's what matters most.
Pink power ☮☮☮
Most Read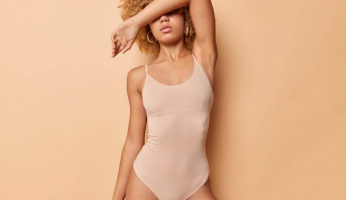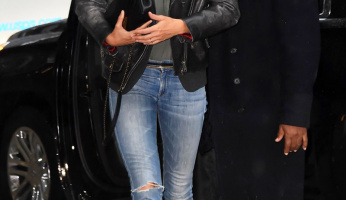 Subscribe to our Newsletter