Obsessed: Tote Bags!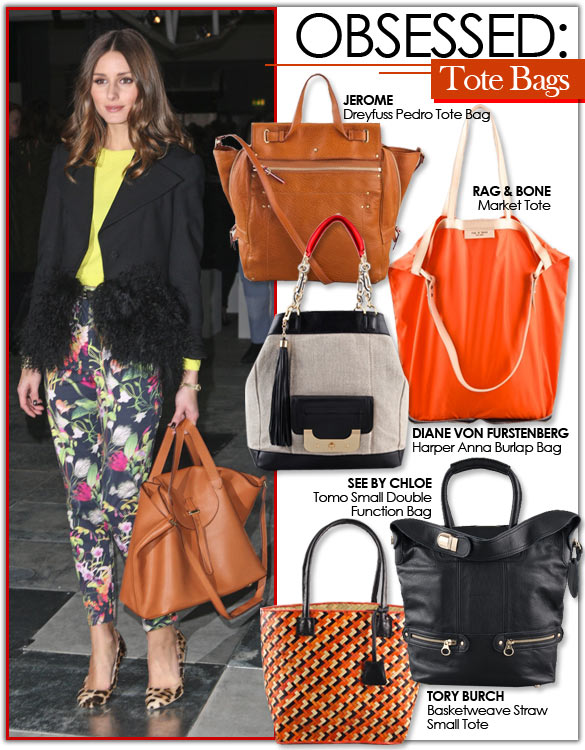 Current obsession: TOTE BAGS! The perfect mix of a tidy structured bag and an oversized bucket bag, the tote comes in every color and hue this season. From Olivia Palermo's sleek red carpet-worthy bag to a farmer's market nylon version, the tote bag is making its appearance in every venue from classy to casual. Find a basket weave for the beach, a pebbled leather in luggage brown for work, a plastic bag replacer for shopping and a fun colorblocked version for afterhours…carry your obsession for every occasion!
1. Rag & Bone Market Tote:
Just in time for Earth Day. Ditch the plastic bags and opt for this reusable nylon tote. Not losing any luxe, it features leather trims and a detachable leather shoulder strap. This trim tote folds down into a 4.5″ by 6″ leather pouch until you're ready to use it.
2. Diane von Furstenberg Harper Anna Burlap Bag:
Work to weekend, this DVF mixes high and low with its burlap panels and gold hardware. Its neutral body, black leather tassel and contrast leather insets are punctuated with a polished turnlock closure and red leather handles.
3. See by Chloe Tomo Small Double Function Bag:
Two times the fun. Get double function with this classic tote. School girl (detachable crossbody strap) meets working girl (sleek double handles) in this forever-luxe pebbled leather handbag. Metal feet and gold hardware add the final bits of polish.
4. Jerome Dreyfuss Pedro Tote Bag:
Matching the lines of Palermo's bag, this tote is perfection. As with all good style, this flawless piece works anytime, anywhere. Warm curry-colored leather handbag with an embossed logo, zippered gussets, button-patch pocket, and shoulder strap.
5. Tory Burch Basketweave Straw Small Tote:
Working for the weekend, you can carry this small tote from the catwalk to the sidewalk to the boardwalk. Impeccably hand-woven straw in warm gold and orange tones works back to Sunday brunch as well as poolside cocktails.
Most Read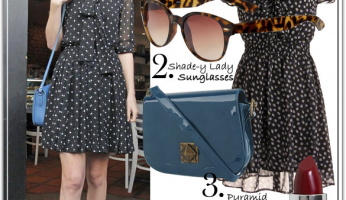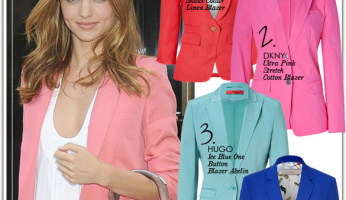 Subscribe to our Newsletter