Nars Light Reflecting Advanced Skincare Foundation Review: Is It Worth The Hype?
If you are present on any social media platform, then you must have heard all the talk surrounding Nars Light Reflecting Advanced Skincare Foundation. Nars has been going viral over and over again this past year.
Their Liquid Blush in shade Orgasm was hyped up by none other than Madison Beer, and their Radiant Creamy Concealer has been a staple in many makeup kits around the world.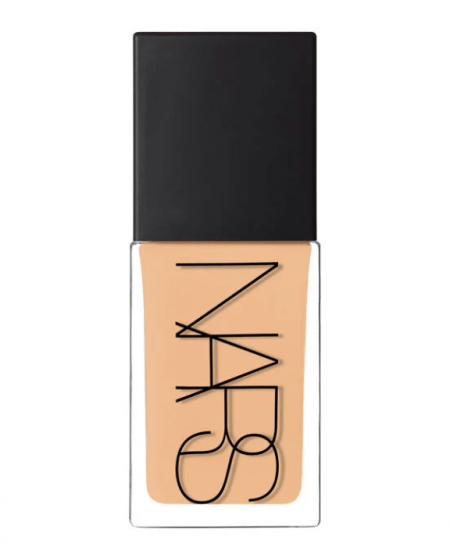 Well-known MUAs such as Mikayla Nogueira have been giving this new foundation a lot of positive attention and love. Mikayla Nogueira (@mikaylanogueira) took to Tik Tok to post a review of how this new foundation looked on her skin, and we were in love!
We've compiled reviews and tutorials using this product to assess just how good it is, and we're going to tell you our thoughts.
The first thing we need to check out is the ingredients and claims of this foundation. The Nars Light Reflecting Foundation, as the name suggests, is rooted in skincare beliefs. It uses ingredients that will help your skin from the inside out. Some of these ingredients include biomimetic oat, which improves skin clarity and reduces the appearance of redness.
They also use Japanese lilyturf to support a strong skin barrier, helping you maintain moisture. This foundation is infused with cacao peptides and milk thistle, which minimize the negative effect of blue light and environmental stressors.
Just based on these ingredients, we already love the sound of this sheer glow, day wear foundation. Having a foundation formula that will help reduce redness rather than cover it up is a feat in itself.
They claim that this foundation is powered by 70% skincare ingredients which will blur, smooth, and improve skin clarity over time. It's a makeup-skincare hybrid that will allow your natural skin to shine through in the best way. It's a medium coverage foundation with a natural finish. It's a liquid longwear foundation, similar to some serum foundations we've mentioned before.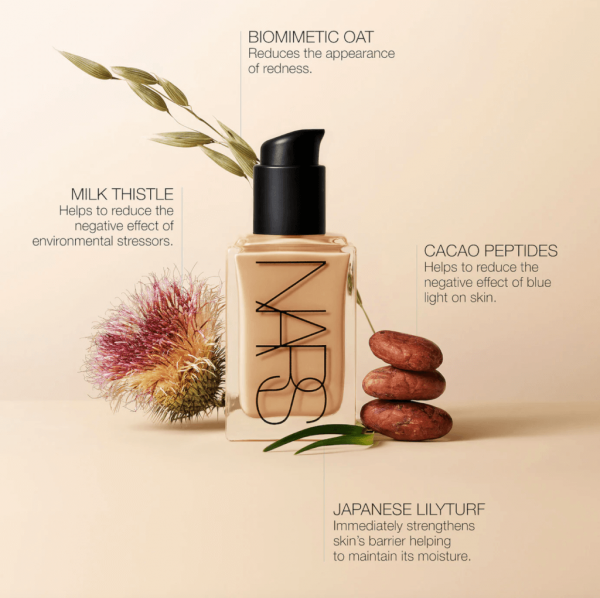 This texture allows the foundation to melt and sink into the skin rather than sit on top of it as most foundations would. It seems to apply very dewy and pretty, especially when paired with a hydrating or glowy primer underneath. It does take away redness and help cover blemishes, but it can look like your skin. You can layer this foundation as well as for more coverage.
The one downside to this foundation is that it's not ideal for oily skin. With the off reviews that did not like the finish of this foundation, we concluded that it was mostly those who struggle with oily skin that wasn't happy with the results. Typically, dewy or natural finish foundations are best for dry to combination skin.
Matte or velvet foundation finishes help conceal and absorb excess oil that you may struggle with throughout the day. For this reason, we suggest that if you have oily skin, you try an oil-free or matte foundation rather than the Light Reflecting Advanced Skincare Foundation.
Keep in mind that the coverage is medium but buildable. One layer seems to cover redness and dark spots, leaving a few blemishes in need of spot concealer or a second layer. It doesn't seem to cake around the nose area or settle into creases and fine lines.
If you love the no-makeup-makeup look but need more coverage than a skin tint or tinted moisturizer, this foundation is your best bet!
It comes in 36 shades, focusing on medium-tan skin, which is a nice change. Most foundations with variety have many fair shades that decrease the darker they get. This range of shades has an equal variety of light and dark, making it suitable for many skin tones.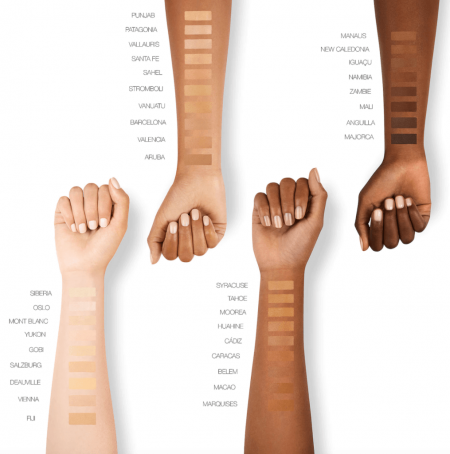 The description of the tones is also very helpful and sets this foundation apart. It gives you the specific undertones and general color of the foundation, making it much easier to match your shade online. It's never easy finding your perfect shade, but it is a breeze finding it in the Light Reflecting Advanced Skincare Foundation if you know your undertones.
If you're looking to see how this foundation performs on deeper skin tones and skin types, YouTuber OHEMAA reviewed it. She went through swatches, finding her perfect shade as well as a wear test. This review shows off the depth of this collection's color range and highlights the way it applies and sits on top of the skin.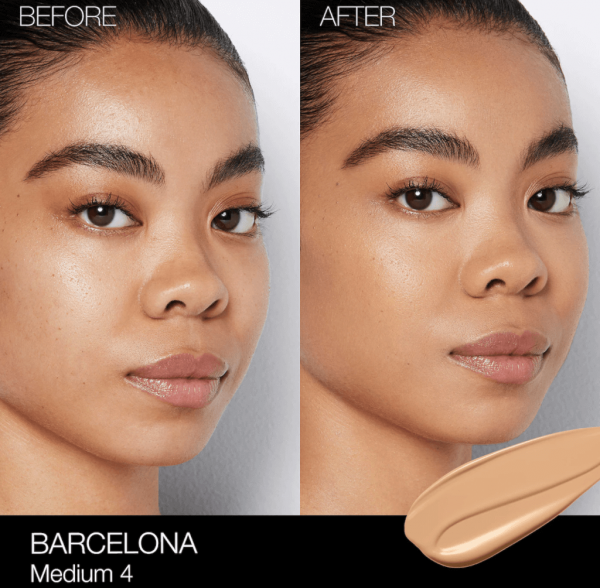 Overall, the foundation seems to perform very well on most people with an overwhelming love for this product. With the enriched formula that will help correct your skin from within, as well as the skin-like finish, we think this is definitely worth trying.
The price is on the high-end side at $49 for one oz of product which might not be within budget for everyone. Although, this is in range for Nars foundations which can range from 40$ to 50$ on average.
If this foundation is in your budget, we definitely recommend picking it up!
Subscribe to our Newsletter