Look Of The Week: Cat Deeley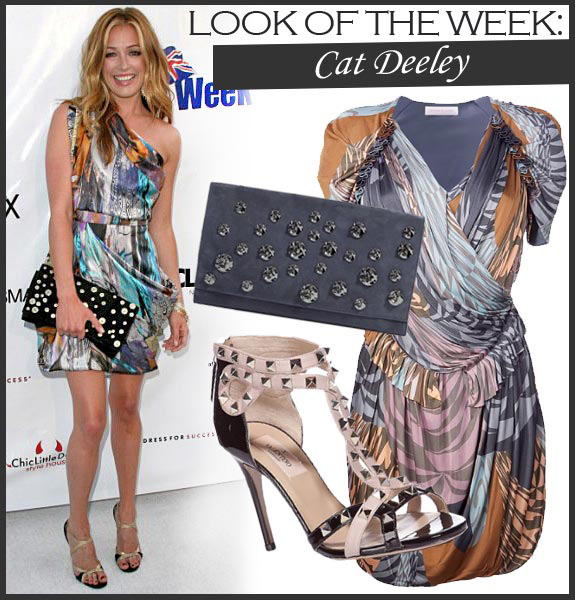 May I present the perfect party trio: Cat Deeley, Matthew Williamson and Mulberry! Mix together a wonderful woman, a great cocktail dress and a glamorous bag and the New Year couldn't start out any prettier!
Matthew Williamson Grey Crossover Dress ($660)
Luxurious dress in grey rayon and colorful 1970s pattern in typical Matthew Williamson style. The cut of this fine jersey dress reminds of the 1970s with a stylishly draped shrug and draped wrap skirt, wide V-neck, cap sleeves and skirt in mini length. Mix of glamor, sex appeal and modernity, pair with gold or silver sandals or gladiator booties.
Mulberry Steel Oversized Ava Rivets Clutch ($805)
Luxurious clutch in steel grey suede leather and classic clutch shape, square with flap and magnet closure. Glamorous eye-catcher: stylish crystal studs and rocks in various sizes, a hit and genuine piece of jewelry. Pairs with noble cocktail-dresses or cool biker looks.
Valentino Black/Powder Studded Sandals ($925)
Luxurious sandals in black and nude patent leather and broad comfortable straps. Eye-catcher: decorative studs, T-strap, ankle strap. The penny heel creates a tall silhouette, is yet comfortable too. Decorative, glamorous, perfect for next cocktail party. You can also spice up a simple shift dress, pencil skirt, cool roll-up jeans.
Most Read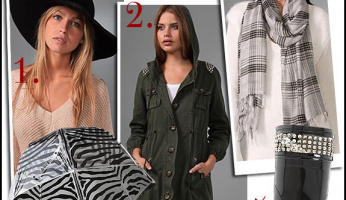 Subscribe to our Newsletter