Lauren Conrad Style! Buy it at TheTrendBoutique.com!
The Rebecca Minkoff Crossbody Stud Rocker Bag in Black has made more public appearances than Lauren Conrad. She loves the Italian Leather bag for its versatility – she can wear it as a sling around her body or on her shoulder as a traditional purse. Whichever way, she looks like a woman made for real Rock n' Roll.
The Rebecca Minkoff Stud Minaudieres Fling Bag has already developed a cult following among handbag fashionistas, including Lauren Conrad and Annalynne McCord. It has a convenient snap top closure and a compact fit so it's ready to go anywhere you go. You'll love its gold-plated studs and hassle-free chain.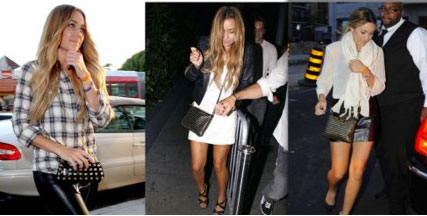 Subscribe to our Newsletter