Into the Wild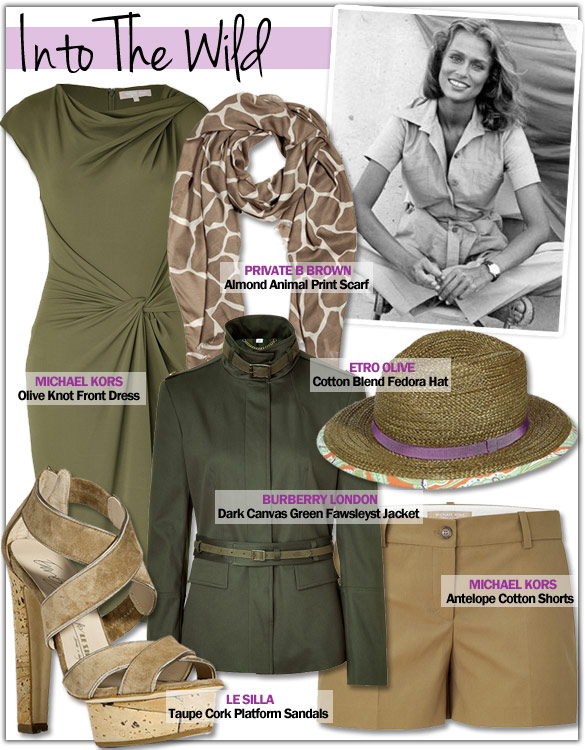 Into the wild…even if it's just the concrete jungle. The new safari look is all about effortless chic with a utilitarian twist. To achieve this look, opt for sleek silhouettes in airy fabrics and rich neutrals inspired by the land. A fresh palette for spring, fatigue green, dark camel, and animal print transition easily from winter into the warmer seasons. Add natural fibers like cork, straw, and leather to finish a modern safari look with a touch of nature, easily attainable in sandals, a bag or hat. Channel your inner Lauren Hutton with these pieces:
1. Burberry London Dark Canvas Green Fawsleyst Jacket ($1070)
Expertly tailored, this jacket blends sleek modern lines with military details like a buckled stand up collar, epaulets with gold buttons, and a belted waist. Don't wait for spring, your safari begins now.
2. Etro Olive Cotton Blend Fedora Hat ($310)
Sassy sun protection. Whether your off-roading across the savannah or relaxing by the pool, this natural fiber fedora is equal parts safari and sass. A ribbon band and floral trim add feminine flair.
3. Private B Brown/Almond Animal Print Scarf ($560)
Private B mixes a neutral animal print with a fine, cashmere-modal fabric to create this airy scarf. A delicate eyelash trim adds an effortless bit of chic to any look, office or play.
4. Michael Kors Antelope Cotton Shorts ($440)
A polished pair, these shorts have clean fronts and a trouser cut. Keep your cool with these Michael Kors shorts and pair them with strappy sandals and a loose, printed blouse.
5. Michael Kors Olive Knot Front Dress ($905)
Loose drapes, knots and twists are the perfect contrast to a serious, jungle-inspired green hue. Although this dress isn't meant for a safari, its color and sleek lines play into the Modern Wild trend perfectly.
6. Le Silla Taupe Cork Platform Sandals ($710)
Knock-out neutrals. Nature lends a hand (or should we say foot?) with cork and suede in warm taupe. Cork platform and heel with criss-cross front straps and back zipper.
Most Read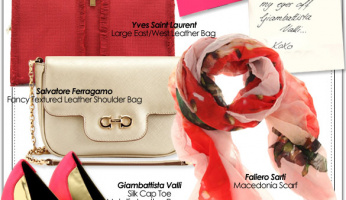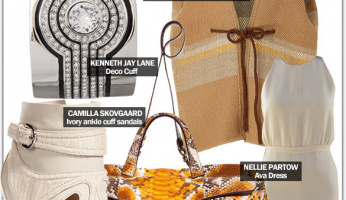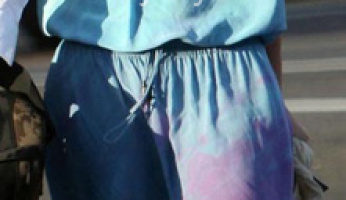 Subscribe to our Newsletter