Home for the Holidays: Pom Pom at Home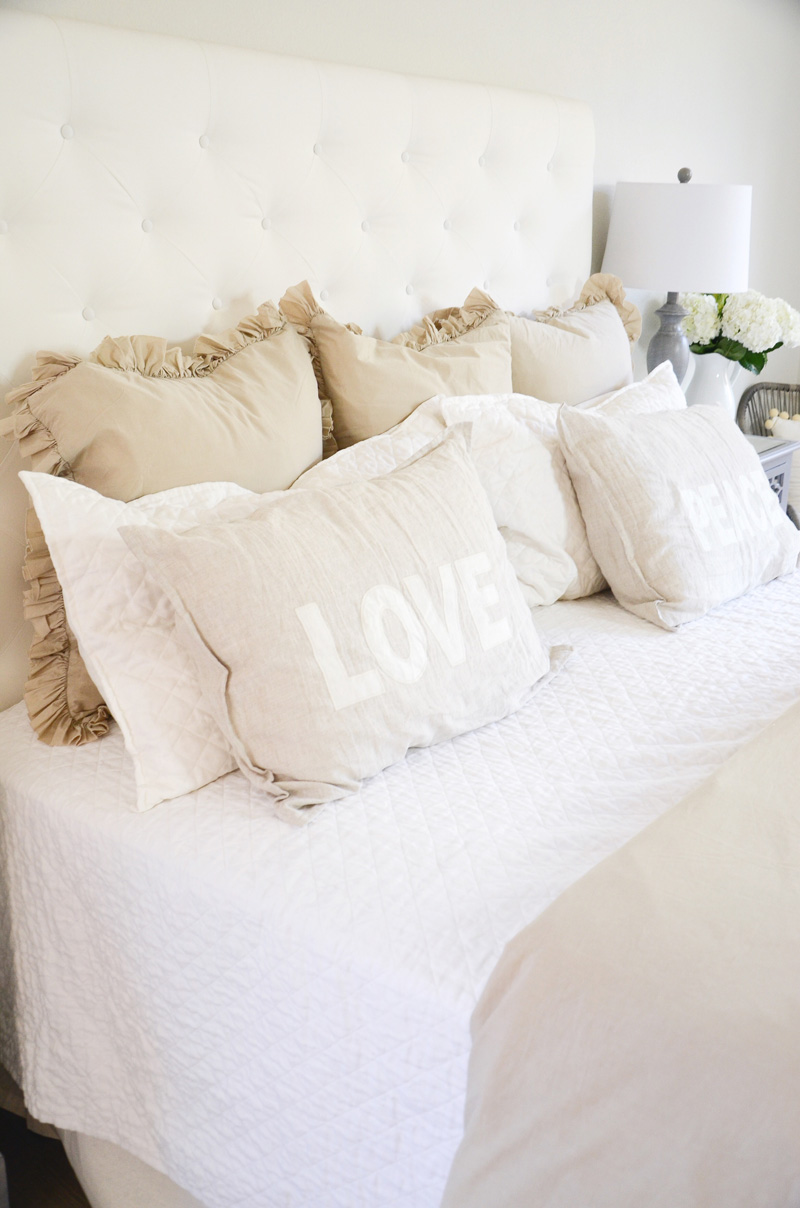 Hope everyone had a wonderful Thanksgiving!
This year we decided to host both Thanksgiving and Christmas at our house (we might be crazy!!), and I wanted to make sure everything would be as welcoming and cozy for our guests as possible. I'm so excited to see everyone, and I want to spend my time with my family instead of straightening up our house. In light of our recent home renovations (check our brand new master bath sneak peek!) everything is nice and new, but I still had to make sure all details were in place. My goal? Adding warm, holiday-ready accents to each room – including my own!!
A while ago, I fell in love with the look of an all-white bedroom. It's so clean and chic, but (surprise, surprise) all-white anything is never super practical in real life! Still, I managed to salvage the clean look for my bedroom by choosing warm neutrals for bedding and pillow cases. This way, I don't have to worry about keeping the white pristine, and the room still feels warm and luxurious.
If you've read some of my past posts about my home accessories, then you know how much I love Pom Pom at Home. When I was updating my bedroom for winter, I knew exactly where to get the comfiest bedding, pillows, and throws! I switched out plain pillowcases and duvets for their Madison duvet set in taupe, and I'm obsessed with its beautiful raw ruffled edges. They add gorgeous texture to the bedding without getting in my way while I sleep. They also are a great gift set for the holidays for a loved one (or, let's be honest, yourself).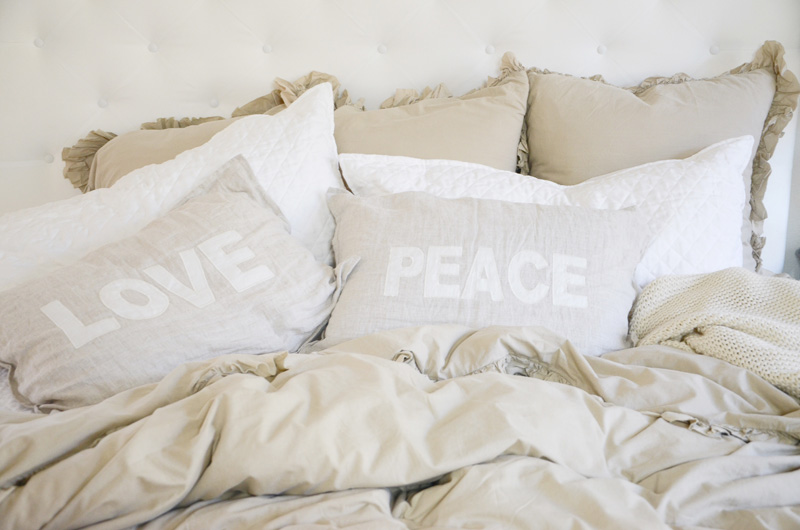 Because you can never have too many pillows to cuddle with, we also bought these white quilted Hampton pillowcases and blanket and the linen Love and Peace shams. The Love and Peace shams are my favorite part of the entire bed; they're so cute and totally worth the splurge. Plus, I've been seeing them online and on Instagram forever and am so happy to finally call them my own! They send me off to sleep with good vibes, and I love how they add even more texture to the bed set.
As a finishing touch for our room, I saw this plush fur rug and fell in LOVE. The rug is so soft and adds luxe comfort and style to the room. It's the Mongolian Lamb Fur in Natural from Pigment, and I really love how versatile it can be. Imagine it thrown over a chair or ottoman for an even chic-er look. So far, it's been working as a perfect alternative to those cold bedroom floors in the morning.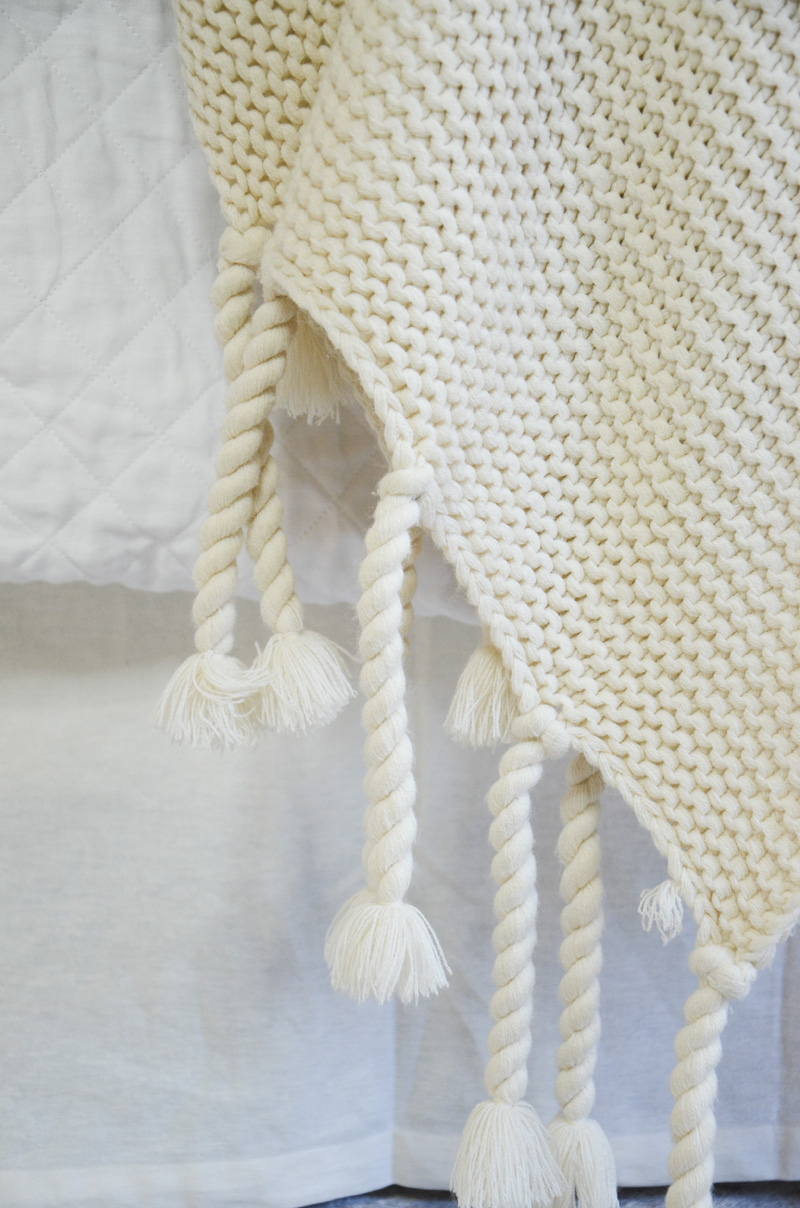 A good night's sleep can fix almost any problem and is absolutely essential in order to be a great host. I've been working on adding equally warm and cozy accents all around the house so everyone can feel as at home as we do. I can't wait to grab my oversized Trestles throw blanket and cuddle up with my family after our Thanksgiving dinner together. I'd love to hear how you stay warm with family this holiday season in my Instagram comments!
Great news Black Friday and Cyber Monday Shoppers! Pompommathome is offering 20% off plus free shipping (continental US) on any size order.
SHOP THE POST:
Subscribe to our Newsletter