How To Elevate Your Holiday Hairstyles Using Glitter Hair Sprays and Hair Tinsel!
New Year's Eve outfits are meant to be glamorous and usually involve some sort of glitter, embellishments, rhinestones, or diamonds – or all of the above. Accessories can add some much-needed glam and detail to your otherwise basic outfits, especially if they have a little sparkle to them.
But accessories aren't the only way to stand out this New Year's Eve. If you're the type of person who likes to go above and beyond in the sparkle department, we may have a few glitter products up our sleeve to help you achieve that stardust look.
Hair tinsel is a fun way of adding some interest to your hairstyle. Essentially, hair tinsel is the act of attaching thin strips of tinsel to strands of your hair. This creates a subtle sparkle that catches in the light. The hair tinsel will act almost like streaks, adding color and glam to every strand of hair it's attached to.
This also gives off very big Y2K aesthetics which people have been chasing all year in the form of low-rise jeans, baby tees, and Uggs. This hair tinsel trend can dress up your look while still giving you that nostalgic 2000s feel.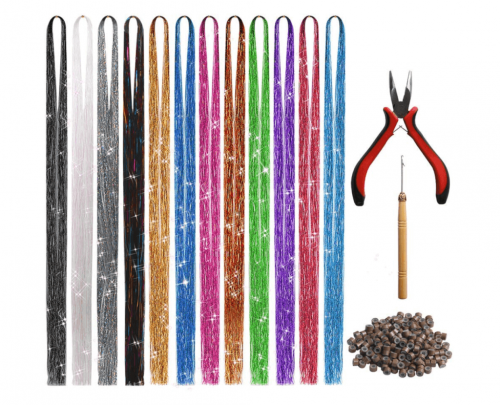 Hair tinsel is actually more affordable than you may think. This 47-inch hair extension tinsel comes with 12 colors, 2400 strands of hair, and the accessories needed to help you pull off the look. The act of adding tinsel to your hair can seem daunting if you haven't tried it before.
Luckily, we came across an easy-to-follow tutorial by Sophie Hannah on YouTube. Her comprehensive guide to hair tinsel goes through all the steps, from sectioning your hair to securing the tinsel.
Another way to add some sparkle to your hair is through hair glitter sprays. There are some hair-safe sprays and products that you can apply for the night to get that ultra-glam look in minutes.
These are typically easier to apply than hair tinsel, so if you're strapped for time but still want some pizzazz, hair glitter sprays might be a better option.
We've got five well-loved, well-reviewed glitter products for your hair to get you through the holiday season.
1. Manic Panic Stardust Body and Hair Glitter Spray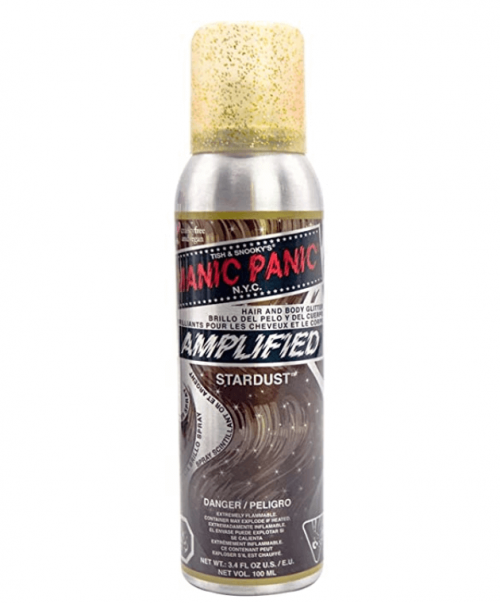 Manic Panic's Stardust Body and Hair Glitter Spray is a temporary product that instantly adds sparkle to any hair color. This cruelty-free, vegan formula is safe to use for both kids and adults.
It's a high-shine, highly pigmented spray that glimmers all night long, even when the lights go off. It's available in a variety of colors so you can mix and match to find your perfect shade for the evening.
It dries in minutes, so you don't have to fret about staining and fallout. To wash out, simply shampoo your hair and rinse well.
2. Got2b Glow'rious Metallic Shimmer Hair & Body Glitter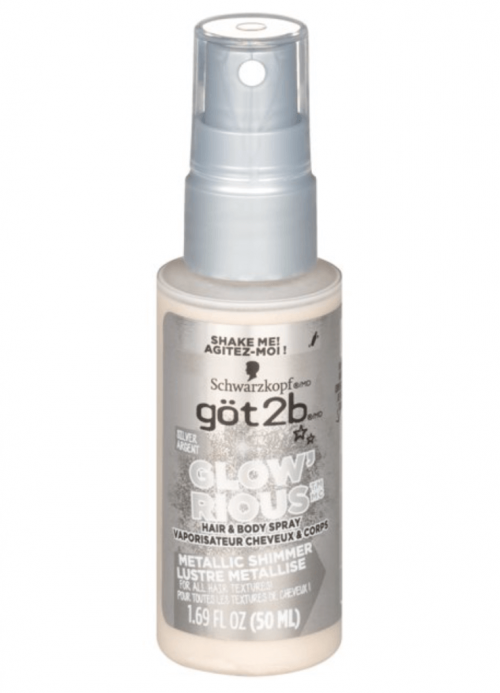 Got2b Glow'rious Metallic Shimmer Spray will give your hair a metallic glow.
It works on all hair types, textures, and colors, delivering a vibrant shimmer with every use. It washes off in one shampoo for a mess-free, fun-filled hairstyle.
The trick to this product is distance. Spray at a distance for a slight sparkle, or spray up close for a hyper-pigmented end result.
3. Ebin Egyptian Diamond Hair & Body Glitter Mist Spray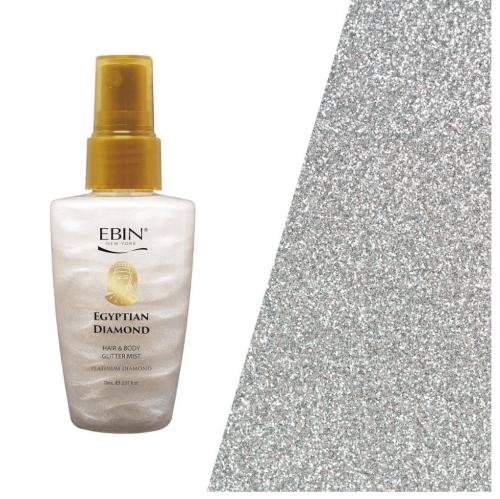 Ebin Egyptian Diamond Hair & Body Glitter Mist Spray is a hydrating, scented mist with tiny glitter pigments that will illuminate and elevate your hairstyle.
With a moisturizing effect, this glitter mist will avoid crunch even after the product dries down.
It has a fast dry time which helps avoid any sparkle fallout mess.
Platinum diamond is a cool-toned silver shade, but you can opt for gold or rose gold for a warmer, sun-soaked look.
4. Electric Bliss Beauty Holographic Glitter Spray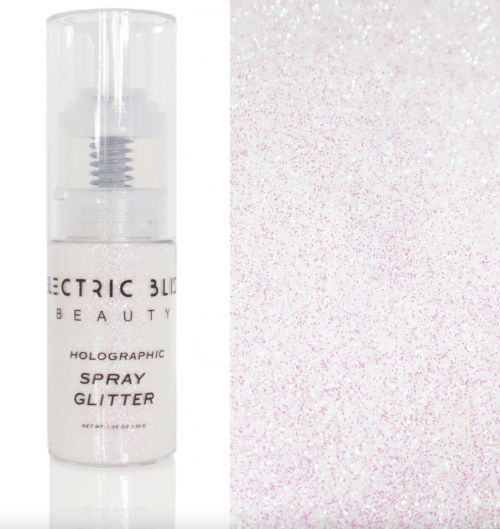 Electric Bliss Beauty Holographic Glitter Spray is for the big glamour leagues. It's a cosmetic grade, multi-purpose holographic glitter with a vegan, cruelty-free formula.
With a minimum of eleven shades to choose from, you'll be able to find a glitter to match your outfit.
Our personal favorite is the iridescent shade which gives off blue, pink, and purple hues in the light depending on the angle of reflection. This is a loose glitter, meaning it has to be applied with a gel or adhesive of some sort.
5. Unicorn Snot Holographic Glitter Gel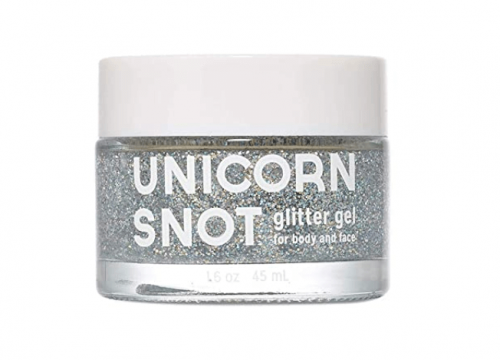 Unicorn Snot Holographic Glitter Gel is made with cosmetic-grade glitter and no harmful chemicals so you can safely use it on your hair, body, and face.
It's easy to apply, simply use your fingers to brush the glitter gel anywhere that you want some extra sparkle.
No adhesives are necessary, just apply straight out of the tub. It's a lightweight gel that's long-lasting and vibrant. It dries clear, leaving behind a brushed stardust look. It's just as easy to remove as it is to apply, simply shampoo as usual and rinse well.
Most Read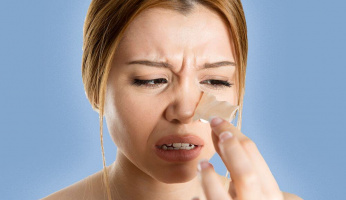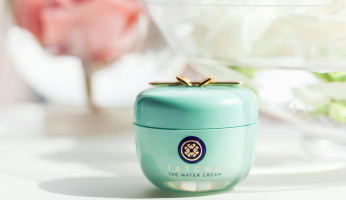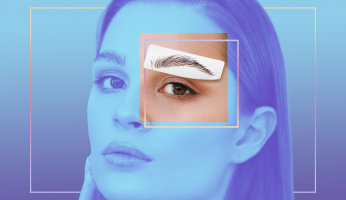 Subscribe to our Newsletter