Tatcha The Water Cream: In-Depth, Four-Month Review!
When we talk about beauty cult-favorites, a few products may come to mind. One specific product that we immediately think of is Tatcha's Water Cream. This oil-free moisturizer is no less than $68 for 1.7oz of product. I always wanted to try this well-loved skincare staple, but it was always out of budget.
So, when I received this product in my Ipsy bag, I was beyond excited to try it. While I only received a travel-sized version of the cream, it's lasted almost four months already and I still have some left. That makes me think that the bigger version, while definitely expensive might actually be worth it if you can stretch it over the span of a year.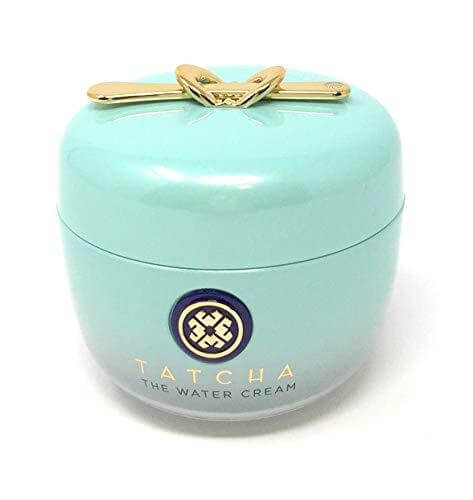 Let's analyze this product first. This is an oil-free, anti-aging water cream that is supposed to hydrate and minimize pores over time. It targets uneven texture and dullness, dryness, and enlarged pores.
It's formulated with pure, powerful Japanese botanicals including wild rose to tighten pores, leopard lily to control excess oil, and hadasei-3 which is ab lend of green tea, rice, and algae that target anti-aging.
There's also a touch of 23-karat gold mixed in as well. This cream is suitable for all skin types including sensitive and oily skin. It's also free of synthetic fragrances, sulfate detergents, and mineral oil which contributes to it being a non-irritating, lightweight cream.
Now let's talk about my personal experience using this cream. My skincare has benefitted from the whole skinimaslism trend. I have never been able to layer more than three products on my face without breaking out. The daily moisturizer I was using before was the Cerave Moisturizing Cream.
I was using this twice a day, morning and night. When I started using the Tatcha Water Cream, I would use it in the morning and continue with my Cerave Moisturizing Lotion at night. I would have swapped it out completely if it weren't for the travel size amount of product I had.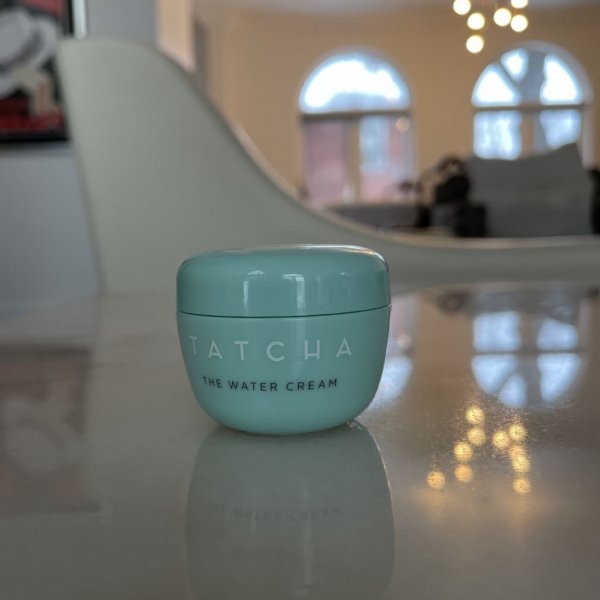 I have combination skin, my cheeks being dryer than my T-zone which tends to produce more oil than the rest of my face. I don't have sensitive skin, but I sometimes suffer from psoriasis on my scalp near my hairline, meaning I use intense moisturizers and pull it into my hairline to avoid flaking and itchiness in that area. I've been using the Tatcha Water Cream for around four months and here's what I've noticed.
First off, I noticed that my skin never felt sticky or oily after application. Typically some moisturizers leave behind a film that can be greasy or tacky, but The Water Cream didn't. It absorbed into my skin quickly and with ease so that I felt fresher than anything else.
It has a slightly whipped texture that feels very lightweight and soothing when applied. While I'm not sure if this product necessarily minimized my pores or helped with my meek 23-year-old age lines, my face does feel ultra-smooth and hydrated. I have noticed that my skin feels more supple and bouncy to the touch which I can only assume is from great hydration.
Another thing I wanted to address was the smell. Many people are scared of fragrances, and they should be. If you have sensitive skin, you need to watch out for essential oils and synthetic fragrances in products as they can cause redness and irritation. While this product has no synthetic fragrances, this cream does have a very particular floral scent. This is from the blend of Japanese botanical ingredients. It's subtle but fresh.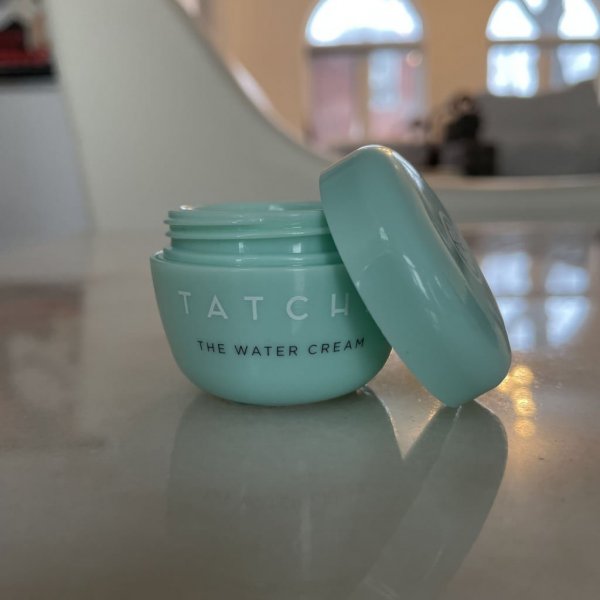 Overall, I think this product is actually worth the price point. I did highly enjoy using it and did feel that my skin improved over the last four months of use. I haven't changed anything else about my skincare, so any good changes to my skin are safely assumed to be because of Tatcha's Water Cream.
It is marketed as an anti-aging cream, so I wasn't able to feel the full effects of this aspect of it given that I don't have many fine lines or wrinkles in my early 20s. But, the other claims of hydration and clarifying the skin are definitely backed up with my own personal results!
I also think this moisturizer is worth it given how long the product will last you. It may be an expensive one-time purchase, but the actual product amount stretches more than you think. A little goes a long way with this one.
Subscribe to our Newsletter