Guest Editor: Shea Marie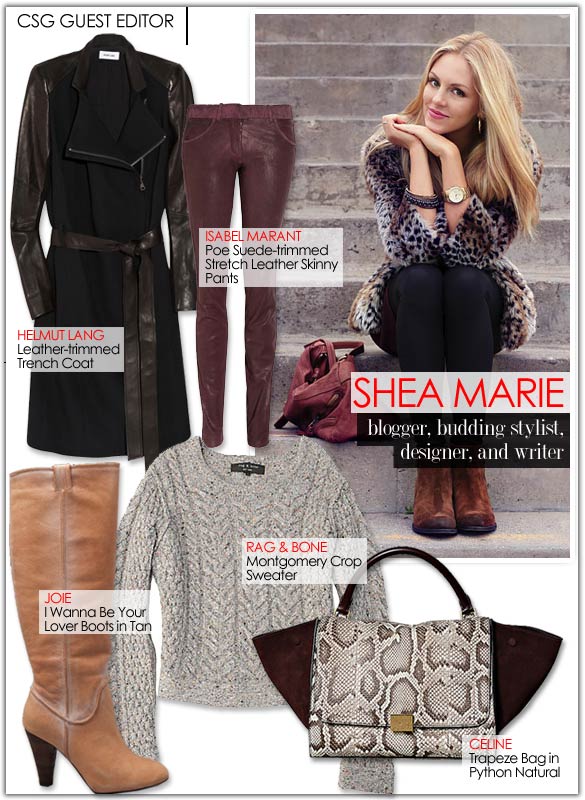 Ecstatic meets overjoyed…that's how excited I am to introduce today's guest editor! She's a blogger, a budding stylist, a writer, and a designer, not to mention one of Hollywood's favorite fashionistas. If you aren't following her blog Cheyenne Meets Chanel, you must. Her site documents the journey from small town country girl to fashion-forward urbanite, and the gorgeous outfits that result from the clash of these two worlds. Her style is inspired, bold, beautiful, sassy, and altogether eclectic…we couldn't ask for more! Without further ado, please give it up for the one and only Shea Marie. Here are a few of Shea's hand-picked faves, to you with love:
1. Celine Trapeze Bag in Python Natural:
"I just absolutely love Celine bags, especially the shape and the structure. The color combo of this one with the snakeskin print and the dark brown is perfect for winter."
2. Isabel Marant Poe Suede-trimmed Stretch Leather Skinny Pants ($2680)
"It's all about colored pants this winter and this shade is my absolute favorite. I've been obsessing over everything burgundy and the fact that these are suede is just perfection. Isabel Marant can do no wrong."
3. Helmut Lang Leather-trimmed Trench Coat ($729)
"One of my favorite trends for winter 2011 has been leather trimming and sleeves. Helmut Lang nailed this trenchcoat perfectly."
4. Joie I Wanna Be Your Lover Boots ($415)
"I got these boots earlier this fall and have literally been wearing them everyday. The tan color is perfect. They go with everything and make your legs look really long!"
5. Rag & Bone Montgomery Crop Sweater ($315)
"I'm a huge fan of knit sweaters. Rag & Bone is one of my favorite brands, they just pull off the casual cool look so well."
Thanks for sharing, Shea!
Follow Shea on Twitter: @peaceloveSHEA
Most Read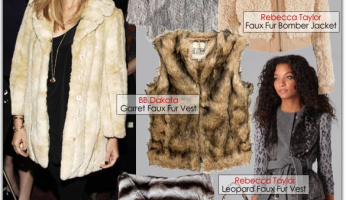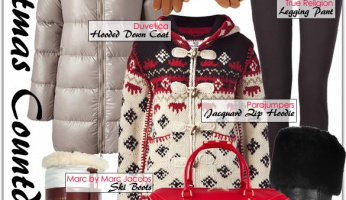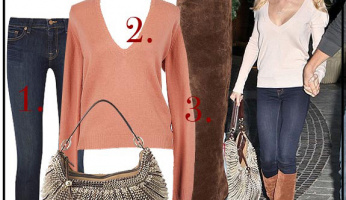 Subscribe to our Newsletter