Guest Editor: Meredith Markworth-Pollack's Top 10!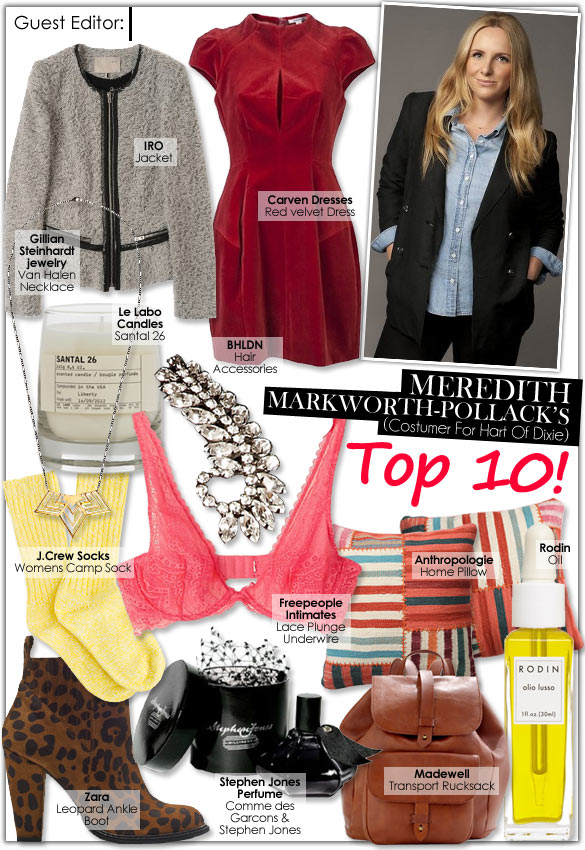 I'm ecstatic about two things today. Hart of Dixie, one of my favorite shows on television, is back for its winter season tonight. And in celebration of a new season, I have a very special guest editor for the day. Meredith Markworth-Pollack, costumer for Hart of Dixie, has sent us her Top 10. The CW is lucky to have this talented stylist, and I'm so thankful that the network lent us her style sense for the day. Her picks range from tried and true basics (Madewell leather, J. Crew socks, Zara ankle boots) to gorgeous necessities (Carven dresses, Anthropologie home accents, IRO Jackets). And thinking ahead to Valentine's, there are a host of romantic gifts (a lacy bralet, Rodin oil, La Labo candles, Gillian Steinhardt Jewelry). Enjoy Meredith's Top Ten…and don't forget to watch Hart of Dixie's winter premiere with me tonight!
1. Madewell Transport Rucksack: I love Madewell's leather goods and this classic backpack is great for anyone on the go.
2. Free People Intimates Lace Plunge Underwire: Free People has beautiful, delicate intimates that are well priced and come in a variety of shapes and vibrant colors. They work especially well under sheer blouses.
3. Zara Leopard Ankle Boot: These leopard boots are a personal fave and we've also used them on Rachel Bilson on the show. They also have a great collection of studded boots that are perfect for Holiday functions.
4. Rodin Oil: Rodin Oil is my favorite splurge. And it's worth every penny. Its subtle floral scent is refreshing and it leaves your skin so smooth, especially in the drying winter months.
5. Le Labo Candles- Santal 26: A friend recently gave me all of the different Le Labo scented candles (best present ever, by the way), and they are all equally amazing. Be sure to take advantage of the custom labels they make.
6. Carven Red Velvet Dress: Carven has the party dress down. And they make dresses for a variety of different body types. We've used quite a few on Hart Of Dixie…this red velvet is great for the Holidays.
7. J.Crew Socks Womens Camp Sock: I am always on the hunt for cozy socks and the J.Crew Camp Sock is by far my favorite- for both men and women.
8. Anthropologie Home Pillow: I've recently moved to a new home, and I can't get enough of Anthropologie's home decor. They have a smaller selection in the stores but their website is great. This pillow is a favorite to brighten up a room.
9. Gillian Steinhardt Jewelry Van Halen Necklace: Gillian is a NY based jewelry designer and fellow stylist. Her pieces are bold and original and I've used several different pieces on Rachel Bilson, including the Van Halen necklace. Love!
10: Comme des Garcons x Stephen Jones Perfume: Stephen Jones is a British milliner and he teamed up with Comme des Garcons to create the most lovely fragrance. It has a very nice blend of woodsy and floral hints and comes in a very sexy black bottle, packaged in a mini hat box.
Here are 2 more more bonus items Meredith couldn't leave out!
11: IRO Jacket: IRO reminds me of a French rocker chick, which, let's admit, we would all love to be. Their jackets are knit with details of leather to keep you warm and stylish.
12: BHLDN Hair Accessories: BHLDN is a go-to for Hart Of Dixie and not just for wedding accessories! Their feminine vibe is perfect for all things glittery and gold. I've used this hair pin on Jaime King's character Lemon.
Subscribe to our Newsletter