Golden Hues: The 2012 Emmys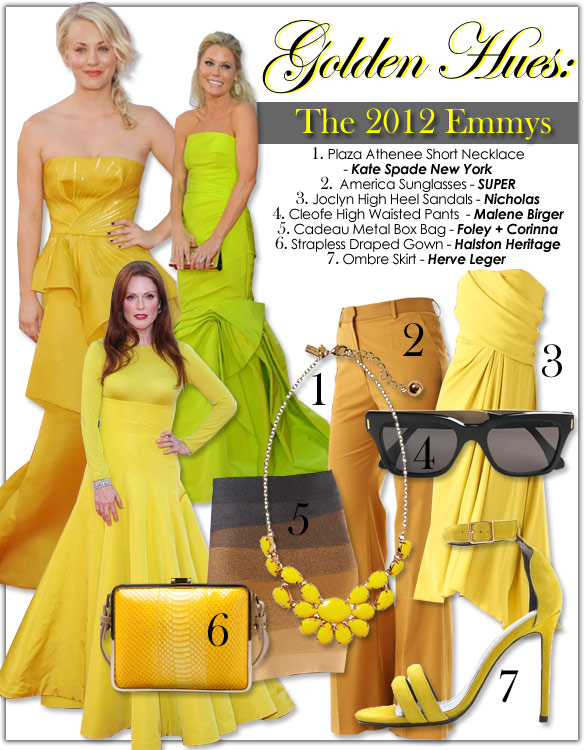 Julianne Moore, Julie Bowen, and Kaley Cuoco…just to name a few. Celebrities embraced the color yellow for Sunday's 2012 Emmys, and in so doing selected a trend color for fall. Warm, sunshine-y, and just plain fun to wear, yellow is the color of changing leaves, butternut squash, and the waning summer sun. Set against gray, cognac and black, yellow can actually be quite demure. Mixed in with navy or florals, it's fresh. And styled with other blocks of color, it's absolutely edgy. Choose a bright yellow frock for an autumn wedding, or amp up an LBD with a be-jeweled necklace. Bring a little sunshine to the office with a yellow trouser or pencil skirt. Afterhours looks are infused with life when a metallic clutch, pair of shades or sky high heel is added to your mix. Score your own golden trophy with these yellow pieces:
1. Kate Spade New York Plaza Athenee Short Necklace: Inspired by vintage jewels, this short necklace is bejeweled with a sunburst of yellow jewels. Dress up any neckline with this piece: from crisp button-up to a relaxed chambray, a prim sheath dress to a preppy cashmere crewneck. A charming way to ease into the yellow trend!
2. By Malene Birger Cleofe High Waisted Trouser: Another vintage-inspired piece, we can see the golden girls of Hollywood working these for fashion week or a late lunch. Bring a little sunshine to the cubicle with these chic trousers. Cut high-waisted and wide-legged for extra glam, they style well with gray cashmere, a classic white shirt or business black.
3. Halston Heritage Strapless Draped Gown: Work your own red carpet in this stunning gown. Created from soft folds and pleating, its strapless bodice is finished in a flowing skirt. Style with gold heels and a metallic clutch for evening or wear to an autumn wedding with romantic curls and a few sparkling stones.
4. Super America Shades: A retro wayfayer frame is upended with thick frames and gold metallic arms. Style these over any outfit for insta-celebrity. Their black color and solid composition make them a great choice for cool weather sunglasses.
5. Herve Leger Ombre Skirt: SO Hollywood. The ombre craze just won't quit, as proved by this ultra glam skirt. An iconic pencil shape is made edgy in body con bands of fading gold, gray, and black. Pair it with a sexy black top for a twist on a cocktail dress. Add black heels and yellow gold accessories to complete this look.
6. Foley + Corinna Cadeau Metal Box Bag: A true day t0 evening wonder, this cute lil' box bag gets a lot of bang for its petite size. A nude leather strap and edging make it appropriate for daytime wear, and its gold details make it shine after dark, too. This pop-of-color accessory adds the yellow trend to any outfit.
7. Nicholas Joclyn High Heel Sandals: Peeking out from a wide-legged trouser, finishing a skinny-clad leg or making a statement with a skirt, these yellow sandals are fetching and eye-catching. Thin yellow straps are styled together with a suede heel and sexy ankle strap.
Most Read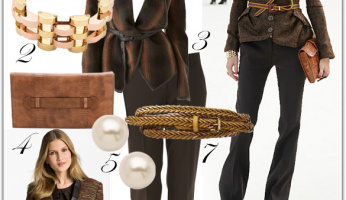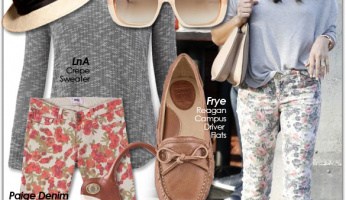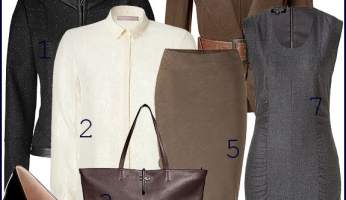 Subscribe to our Newsletter