Feline Persuasion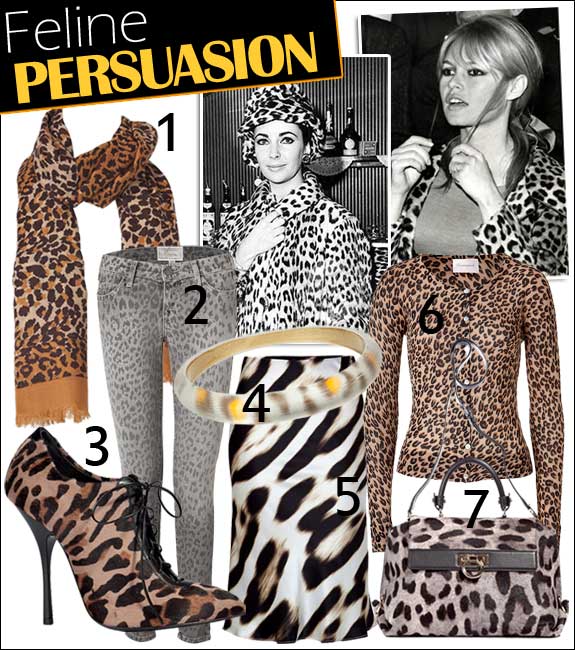 Heed the call of the wild with a safari of erotic prints, from leopard spots to tiger stripes. Equal parts cat woman and Brigitte Bardot, single pieces provide a bold graphic statement – or layer with abandon for an intoxicating mix that's bound to make any fashion lover purr.
1. Marc Jacobs Wicken Gold Multi Jungle Printed Scarf ($195)
Fashionable jungle print in brown and gold it is wonderfully classy, yet cool, too! Ultra-soft and wonderfully classy, ​​yet cool, too.
The perfect compliment to pair with a biker jacket, blazer, parka or coat.
2. Current Elliott The Stiletto Grey Leo Print Jeans ($198)
These are a hot trend piece for international trendsetters.
3.  Giuseppe Zanotti Taupe Calf Hair Leo Print Bootie ($710)
They look elegant and seductive, a bang with a business suit, jeans, leggings, the new maxi skirts.
4.  Alexis Bittar – Amber Skinny Tapered Leopard Bangle ($165)
I love this stylish bangle by New York's hot designer Alexis Bittar. It is elegant in a soft amber, with the fashionable leopard look.
5. Roberto Cavalli Multicolor Animal Print Silk Skirt ($625)
This luxe skirt made of fine, multicolored silk is my fall must have! Oh so comfortable  and flattering, the perfect highlight skirt for chic parties and events.
6. Crumpet – Classic Leo Print Cashmere Cardigan ($485)
This stylish cardigan in fine cashmere, it looks luxurious, ladylike, sexy and super trendy at the same time. Who says you can't have it all?
7. Salvatore Ferragamo  The Sofia Leo Print Satchel Bag ($3027)
This bag had me at "Hello. This luxurious bag in an elegant animal print will be your fave bag for day and evening. A true modern classic from one of my favorite designers,  the Italian luxury label Salvatore Ferragamo.
Most Read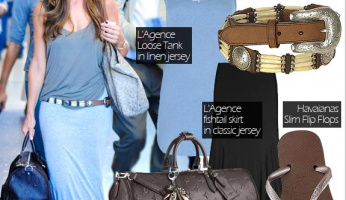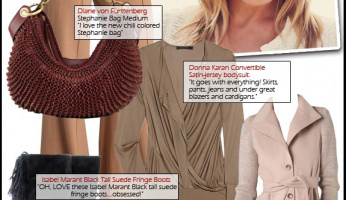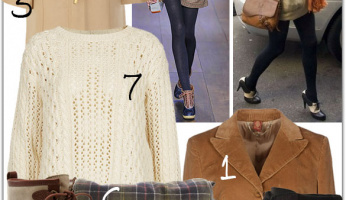 Subscribe to our Newsletter