Dress Like Her: Bachlorette Emily Maynard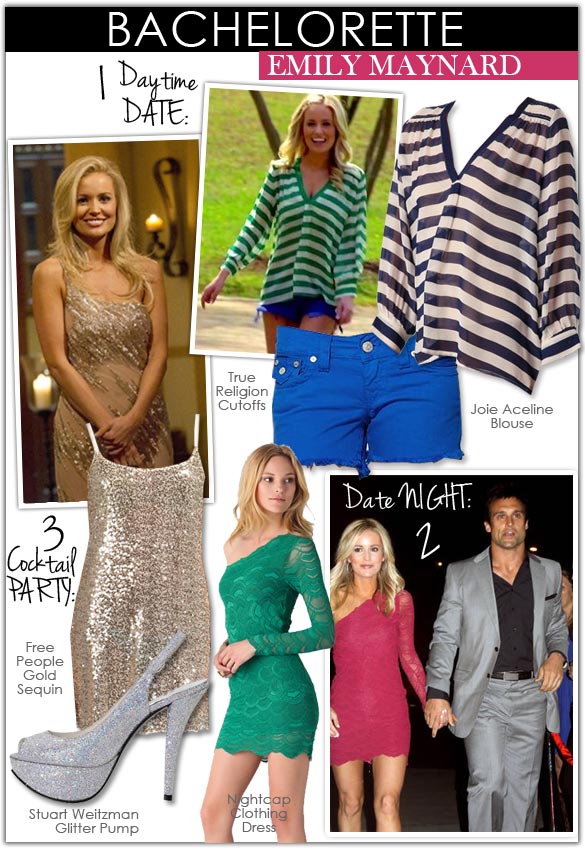 I'm loving Emily Maynard (and Arie, too!) on this season of The Bachelorette. She is giving mom style a really good rep because this girl has style. A fan favorite, Emily Maynard is bringing home more than just great ratings to the Bachelorette franchise, her casual and all natural style is fantastic too! To steal this Southern girl's sweet, yet undeniable sexy style for your own, I've put together a few looks from Daytime Date to Date Night to Cocktail Party.
Daytime Date: Emily loves her shorts, whether it be dressy lace shorts with a tailored blazer, a printed romper or an all-American pair of cutoffs. Twice this season, she's matched up a pair of denim shorts with a striped top.
1. Joie Aceline Blouse: The navy version of Emily's green and creme stripe, this floaty silk-chiffon Joie Aceline blouse complements a cobalt blue cutoff or a more classic denim pair. Slightly sheer, it also features 2-button cuffs and a deep v-neckline. Pair with loose waves and a sunny smile to steal Emily's style.
2. True Religion Keira Cutoff Short: Colored denim is all the rage. Ease into the trend with a pair of bright blue cutoffs, like Maynard's. Great with stripes, blacks, greys, or another pop color like orange or fuchsia. Classic 5-pocket styling and cutoff hems give these shorts a down-home feel.
Date Night: Maynard knocked the socks off her date (hopeful rose-seeker Ryan) in a lace mini dress. On this outing, Emily balances a short hemline with a more modest one-shoulder cut. She has worn several one shoulder frocks this season, sending style seekers to the stores in search of asymmetrical cuts.
3. Nightcap Clothing One Sleeve Dress: Whether it be deep pink, plum purple or emerald green, Emily's been spotted in all these jewel tones. Choose your favorite hue in lace (floral, as seen on Maynard or scalloped, as seen here) and find a one-sleeve mini to channel your inner Bachelorette.
Cocktail Party: When she's dressing up for the big cocktail party, performing with Kermit, or flying in a private jet, Emily loves her sparkle. Sequins, metallic, or glitter, this Bachelorette is all girly-girl. She wore a glitter pump with her lace mini and an all-over sequin dress on several occasions. Our first step to Emily's style is definitely sparkle.
1. Free People Sequin Slip Dress: Golden girl. Emily choose a strappy gold sequin dress to hand out her roses, a mint green glittery dress for her performance with the Muppets, and a metallic gold knit for a recent date. For any special event, Emily's rule of thumb is sparkle. This Free People slip dress has plenty of it in gold sequins.
2. Stuart Weitzman Vevey Pump: Maynard paired a multi-colored sparkle pump with her lace mini dress, but we can see her wearing these silver glitter pumps from daytime date to date night. Peep toes and a sling back put extra va-va into your va-va-voom.
Most Read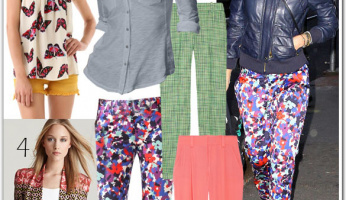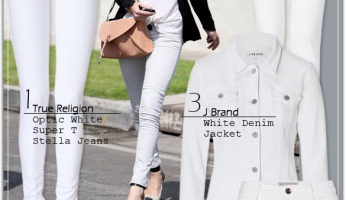 Subscribe to our Newsletter