5 Different Ways To Tie A Bikini Top
The classic triangle bikini top is simple, classic, and something that will never go out of style any time soon.
However, if you want to freshen your bikini look up and get a little experimental like the Kardashians, you can transform that timeless style into something more modern (and more flattening) with a few easy styling hacks.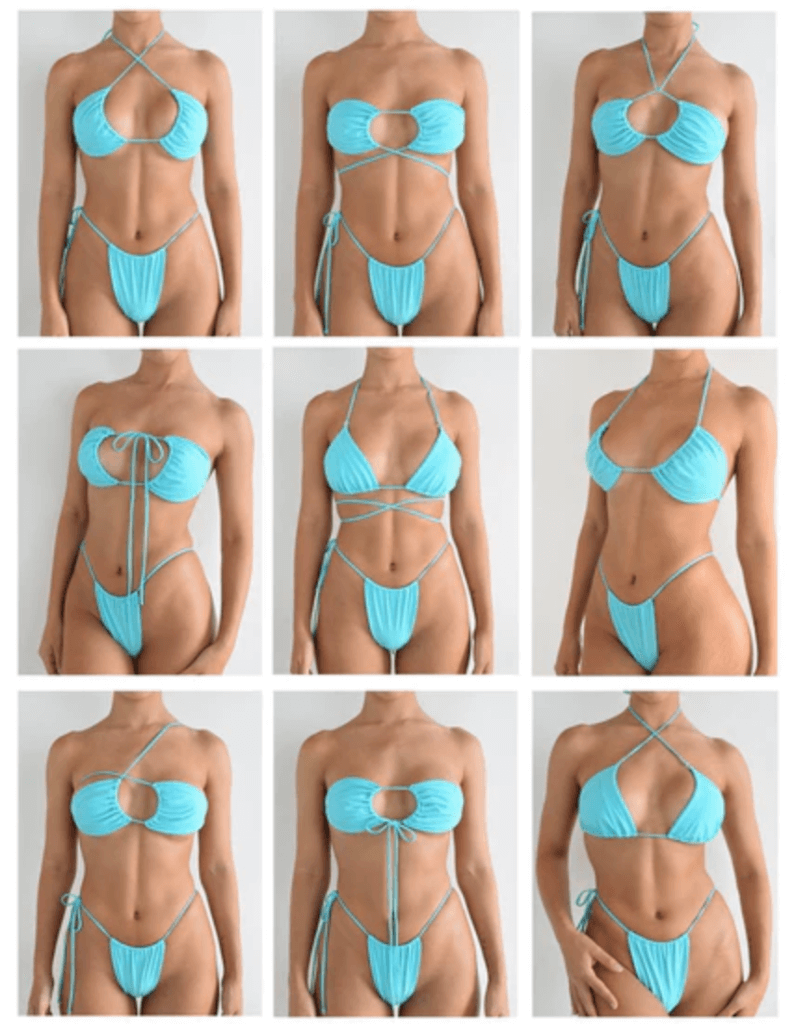 1. Strapless Bandeau with a Keyhole
The great thing about a bandeau swimwear top is that it eliminates those awkward tan lines – especially around your neck!
It doesn't offer as much lift as some of the other styles, but it's an excellent choice for those that want to squash tan lines and transform a classic shape into something more modern.
Step 1- flip your bandeau bikini top upside down.
Step 2- Tie to bottom ties in a similar way you would for the classic shape.
Step 3- Cinch the top ties close together for that perfect keyhole, and then tie them into a tight bow.
Variation: You can opt to tie the front straps in the front for a cute little bow tie or extend the straps to the back for a cleaner look.
2. Choker
Jewelry and bikinis don't often go together, but with a few tweaks, you can build a choker into your bikini neck straps!
This variation adds a little pop of fashion to your basic string bikini top with a slight adjustment of the straps. If the other styles feel a little too complicated, this simple style is a great place to start.
Step 1- Tie the bottom straps like you typically tie them for a basic shape.
Step 2- Before tying the swimsuit top straps, wrap one strap loosely around your neck and tie it in the back.
3. Scoop Neck
What's great about the scoop neck is that it gives your ladies more definition and a scoop-like/bralette shape than the basic triangle shape.
It's also a great way to wear your bikini if you want to add more cleavage since it naturally pulls your chest inwards.
Step 1- Flip your bikini upside down, and pull the cups along the bottom strap towards the ends.
Step 2- Drap the bottom strap over your neck (like wearing a scarf) and position the cups in place.
Step 3 – Tie the loose staps into a bow in the front, which will naturally pull your chest inwards and provide a good deal of support and cleavage!
4. Front Rope
A front rope is easy to make your simple triangle top look expensive. It provides the same level of coverage and definition as a standard fit with just a little pop of flair down the middle of your chest.
Step 1- tie your bikini on the bottom like usual.
Step 2- Criss-cross the shoulder straps over your neck where they will meet in the front.
Step 3- twist the straps into a rope-like shape traveling down the middle of your chest, and then cinch them to the bottom staps.
5. Criss-Cross
This method is another excellent way to add a pop of flair while removing that uncomfortable top knot. It is a much more comfortable way to wear your bikini and boosts cleavage- who doesn't want that?
Step 1- place your bikini top face down on a bed or other flat surface.
Step 2- Tie the top right string to the bottom left string and vice versa.
Step 3 – Pop your arms through the loops and then cinch them in the back.
Variation: If you don't want to criss-cross on your back, tie the right sting to the right side and vice versa for a clean open-back look!
Variations to reduce awkward tan lines
The Bandeau variation is a great way to keep your tan nice and clean if you loathe those strappy tan lines.
However, keep in mind that the triangle top's keyhole design will cause a circle line in the middle of your chest, but it will only be noticeable if you plan on skinny dipping later! To combat this tan line, fill it in with plenty of sunscreen.
Variations for lift
If you wish your bikini tops to provide the same lift as your classic push-up bra, the scoop neck is a great way to push the ladies closer.
Flipping your top upside down is a great way to use that elastic along the bottom to pull your ladies together for eye-catching cleavage.
For even more cleavage (and maybe a little underboob), use the criss-cross variation across your chest rather than behind the neck.
Effective Tips
Your bikini should hold firmly in place without cutting off circulation. Start with a simple square knot to ensure that the strings don't come undone if things get a little rowdy in the pool. A simple square knot works like you're trying your shoelaces in a double knot.
You can allow the string to hand down loosely or tie them into a shorter bow (just like you'd tie your shoelaces).
Be sure that when you cinch your square knot, you don't pull it too tightly to allow you to easily take it off and try out the new variations found on this list!
Most Read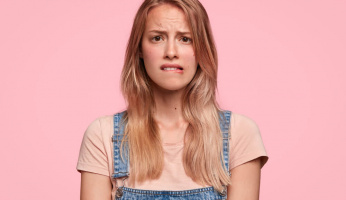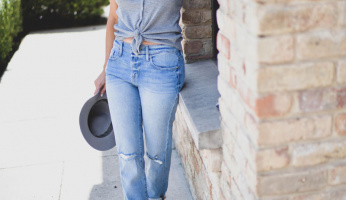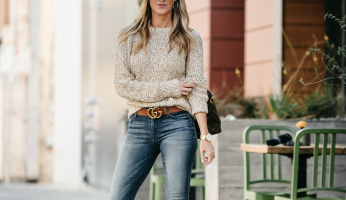 Subscribe to our Newsletter