Destination Inspiration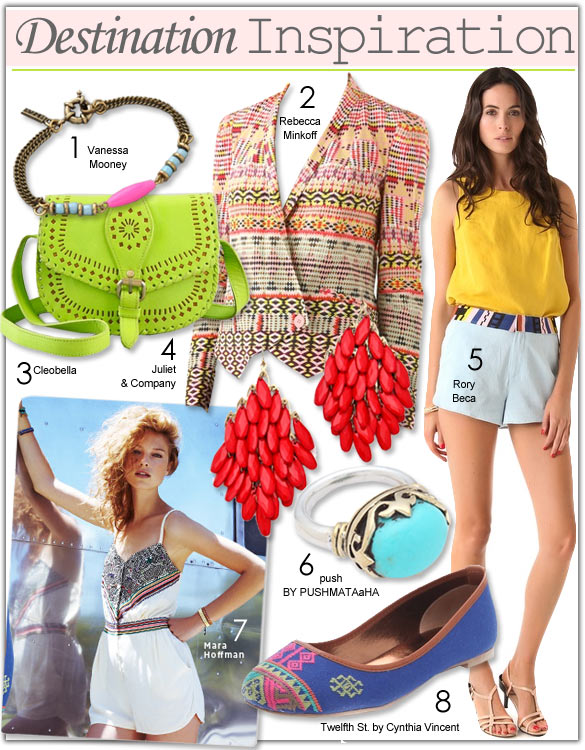 Today's inspiration comes from a very inspiring destination: the Mayan Riviera. The white sand beaches of Cancun, the warm tropical waters of the Caribbean, and the colorful culture of Mexico are calling us to vibrant styles. Start your style with white, as pure as summer sunlight, in rompers, shorts, and flirty skirts. Then add intricate Mexican prints and embroidery, in a trim, shoe or all-out jacket. Finish with cayenne red and turquoise blue stones, colored leathers, and an armful of beaded bracelets.
1. Mara Hoffman Embroidered Romper: For a romp in the sand or afterhours fun, this Mara Hoffman romper is the essence of the Mayan Riviera. Its body is set-off by traditional embroidery, braided straps, and a button front. Pair with woven sandals by day, espadrilles by night.
2. Rory Beca Samoa Embroidered Shorts: Fresh sky blue shorts are made extra special with an embroidered waistline. Show off the intricate patterning by tucking in a blouse or tank. These gym-style shorts are uber comfortable so they are great for travel, over your swimsuit or as an comfy alternative to that bandage-style cocktail dress.
3. Rebecca Minkoff Becky Printed Jacket: After vacation is over, bring home the vibrant colors of your travels. This printed jacket brings vibrance to the workplace, as a twist on the blazer or a colorful cover-up for nightwear. Silk blazer with shawl collar and pointed front hem.
4. Twelfth St. by Cynthia Vincent Sage Embroidered Ballet Flats: Flirty feet. Cobalt blue is accented by turquoise, pink, and green embroidery. Paired back to boyfriends or a flirty skirt, you'll be sad to kick these off to play in the sand.
5. Vanessa Mooney Twist of Fate Bracelet: Just one? You'll want arm-fulls of this lovely bracelet. Vintage-y brass is set with pink and blue glass beads. The perfect complement to any tanned wrist!
6. Cleobella Cantina Medium Bag: Lunch at the cantina or drinks in the cabana, this bright green carry-all is like the lime in your Mexican beer. A twist of tang, it gives off an authentic vibe with its perforated detailing and whipstitched edges.
7. Juliet & Company Retro Color Earrings: Caliente! Spice up your look with these cayenne red earrings. Their deep red color comes from faceted resin stones hung on brass hooks. Throw them in to heat up any night!
8. push by PUSHMATAaHA Small Monarch Ring: Turquoise is Mexico's signature stone. No outfit inspired by this destination is complete without a touch of turquoise. A sterling silver band is set with deep blue turquoise and surrounded by scalloped brass.
Most Read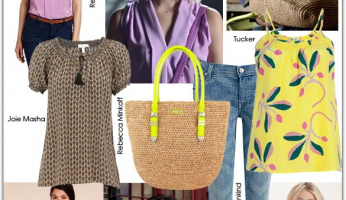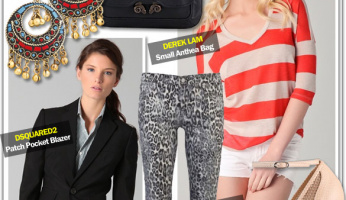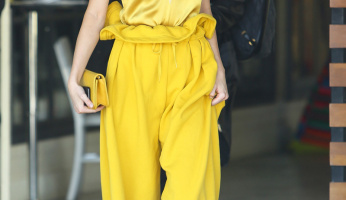 Subscribe to our Newsletter