Create The Sultry Glow of a Swimsuit Supermodel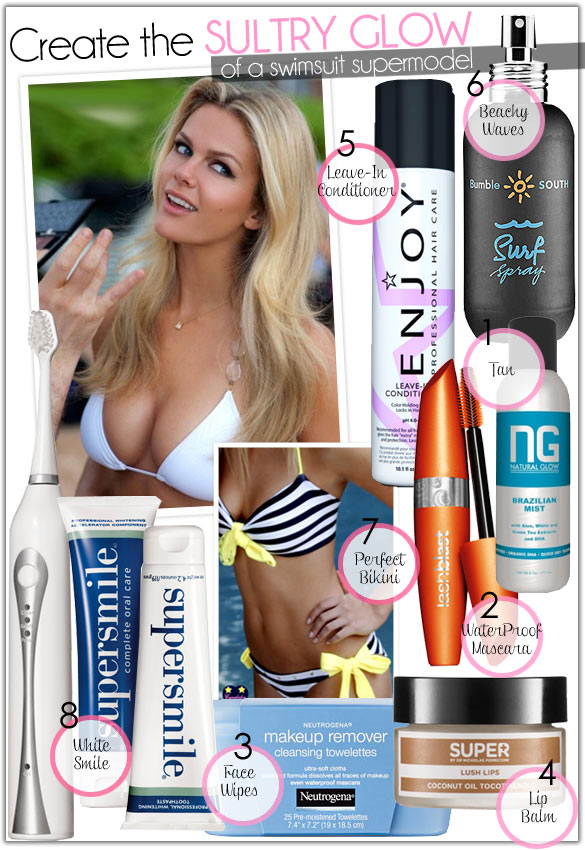 The countdown to swimsuit season is here, and we're all in a race to get our bodies bikini ready. To give myself a leg up, I've stolen a few secrets. It's not just the toned body that creates the sexy appeal of the swimsuit model, it's her sultry glow. The base of it all is the perfect tan, achieved not with hours on the tanning bed, but with the perfect self-tanning spray. And complementing that perfect tan is a set of brilliant white teeth, also achievable from home. The rest is the details: soft beachy waves, thick eyelashes and shiny, moisturized lips. I've gathered a list of my favorite beach-going products, sure to create the sultry glow of a swimsuit supermodel.
Tan:
1. Brazilian Mist by Natural Glow: Here is a little secret the "Angels" know. (WINK) Brazilian Mist by Natural Glow is designed for airbrush tanning enthusiasts and professionals alike. No need to spend hours in the tanning bed or on the lounge chair…who has the time? But more importantly, who can sacrifice your skin's safety? This safe, natural spray is your ticket to a perfect, model-worthy tan.
WaterProof Mascara:
2. CoverGirl LashBlast Mascara: Don't skip the long lashes. I never leave home without my mascara, and that includes the days I hit the pool or the beach. Frame your most flirty attributes with CoverGirl's ultra long-lasting waterproof mascara.
Face Wipes:
3. Neutrogena Makeup Remover Wipes: Remove salt, shine, and smudged makeup with Neutrogena's handy wipes. I carry these in my purse and beach bag to freshen up when I'm on the go.
Lip Balm:
4. Super By Dr. Nicholas Perricone Lush Lips: Pucker up! Protect your pout with Dr. Nicholas Perricone's Super lip balm. Formulated with coconut oil, this super saturating balm moisturizes, protects and lends a bountiful shine.
Leave-In Conditioner:
5. Enjoy Leave-In Conditioner: The sun, sand, wind, and salt can be tough on your hair. Protect your lovely locks with an easy, breezy leave-in conditioner. Protection is a cinch with this throw-on-and-go product!
Beachy Waves:
6. Bumble and Bumble Surf Spray: Freedom, not fussiness. Don't spend hours on your beach hair, just scrunch some of Bumble and Bumble's brilliant Surf Spray into your locks for beach beautiful waves.
Perfect Bikini:
7. Cynababy Sailor Dreams Swarovski Bandeau Bikini: I fell in love with the suit the minute I laid eyes on it! This bikini is one of the reasons I am so excited for this upcoming summer season. It fits like a dream, the fabric is uber luxurious and the look of it has you at "Hello"! Classic stripes, trending bling. The best of both worlds come together in one of my favorite suits of the season. This Cynababy bikini will be a favorite for seasons to come with its nautical stripes and fun neon yellow ties and tiny blinging crystals. Drool!
White Smile:
8. SuperSmile: Beauty Arsenal: Oh, those gleaming white teeth. They blind us from billboards, bedazzle us from screens and make us squint at magazines. How can we ever compete? You know what they say, you're never fully dressed without a smile, and better make it a stunning, white one. All the celebrities know that their smile takes center stage every time they are in front of the camera. In Hollywood, teeth have to be better than just white, they have to be super white. I have the SuperSmile toothbrush and the whitening system and I'm obsessed with it because my teeth have never looked better! 100% of patients who use Supersmile saw a difference and their teeth were up to 5 shades whiter! This all-in-one system whitens and cleans for the freshest, brightest smile on the beach.
Most Read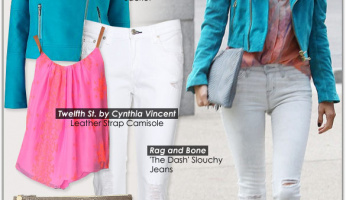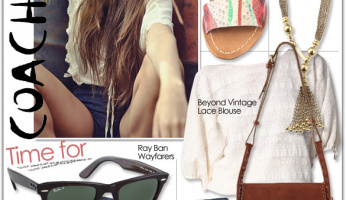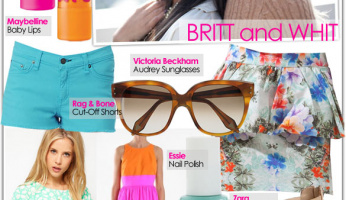 Subscribe to our Newsletter