Color Play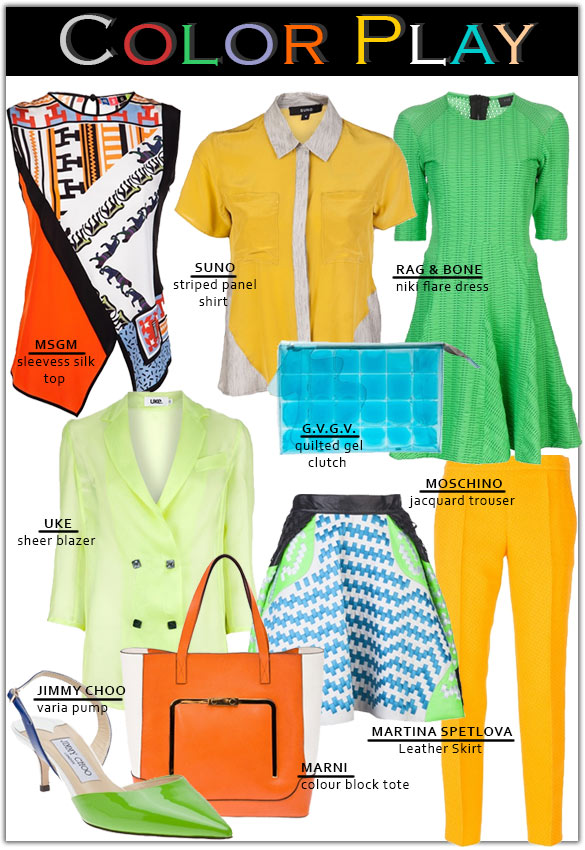 Like a technicolor dream, fashion this spring is exploding with color, print, and pattern. Grass green, electric blue, canary yellow, persimmon orange…and every shade and hue in between. If it's bold, bright, and beautiful, designers from Jimmy Choo to Rag & Bone have embraced it in their spring and summer collections. From colorblocked shoes to radiant dresses, color-soaked trousers to print-filled shirts, fashionistas and celebrities alike have been playing with color like kids with a box of new Crayolas. My favorite way to wear these highly saturated colors is in highly polished pieces: the crisp trouser, the flared dress, the pointy toe pump, the structured tote.
1. MSGM Sleeveless Silk Top: Like a work of art. Printed and pieced shirts are stunning when combined with a solid skinny leg and professional pump. The art is in the details, so look for printed tunics with colorblocked effects, asymmetrical hems, or exposed zippers.
2. Jimmy Choo Varia Pump: Coming or going, this tidy kitten heel is ready for a stroll through Central Park. The juxtaposition of a conservative heel and pointy toe with eye-popping green and electric blue makes this heel equal parts business and pleasure. Shoes are a full of color this season!
3. Moschino Jacquard Trouser: Color-soaked jacquard is anything but stuffy. This surprisingly fresh fabric is all gussied up for summer in canary yellow and trim, sleek lines. Totally work appropriate when paired with a slim top and pointy toe.
4. Uke Sheer Blazer: A fresh take on the blazer, this sheer, celery green is a weekend warrior over simple skinnies and a tank. Look for the more relaxed fit blazer in either sleeveless or shorter-than-usual sleeves to be a go-to topper for fashionistas this year.
5. Marni Colour Block Tote: Like a creamy-sweet Dreamsicle, creamy white sits side-by-side with tangy tangerine in this colorblocked tote. This classic combo pops against workwear or beachwear with its traditional lines and modern color.
6. Rag & Bone Niki Flare Dress: Tiptoe through the tulips in this fresh-as-a-daisy dress. I'm head over heels with the girly flared skirt…so when I found this piece in grass green, I went green with envy. Pair it with simple flats for date night or get it all dolled up with heels.
7. G.V.G.V. Quilted Gel Clutch: Not only is color a big player this year…texture is as well. Case in point: this fascinating quilted gel clutch by G.V.G.V. Look for these textural fantasies to pop up on the red carpet at movie premieres this summer (Anyone else counting the days until Leonardo DiCaprio and Carey Mulligan light up the screen in the Great Gatsby?!?)
8. Suno Striped Panel Shirt: Weekend wear. I love the thought of waking up on Saturday morning, throwing on this sunshine yellow button-up and my favorite jeans or shorts and heading out for a trip to the farmer's market or grabbing coffee with my girls. Color is a key element in weekend wear, for sure.
9. Martina Spetlova Leather Skirt: Print, flare and leather…how could this skirt not be fun? Pair this fun-filled piece with a simple black top for a traffic-stopping look.
Most Read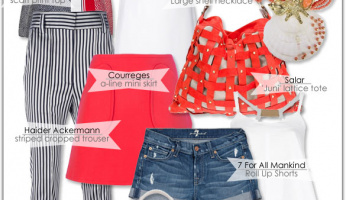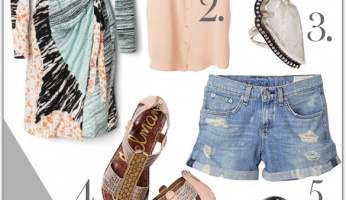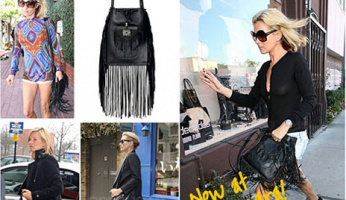 Subscribe to our Newsletter