Celebrity Style Gift Guide For Him
.giftguide-container {display: inline-block;margin: 0;padding: 0;border: 0;box-sizing: content-box;position: relative;}a.map-link {position: absolute;text-decoration: none;border: 0px;}a.link-1 {top: 0;left: 0;width: 36%;height: 42%;}a.link-2 {top: 0;left: 36%;width: 36%;height: 42%;}a.link-3 {top: 0;left: 72%;width: 28%;height: 38%;}a.link-4 {top: 44%;left: 0;width: 34%;height: 30%;}a.link-5 {top: 44%;left: 36%;width: 28%;height: 30%;}a.link-6 {top: 42%;left: 68%;width: 35%;height: 25%;}a.link-7 {top: 75%;left: 0;width: 44%;height: 25%;}a.link-8 {top: 71%;left: 59%;width: 44%;height: 25%;}
You can click on any image in the above collage to shop!
Sometimes it seems like there's so much pressure to find a perfect, one-of-a-kind gift that the giftee somehow never could have found themselves—especially when that giftee is a man. Whether you have a brother, dad, boyfriend, or any other stylish man in your life to shop for, your search for the perfect item stops here.
I know that no guy wants to unwrap yet another necktie or pair of patterned socks, which is why I went ahead and chose super-cool items that he'll instantly love. Whether he's a jet-setter who's always hopping on the next flight or an adventurer who loves the outdoors, I've shopped for each type of guy so it feels like you spent hours and hours researching gifts tailored to him. Feel free to take all the credit—I won't tell him the source of your amazing gift idea. Keep reading to shop the latest and best gifts that will make shopping for men so much easier.
Celebrity Favorite Nack Backpack: It's no fun lugging around a bunch of bags. That's why Knack created one bag that works just as well as your daily work bag, on a plane or around town. Knack helps keep your everyday essentials organized and always close at hand. Knack bags are designed to look good at work and out with friends, so you'll always want to keep it by your side. It also makes a fantastic carry-on. The secret sauce is their patent-pending travel compartment that expands when you need it and hides away when you don't. And best of all, it packs like a suitcase so no more digging to the bottom of your bag to find what you want. Welcome to One Bag Life. I can TOTALLY see Brad Pitt putting this new luxurious napa leather Nack pack on his wishlist this year!
Vintage Handmade Leather Messenger Bag: This bag is absolutely fantastic and beautifully crafted. He can use it to carry a laptop, cell, tablet, and so much more. Very stylish and has amazing reviews! The bag also has a lot of character since it was handmade you can see small imperfections from little indents to a missed stitch but to me, this just adds even more to the character to the bag.
Gunmetal Stainless Steel Watch: It seems like men have always had a fascination with the watch community. Similar to other niche interest groups like art or vintage cars, people who are knowledgeable of and obsess over watches are (in my eyes) very cool. That being said, when you consider these aficionados you probably think mostly of men. This gunmetal-tone stainless steel watch is ready for any adventure the new year has in store. Also, the reviews are amazing on this watch!
Heat-Relaxation Massage Pillow: This is the item that you have seen all over the internet and social media. When I say people are obsessed that's an understatement. This product is amazing! You can use it basically anywhere, from your neck to your feet. It is compact so easy to pack in a travel bag if need be, has great reviews and it FDA-approved!
Stainless Steel Vacuum Insulated Mug: This may be the best $25 I've ever spent, especially in terms of kitchen stuff. I love this mug! It will keep coffee warm no matter what! The guy on your list will legit use this thing every day. It's a good size too and holds just the right amount of coffee or tea. I also love that it is dishwasher safe.
Washed Cotton Hooded Military Jacket: This is on my husband's wish list! The inside is sherpa-lined so it's super warm and very great quality! It's comfortable, looks great, has plenty of pockets. Not too bulky to move in and will keep the man in your life warm and cozy without sacrificing style.
Mens Manicure Set: This grooming set is stainless steel and absolutely perfect high-quality set! Also, I love that it's smaller so it fits easily in their toiletry bag and has a stylish, sleek case. This would be a great stocking stuffer option!
Electric Razor: One of the Top Rated electric razors on Amazon! Consider all the benefits of Braun's excellent Series 7 shaver: It's got both a cleansing and charging base, it's a wet/dry shaver for whichever method they prefer, you can adjust its speed (with 5 options), and it lasts just shy of an hour on a full charge. This shaver has everything he needs need. This razor was also included in this year's 'GQ's Best Stuff' list!

JavaScript is currently disabled in this browser. Reactivate it to view this content.
Most Read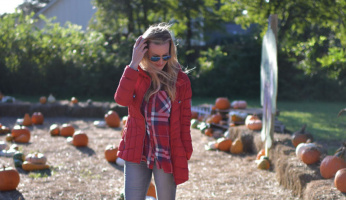 Subscribe to our Newsletter