Celebrity Style Fashion Trends: Sophisticated Dresses & Ladylike Bags
This week's celebrity style fashion trends focus on sophisticated dresses and ladylike bags. Join the uptown crowd in style!
1. A great LBD belongs in every wardrobe, and RM Roland is one of the leading sources of truly beautiful dress silhouettes. Try this Rm By Roland Mouret Paveau Dress.
2. For a fresh new hue to energize your fall closet! Balenciaga's iconic giant city tote in a fabulous green hue.
3. Go for full on left-bank chic in Isabel Marant's Luan printed dress. For that Parisian cool look this dress is a hip addition to your fall wardrobe.
4. Marc Jacobs gives us the Gene! The Marc Jacobs Gene Bag is excellent for the new season this Rich calfskin bag in contrasting hues create an exquisite beauty excellent for the new season.
5. Chloé's Marcie bag in white is ultimately luxurious. The Marcie bag works well in this season of understated luxe.
6. The Cacharel Print Dress is classy yet uncomplicated. This dress with magenta, ochre and blue abstract floral print delivers the perfect little dress.
7. Miu Miu adds opulence to your look with textured accessories like the Miu Miu Matelasse Leather Tote which easily fuses style with a roomy size.
8. The beautifully structured dress by Halston will surely cause attention. Halston's drape dress sculpts contemporary elegance beautifully, starting with this dress.
9. Carven has a way of making the simplest shapes the most appealing and this Carven Detailed Two-tone Flannel Dress dress is definitely flattering.  The mix of colors and fabrics make for an amazing combination. Wear it and love it.
10. This fun Stella Mccartney East West Shopping Bag will easily transition from day to night.  The chain-link handle will add a metallic flash to your urban-chic portfolio. Wear it with an oversized knit and leggings and this tote will easily turn into your number one must-have.
11. Finally, Everyone needs the perfect pair of diamond earrings! Elegant, timeless and captivating these Princess Cut Diamond Stud Earrings top off every look with stylish elegance.
Most Read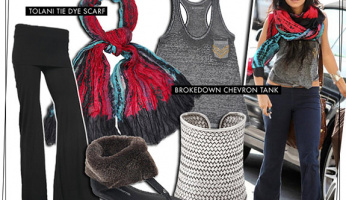 Subscribe to our Newsletter