Best Gifts for the Girl Who Loves to Travel
At first, the idea of buying a worldly traveled person a gift sounds pretty intimidating. However, after giving this some further thought, I realized that jet setters are actually among the easiest to shop for. Why? Because you know exactly what they like! You see, it turns out that when you know someone's interests—especially such a major one—it makes buying them a gift exponentially easier. Whether your budget allows for a shiny new carry-on suitcase or you're closer to the range of a cute scrunchie, there are so many things the traveler could use, and more importantly, appreciate. To see the gifts I think are the best for this holiday season, simply keep on reading!
The Kim Kardashian-approved brand recently released a dreamy, marble-inspired collection. The case is actually durable to protect your phone from smashing if you should drop it if the holiday traveling gets a little too hectic. The power charger + LuMee photo-studio lighting will make sure you always take the perfect photo. The LuMee lighted power charger lets you get more playful with your lighting so you can create more depth, dramatic shadows, or add even more highlights onto your face (for the clearest complexion ever). And that's not all—it charges your phone and your case at the same time for the fastest charge possible. It's without a doubt this year's must-have accessory!
This fleece is super warm, and cozy! I wear this everywhere in and out of the house, love it. It's super soft and comfy. It's not too short that it feels like a crop-top, but it's also not too long. Perfect quick on and off layering piece to bring with you while traveling.
Scrunchies for Perfect Hair on the Go:
I can't explain to you how happy I am that scrunchies are back in style. I wear one on my wrist every day. They have become a staple part of my outfit, especially when traveling. They are so convenient for me when I want to put my hair up quickly. People will think that you tried hard on your hair that morning when you totally didn't.
In the same way that there's nothing groundbreaking about florals in spring, there's nothing groundbreaking about leggings at the airport. But that doesn't mean a new legging outfit idea for the airport isn't quite noteworthy, especially when they are worn and designed by someone like Kate Hudson who is a travel pro! Don't get us wrong. I love stylish airport outfits, but at the end of the day, I prioritize comfort over anything else—especially when long flights or road trips are involved. That said, just because you're wearing leggings doesn't mean you can't look chic. I love that this high waisted ribbed pair from Fabletics come with a matching sports bra.
Ultra-soft Hooded Cardigan:
Wearing this pretty little number is dangerous—you'll never want to take it off! Soft, brushed fabric keeps you warm, while convenient side pockets let you move hands-free. Great to wear for travel or lounging but also perfect to wear daily to work or out to lunch as a light sweater.
Shop the Post:

Most Read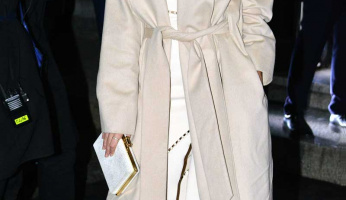 Subscribe to our Newsletter