Tik Tok's New Viral Trend: We're Bringing Back White Concealer!
If you're trying to keep up with the ever-changing beauty trends, you have got to get yourself on Tik Tok. This app makes many videos go viral, including makeup tips, tricks, and hacks. We've been introduced to some amazing dupes and revisited some old products that needed some revival.
One trick that has definitely resurfaced is the use of white concealer. If you were not alive or too young to remember the 90's and early 2000's, then you might not be aware of the fact that white concealer was used by many A-list stars at the time, sporting this bright undereye at any and all Hollywood events.
The idea behind white concealer is to get a truly bright undereye. Most of us will go a few skin tone shades lighter in our concealers to get a more youthful glow where we need it, but the white concealer takes this concept to a whole new level. The trick to white concealer is actually applying it underneath your foundation.
White is such a stark color that it may be too much work to blend out on top of your base. Applying it underneath your foundation will ensure that you get everything blended together seamlessly.
The queen of beauty herself and YouTube MUA NikkieTutorials tried out this trend on her Instagram account (@nikkietutorials) as well, giving us the push we needed to hop on this white concealer craze ourselves.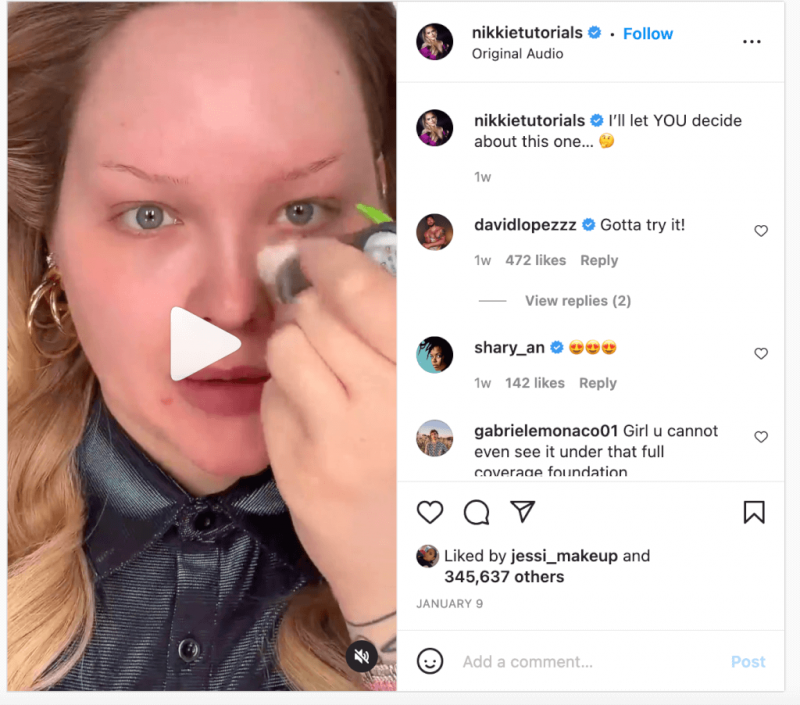 White concealer is definitely something to use when you're going for a more glamorous, full coverage look. If you like a subtle, minimal makeup routine, you need to put down the white concealer right now because you will not be happy with the results.
That being said, if you love playing around with makeup and tend to go for more high coverage, creative and playful looks, white concealer might just change your makeup game. It'll brighten up your dark spots and any blemishes/redness you have, as well as conceal those dark circles under your eyes without any color correctors.
It will make you look more aware, lift the eye area altogether and brighten up your whole complexion just like a highlighter would. Other than being a super intense eye concealer, it can also make a great eyeliner or can help to lighten up your summer foundation. White concealers can be a great multipurpose tool to have in your makeup kit.
Our 4 Favorite White Concealers (MUA-Approved!)
White concealer is a lot like black lipstick. Some people hate it, and some people love it. It creates a very distinct look that tends to get a controversial reaction. But, this trend has spread like wildfire, and everyone is curious to see what it will look like on their skin. All we can say is that you don't know until you try.
If you want to try out the white concealer look, we have a few products you might want to check out. It's quite hard to find a white concealer; not many brands carry a shade so truly white.
1. ColourPop No Filter Matte Concealer in Pure White
We recommend you check out the first concealer is ColourPop No Filter Matte Concealer in Pure White.
ColourPop is an affordable, California-based makeup brand that carries everything from skincare to foundations to palettes and more. Their No Filter Matte Concealer has actually been pretty well-liked since the get-go with its high coverage and long-wearing formula.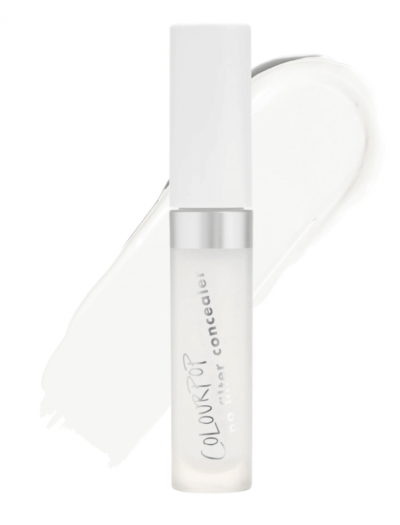 2.  KVD Beauty Lock It Concealer Crème – White Out
Formerly Kat Von D and KVD Beauty have the Lock It Concealer Crème in the shade White Out. This full coverage concealer is a popular choice. It's creamy and super blendable. It has a 24-hour wear claim, so you don't have to worry about touch-ups throughout your day.
It has a one-coat coverage, so a little goes a long way with this product. When we think of the Lock It Concealer Crème, we think of pigment, pigment, and more pigment!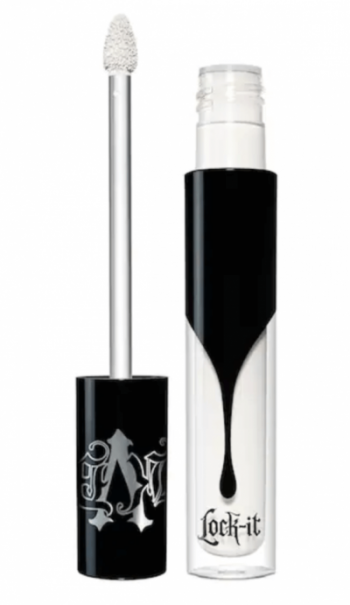 3. E.L.F Cosmetics 16HR Camo Concealer – True White
One drugstore concealer seems to stand out from the rest, and it just so happens to carry a white concealer.
E.L.F Cosmetics 16HR Camo Concealer is a crease-proof, long lasting, liquid concealer with full coverage and a matte finish. The formula is lightweight but pigmented, giving you high coverage without the heaviness.
It won't settle into fine lines but rather smooth out the area and blur any imperfections. Avocado oil helps keep sensitive skin around your eyes hydrated, while Kaolin Clay helps control excess oil and shine over time. The shade true white is… well, it's a true white and perfect for this trend.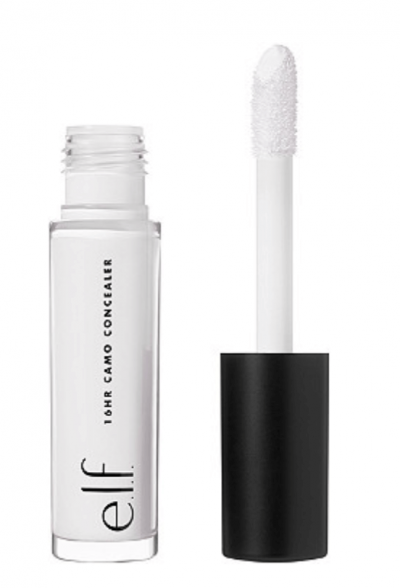 4. L.A Girl Pro Conceal – Flat White
Last but definitely not least is the LA Girl Pro Conceal in Flat White. This concealer is a staple for so many, especially their color-correcting shades. The formula is super creamy and weightless, blending out like a dream. It's crease-resistant but opaque enough to give you a one-swipe coverage.
The finish is natural, giving you a skin-like texture. This long-wearing, medium coverage concealer is also under $5, which makes it budget-friendly for all. You don't have to break the bank to play around with makeup. High quality doesn't always have to equal a matching price tag.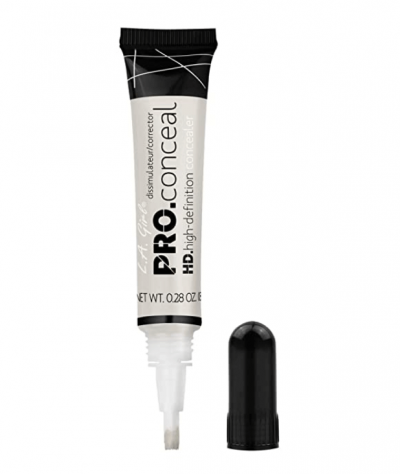 Subscribe to our Newsletter