Trend Report: Soft Sands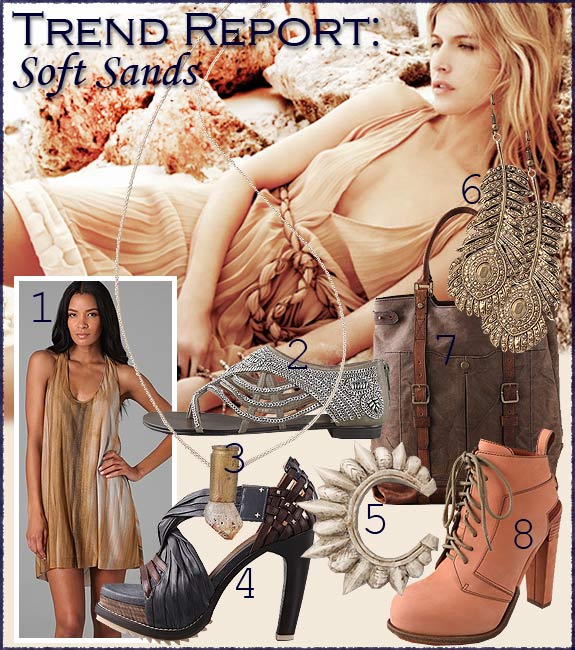 Soft sands. Shimmering sunlight. Sparkling stones. The desert trend speaks of hot breezes, supple style and delicate shades of sand. Slow down and enjoy the languid days of summer with these rich, rugged pieces. Worn-in leathers set off by shimmering stones combine the lived-in and the glamorous. Light, whisper soft shift dresses bare hot, tanned skin, while tribal-inspired accessories bring out the natural and the native within us all. Wear any of these pieces and feel yourself channeling the spirit of summer: hot, rugged, beautiful, bare.
1. Helmut Long Spray Tank Dress ($345)
Fusing all the shifting shades of sand, this Helmut Long dress calls forth a natural feel. Pair with slim flip flops for a day at the beach or nude heels for a night about town. A scoop-neck jersey dress that features a racer back and an unfinished, rounded hem.
2. Jean-Michel Cazabat Tandie Chain Flat Sandals ($269)
Natural sand has a sparkle when it catches the sun, and so do these lovely flats. The Jean-Michel Cazabat sandals are composed of leather and feature chain detailing and metal beads. Pair with a simple shift dress like the one above.
3. Unearthen Medium Caliber Necklace ($280)
This Unearthen necklace feels like it came straight from Mother Earth. A rough citrine stone is set in an antiqued brass bullet casing and hangs from a 14k gold-plated fine chain necklace.
4. Rag & Bone Isis Platform Sandals ($626)
A variety of supple leathers and stunning details are woven and worked into these Rag & Bone platforms. Two-tone, variegated leather sandals have knot details, pleated straps, latticed straps, and patent panels set on wooden platforms. This mixed media shoe has a very rugged glamazon vibe.
5. Pamela Love Tribal Spike Cuff ($155)
Pamela Love's Antique bronze cuff with tribal-inspired spikes is an edgy statement style. It looks great hanging on your wrist or push it higher up on your forearm. Wear this tough-talking piece to add instant cool to evening looks. Potent yet peaceful, the tribal spike cuff features a strong yet soft silhouette that adds intriguing character to any outfit.
6. Alkemie Jewelry Peacock Feather Earrings ($)
The stand-out symbol of Summer 2011 is the feather, so these gorgeous peacock feathers are a must-have. I love that they are cast in reclaimed gold metal, making them both beautiful for you and your earth. Perfect with everything from a floaty maxi to your favorite flares and even a peasant blouse and cutoffs.
7. ONE by Jack Tote ($)
It's got that comfortable, rugged, lived-in feel that is the signature of Bohemian life. This variegated canvas tote features buckled straps at front and back, buttoned straps that gather its sides, distressed leather trim and brass hardware. Perfect for all your travels and/or desert caravans this season.
8. Alexander Wang Dakota Lace Up Bootie ($455)
When the sun goes down, the desert cools. When summer leaves, these Alexander Wang booties will take you straight into fall. Pair these rough-and-tumble beauties with something truly feminine like a floral or floaty maxi skirt. Nubuck with stacked heel and leather sole.
Most Read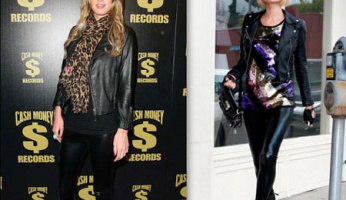 Subscribe to our Newsletter