Travel Style Inspiration: Rosie Huntington-Whiteley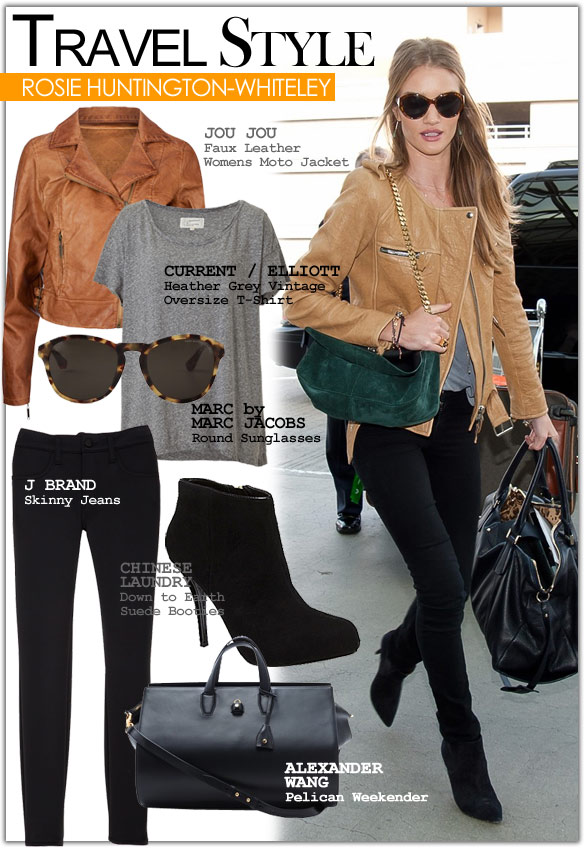 Oh Rosie! You bring new meaning to the phrase "traveling in style." I know firsthand how difficult a comfortable, yet stylish travel look can be.  When time is a factor, it's common to jump from the tarmac to a meeting with little or no time in between. In such cases, I rely on several go-to pieces to get me through. You can see that Rosie Huntington-Whiteley has the same philosophy. This jet-setting model relies on a mostly black ensemble, a chic and forgiving color. Her skinny jeans and pointy booties provide sharp lines, while a stunning leather jacket keeps the look from being plain Jane. A few well-chosen accessories add color and trend.
1. JOU JOU Faux Leather Womens Moto Jacket: Balance an all black ensemble with warm, caramel colored leather. Whether you go faux or genuine, the lines of this moto jacket serve as a guide for the perfect mix of class and trend. Layer over anything for a smart, urban vibe, and wear open over a skinny leg to imitate Rosie's balanced outfit.
2. J Brand Super Skinny Scuba Pants: Ultra sleek and super skinny…even on days when you're not feeling this way. J Brand's skinny black pant has a scuba-inspired finish on these not-quite-jeans, not-quite-leggings pants. When you need a sleek line, these pants are the answer, even after hours on a plane or car they resist rumples and wrinkles.
3. Chinese Laundry Kristin Cavallari Lavish Bootie: Finish what you started. That sleek scuba-leg should be finished with an equally streamlined shoe. These Chinese Laundry booties pass the test with their simple lines, medium heel, and pointy toe. Finish a skinny leg or mix them up with a skirt, these booties have the power to pull together any look.
4. Current/Elliott Heather Grey Vintage Oversize T-Shirt: Sometimes we just want our favorite t-shirt. When you'd rather travel in sweats, this t-shirt comes to the rescue. An ultra-soft hand and a worn-in finish provide the comfort you need while its vintage appeal and boxy cut are stylish under a smart jacket.
5.  Marc by Marc Jacobs Round Sunglasses: Hide jet leg, smeared make-up, puffy eyes or dried out skin with a pair of oversized sunglasses. Until you can make it to a proper powder room, a fashionable pair of shades hides a multitude of flaws. Marc Jacobs styles his trend-seeking round frames with a tortoise shell finish.
6. Alexander Wang Pelican Weekender: A bag? A carry-on? A weekend tote? Every need is satisfied with the Alexander Wang Pelican bag. Hide all over your essentials and most of your non-essentials with his luxurious weekender. Carry cross body when your hands are full and transition to handles for meetings and events.
Most Read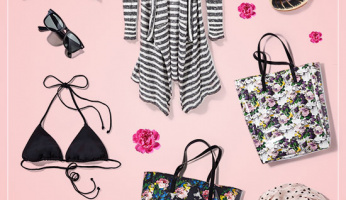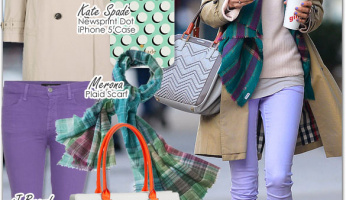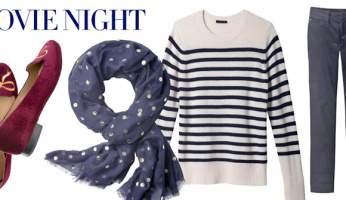 Subscribe to our Newsletter