Time To Buy: Statement Accessories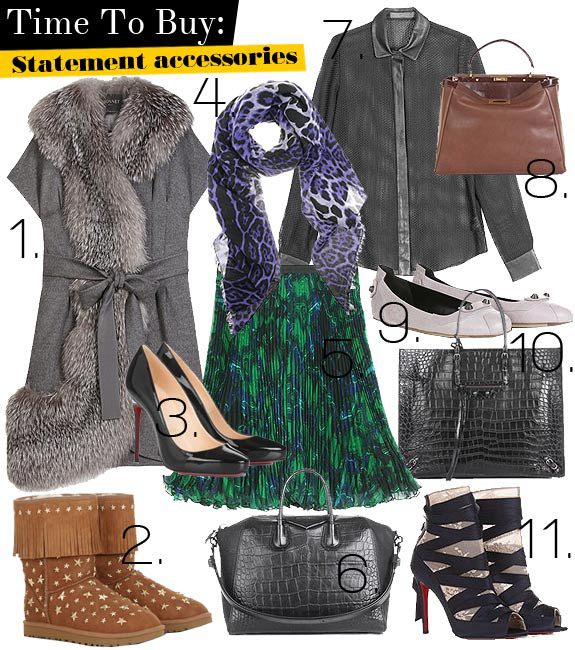 This time is year is all about building a luxurious and sophisticated wardrobe. Statement accessories finish off the look and add instant glamour!
SHOP THE STORY:
1. This coat by Vionnet really is French chic at its best. A luxe, elegant must buy, the Vionnet Fox Fur Trimmed Wool Coat is right on target this season.
2. The Ugg and Jimmy Choo STARLIT Boots manage to glam up the these  just perfectly and give a whole new look to the iconic boots.
3. Love at first sight! Classic black Christian Louboutin Elisa 100 Pumps are a must in every well organized shoe closet.
4. The leo print continues to rule the season. Animal prints come refined at with this Yves Saint Laurent Leopard print scarf in lilac, purple, and black.
5. Skirts are huge for this season – wear this Proenza Schouler Accordion Pleat Skirt with a short cardigan. Breezy silk to mix and match with your fave knit cardigans.
6. Luxe and subtle, this Givenchy Antigona Large Leather Bag is wonderfully understated and large enough to hold all your treasures.
7. This beautiful mesh shirt should be styled with equally cool jeans or skirts. Daringly beautiful. The Proenza Schouler Mesh Shirt With Leather Trim works for evening or a bold approach to dressing for day.
8. I  can't get enough of Fendi's Leather Peek-a-Boo bag! Its subtle elegance is so seducing! Refined and subtle – the perfect choice, not only for the office.
9. Cool studs meet tender ballerinas. Balenciaga Leather Ballerinas are sweet and edgy at the same time.
10. The ultimate "buy-to-adore" piece. Show that you mean business with the Balenciaga Classic Papier Croc Leather Tote.
11. Christian Louboutin Petite Fee 100 Lace Booties are fun and flirty and will be the star at every party. Sexy booties to add a touch of romance to your looks.
Most Read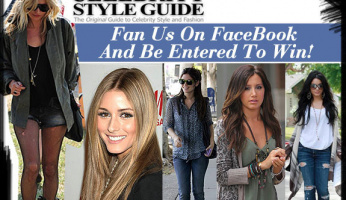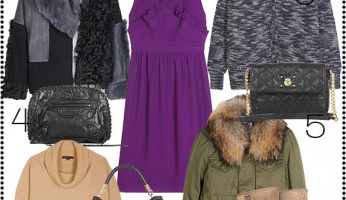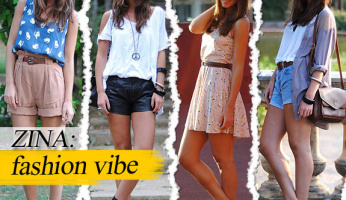 Subscribe to our Newsletter