Summer Essentials for your Purse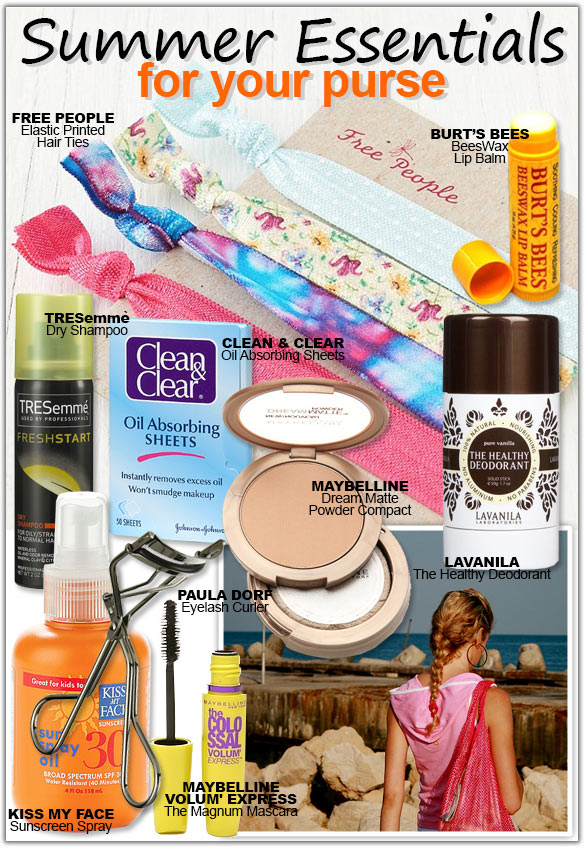 After a recent cross country plane trip, my purse was in shambles. Crumpled receipts, a fist full of boarding passes, a soggy ziplock of exploded lotion, a goopy lip gloss, a plethora of gum wrappers. You get the idea. What wasn't available were the basics I needed (how did I forget my sunscreen on a trip to California?). After this trip I vowed to reinvent my purse, and I'm sharing my summer essentials with you this morning. Whether you're planning a weekend away, a day excursion, or just a quick shopping trip, I happily suggest these items from my newly organized purse:
1. Kiss My Face Sunscreen Spray: Sunscreen has become a never-leave-home-without-it item in my book. Rather than lug around a huge bottle of lotion, I love the convenience of this spray-and-go sunscreen. It's great for the kiddos, too!
2. Tresemme Dry Shampoo: It happens. After a day of travel or just running errands, your hair feels greasy and weighed down. Breathe new life into your locks with this Tresemme Dry Shampoo. This spray-on version is especially convenient for on-the-go fixes.
3. Clean & Clear Oil Absorbing Sheets: Hit refresh. It's the same idea that makes dry shampoo such a wonder. Use these oil absorbing sheets to freshen your face when you're away from the sink. Blot your problem areas, then reapply a little makeup to put your best face forward.
4. Burt's Bees BeesWax Lip Balm: When it comes to lip balms, this classic is simply my favorite. Its refreshing and simple formula works for anyone: you, the hubbie, the kids, your bestie. Moisturizes and protects like an expensive department store brand with the price of a drugstore brand.
5. Kai Perfume Oil: There's nothing like a spritz of perfume to make you feel refreshed and clean-smelling. Rather than lug around a whole bottle (and risk breaking a glass bottle), this convenient roll-on comes in a made-for-your-purse size.
6. Free People Elastic Printed Hair Ties: When the dry shampoo isn't enough to fix the problems of the day, do what I do:  pull up your hair in a pretty little pony. These elastic ties come in a variety of uber-cute prints and patterns.
7. Maybelline Volum' Express The Falsies Colossal Cat Eyes Waterproof Mascara: Quick fix. A coat of mascara can fix a plethora of problems. Open up your eyes and refresh your whole demeanor with this express formula, sure to volumize and lengthen.
8. Paula Dorf Eyelash Curler: If you have an extra minute, curl your eyelashes. They wake up sleepy eyes by waking up sleepy, flat lashes. If you have two extra minutes, follow with Maybelline's Volum' Express mascara!
9. LAVANILA The Healthy Deodorant: Another can't-leave-home-without-it product. I'm over the moon for this natural product. Made with 100% natural ingredients, it's free from all the icky chemicals and comes dermatologist recommended.
10. Maybelline Dream Matte Powder Compact: This oil-free powder fixes up a shiny face in a second flat. Dab a bit on your forehead, nose and chin and blend for a flawless finish and a fresh outlook on life. Bonus: you have a mirror handy at all times, including post-meal to check for veggies in the teeth.

Most Read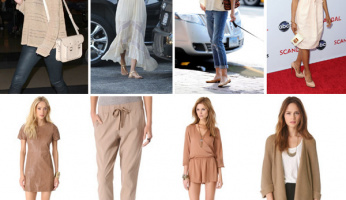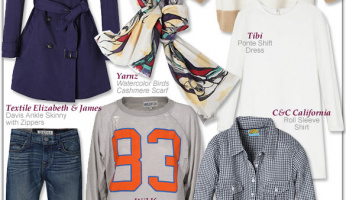 Subscribe to our Newsletter