Style Tip: This Just In….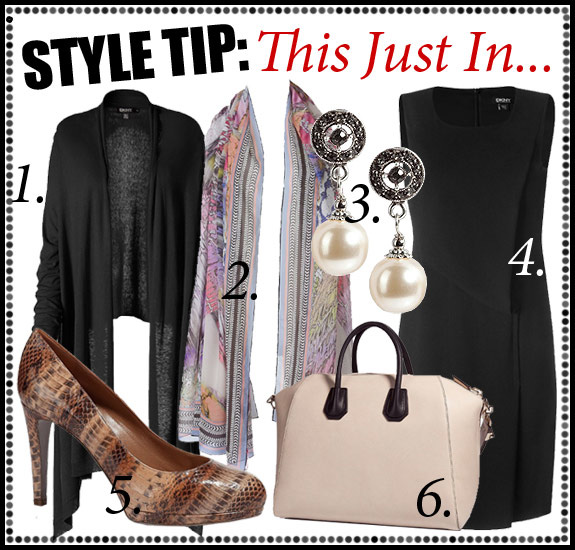 Looking For a hot new outfit that you could wear out for lunch, or even out for the evening look? I have you covered with these great new pieces from DKNY, Givenchy, Matthew Williamson and Sergio Rossi.
1. DKNY Black Cozy Cardigan ($160)
Stylish cardigan this marled, cable-knit cardigan sweater features a shawl collar and an open placket. The new loose falling silhouette, open shawl collar with long slim sleeves. The perfect piece for many occasions, perfect with a slim shift dress, pencil skirt, cigarette pants.
2. Matthew Williamson Pale Lavender Silk Scarf ($445)
A dream accessory, sophisticated, trendy and genius upgrade for simple looks.
3. R.J.Graziano Cream Pearl With Small Crystal Earrings ($50)
These earrings make your face glow! The high quality costume jewelry by New York in designer R.J. Graziano (Sarah Jessica Parker is a fan) will highlight a cocktail dress as well as an upgrade for an office outfit.
4. DKNY Black Draped Front Dress ($400)
Stylish dress in fine black rayon blend and very soft and comfortable quality. Slim shift cut with high crew neck and slight waist fitting, no sleeves, eye catching elegantly draped front. Slim skirt in respectable mid-thigh length, a favorite for the office and thereafter, pair with elegant pumps or cool booties.
5. Sergio Rossi Terra Snake Plateau Pumps ($845)
Luxurious pumps in brown snake leather by Italian luxury label Sergio Rossi. Round elegant shape, wide feminine fit, robust heel, these pumps are high yet very comfortable and made for walking the whole day long. Styling perk, they work with an office costume during daytime, a cocktail dress in the evening.
6. Givenchy Antigona Large Size Bag ($1,865)
Luxurious bag in fine beige leather by Givenchy, THE new hip french couture label, extremely high quality. Model "Antigona" in shape of a fashionable version of the doctor's bag with top zipper and shoulder strap, black handles in Givenchy signature loop shape. Dream piece for life, genius with simple office outfits.
Most Read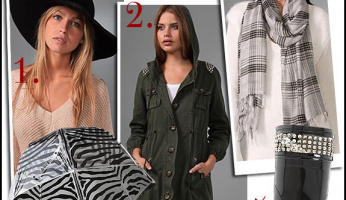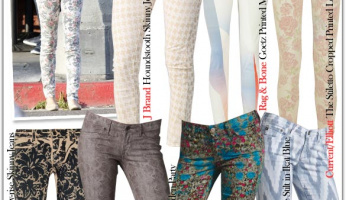 Subscribe to our Newsletter