Steal Her Style: Kristin Cavallari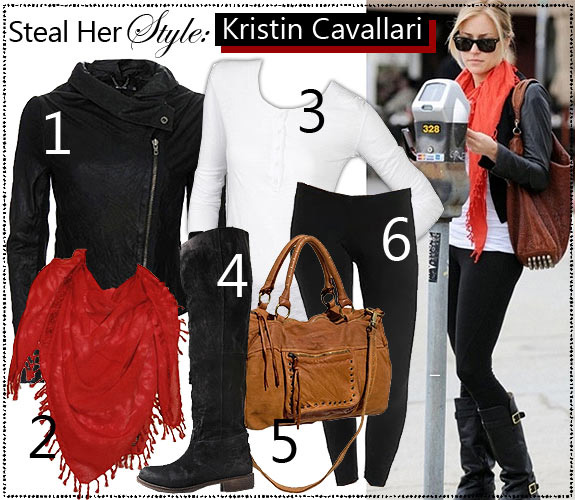 According to Kristin Cavallari, black and white doesn't have to be boring! Her style secret? A few well-placed accessories among chic black and white separates. She paired black leggings with a basic white tee and a stand-out leather biker jacket. To spice things up, she broke up her black and white palette with a bold red scarf and a warm brown hobo. Add some black riding boots, and this looks is yours! Steal Cavallari's style with the following pieces:
Muubaa Monty Biker Jacket in Black ($348)
The Muubaa Monty Biker Jacket in Black is an instant classic. This fashion-forward biker jacket has a roll-over snap collar, zip details at sleeves, and an asymmetrical zip front. Pair it with an LBD and your ready to hit the town or pair it with your favorite denim for an equally stand-out look.
Nepali Bambi Bobi Scarf ($90)
Kristin Cavallari wears her Nepali Bambi Bobi Scarf all over town and even on the set of The Hills! This amazing scarf is a perfect square, measuring 45in by 45in. Drape it over your shoulders or wrap it around your neck…this hot coral scarf warms up any outfit with celebrity style. Hand created from 100% Bamboo fiber. Gorgeous and soft. Hand made in Nepal from natural materials and eco-friendly, azo-free dyes.
Daftbird Detailed Henley Long Sleeved Tee ($78)
The Daftbird Detailed Henley Long Sleeved Tee has plenty of details to keep you happy. Features long sleeves, a modern fit and henley button front. White.
Boutique 9 Nichola Boot in Black ($149)
A slouchy solution to the tall boot trend! A comfortable and stylish boot that makes this trend an easy and understandable one to obtain. The Boutique 9 Nichola Boot can be worn day or night and with everything from dresses to jeans. Features tonal elastic at the back of the top of the boot for ease of wear.
David Lerner Signature Basic Leggings ($77)
The David Lerner Signature Basic Leggings are the leggings that started it all. Available in basic black, these leggings are perfection, a staple piece for any wardrobe. Also seen on Kim Kardashian!
Moni Moni Splendor Bag in Caramel ($495)
Bask in the splendor that the Moni Moni Splendor Bag brings to your life. This luxurious Italian leather handbag is more than an accessory, it's a wardrobe-maker. This glamorous bag has everything you look for in a premium handbag: gorgeous construction, plenty of hardware, zippered pocket detailing, double handles, and a shoulder strap. Loved by Hollywood, all Moni Moni bags are constructed of Italian leather in Italy and are adored for their fabulous styling.
Most Read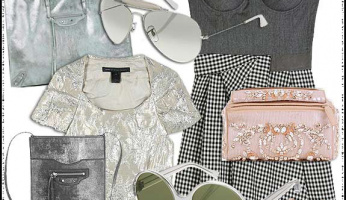 Subscribe to our Newsletter