Star Bright: Jewelry that Sparkles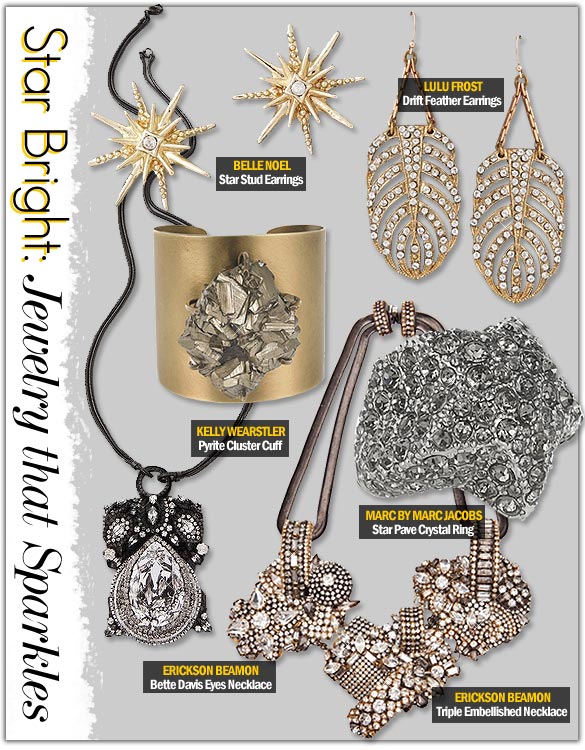 In less than a week, we'll say goodbye to 2011 and hello to 2012. We'll don our party dresses, pop the champagne, and celebrate under the stars. It's time to to shine, shimmer, and sparkle our way into a fresh new year. What better way than with jewelry that glimmers and glints under the night lights? Inspired by the stars (both celebrity and cosmic), here are a few of our favorite sparkling jewelry pieces. From chunky oversized baubles to tiny crystal paves, there's enough sparkle here to light up any night.
1. Belle Noel Star Stud Earrings ($30)
Star light, star bright…these are the prettiest little stars we've seen all night! Designer Kim Kardashian took inspiration from the heavens when creating these tiny starbursts of crystal and gold.
2. Lulu Frost Drift Feather Earrings ($198)
Even feathers get to frolic at night when they are made over in gold-hued brass and clear crystal. 2011's feather-obsession will certainly carry over into the new year with jewelry pieces like LuLu's.
3. Marc by Marc Jacobs Star Pave Crystal Ring ($128)
Statement sparkle. A star-shaped mound of crystals lights up the night with even the slightest movement of your hands. Add to a cocktail dress for night or dress it down for daylight.
4. Kelly Wearstler Pyrite Cluster Cuff ($145)
Sleek sparkle. Minimalist lines will please the modern girl, while a stunning pyrite cluster will satisfy the glam girl. This cuff has the kind of statement style that pairs back to anything you desire.
5. Erickson Beamon Triple Embellished Necklace ($890)
One of our favorite designers when it comes to sparkle, Erickson Beamon knows how to light up the night. This necklace has multitudes of sparkle with its two flat gunmetal chains, three large crystal embellished pieces and an embellished clasp fastening.
6. Erickson Beamon Bette Davis Eyes Necklace ($860)
We only have eyes for this necklace. Make a simple tee come alive or remake an LBD with this pendant necklace. Double-strand snake-chain with Swarovski crystals and filigree pendant.
Most Read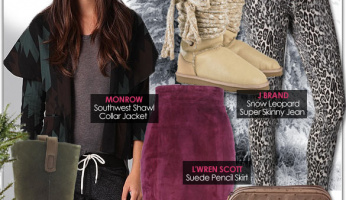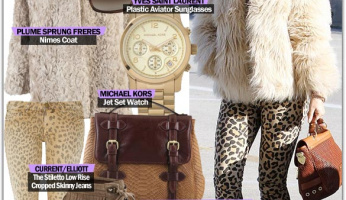 Subscribe to our Newsletter