OneRepublic – A CSG Exclusive!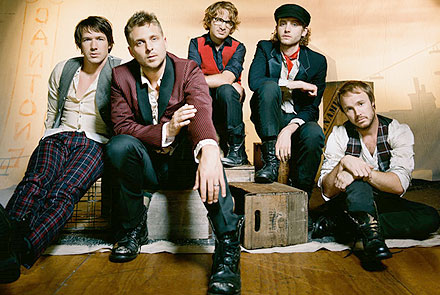 Ryan Tedder (lead vocals, guitar, piano)
Zach Filkins (guitar, backing vocals)
Drew Brown (guitar)
Brent Kutzle (bass, cello)
Eddie Fisher (drums)
"You're only as good as your worst song," says OneRepublic's front man and chief songwriter Ryan Tedder.
Not that he knows anything about writing a dud. The 30-year-old born in Tulsa, Oklahoma, has obsessed over the art of pop music for more than a decade. Along the way, he's worked with Rihanna, Beyoncé, Kelly Clarkson, Carrie Underwood, Jennifer Lopez, Leona Lewis (he shared a 2008 Best Record Grammy nod for her "Bleeding Love"), and other massive stars.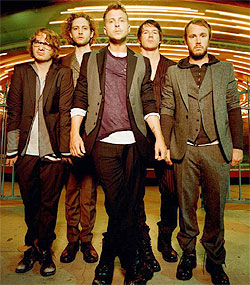 And it's all lead him back to his own Denver, Colorado-based band, where he pours out his most heartfelt music. "The writing approach I take for OneRepublic is completely different from the approach I take with anyone else — it's infinitely harder," Tedder says. "These songs have to be personalized. And I write each of them like it's the last one I'll be able to put out."
It works. OneRepublic was nominated for a Grammy in 2008 for Best Pop Performance by a Duo or Group with Vocals. And Tedder, plus guitarists Zach Filkins and Drew Brown, bassist/cellist Brent Kutzle and drummer Eddie Fisher have sold almost 2 million albums and 8 million singles.
While breaking sales, the members OneRepublic have proved for years that hard work pays off. As sensational as their rocket trip up the charts may have seemed, nothing happened for them overnight.
Their latest single "All the Right Moves" comes with a huge heap of anticipation from the millions of fans of OneRepublic and Tedder. But there are countless others who may not know the band or its members' names but recognize their heartfelt songs from the soundtrack of their last bad breakup or emotional meltdown. OneRepublic is that band.
OneRepublic, enjoy…

Most Read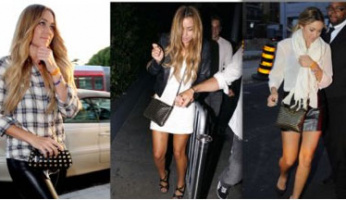 Subscribe to our Newsletter