My Nail File: Winter Polish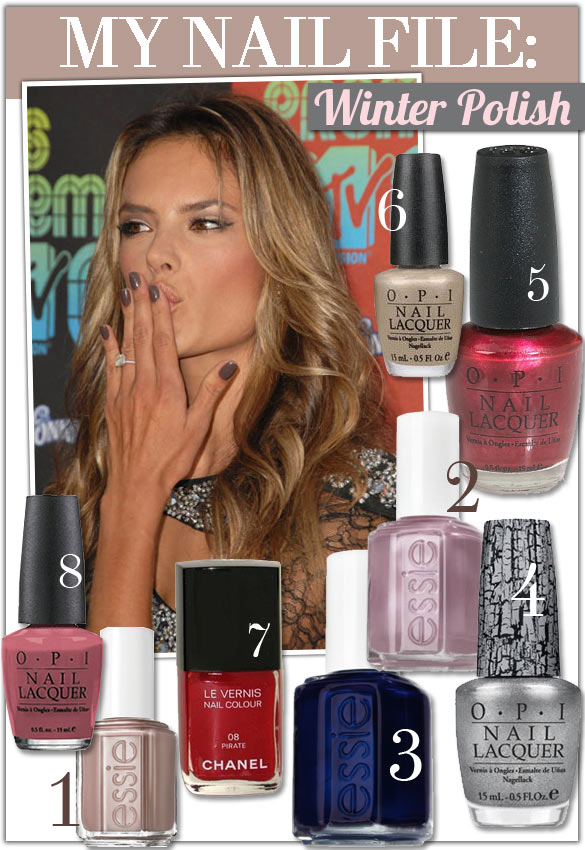 There once was a time that nail polish came only in reds and pinks. That time is past. The last few seasons of nail polish have been colorful, free-thinking, and full of exploration, always pushing color to the limits. This winter is no different. Nail polish continues to be a trend-seeking element of a fashionista's wardrobe. A simple switch of nail polish can add a ton of personality to your outfit, be it a mod slash of navy, a demure dash of champagne, or the siren call of red. My favorite nail polish trend has been spotted all over the runways and the streets…creamy lavender is my must-have fall/winter color this season, with navy blue coming in a very close second.

1. Essie Don't Sweater It: Hands down my favorite Fall/Winter polish! I have it on my toes right now. You can ease into the lavender trend with a brown-infused base. Don't Sweater It is my choice for a cozy weekend; it goes perfectly with a chunky knit, skinny jean and nubuck bootie.
2. Essie Demure Vixen: Ahh, true trend. Demure Vixen is a promise of personality: a demure lady with a hint of a foxy attitude. A runway color for sure, I love lavender with a fur-trimmed jacket, a touch of leopard print or cognac-colored leather. Close-cropped nails give this color an extra edge.
3. Essie Midnight Cami: Navy blue rocked the runways and the red carpets this season. Think Kristen Stewart's navy blue premiere look, and you've got the right idea. Give your look attitude and a bit of rocker girl edge by brushing on this color. And again, bold colors look extra mod on short, square nails.
4. OPI Silver Shatter: I've seen it all: ombre-colored nails, nail art, and glitter, but my favorite nail embellishment has to be the crackle finish. Paint this OPI on over any color in your closet for a silver shatter finish. Ahhhh-mazing.
5. OPI I'm Not Really a Waitress: 5 alarm fire. Want attention? This is a sure-fire way to get it. Let your hands do the talking with this classic red color infused with tons of light-catching metallic sheen. I think it's brilliant in a professional setting, hinting at the fun personality under that business suit.
6. OPI I Only Drink Champagne: Ga-ga for glamour. Pastels and neutrals are still huge, even if lavender and navy have the edge. I Only Drink Champagne is a great way to go demure at cocktail hour, providing the ideal way to downplay afterhours make-up like the smoky eye or bright lips.
7.  Chanel Pirate: Arrrr, mateys…classic red still shivers my timbers. Want to channel Hollywood glamour? True red is the way to do it. Spotted at the Golden Globes and sure to be seen at the Oscars, a classic red nail with a smooth, ultra shiny topcoat is a guarantee for glamour.
Most Read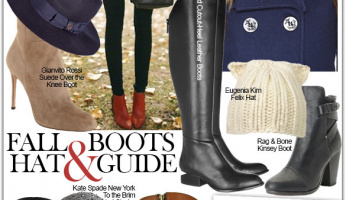 Subscribe to our Newsletter