Love Quotes Scarves: Over 100 Colors to Choose!
One of our any-season accessories is the Love Quotes Knotted Fringe Scarf in Linen and Rayon. Looks like Jessica Alba and Hilary Duff also love the fluid linen scarves for their soft versatility. They can easily add a punch to any outfit.
Wear the Linen Scarf in Dune during the summer, while strolling through the park in your sundress like Jessica. Or be lady-like like Hilary and pair the Linen Scarf in Vineyard with an all-black ensemble. Best of all, each scarf comes with an inspirational quote and 10% of proceeds go to international children's charities.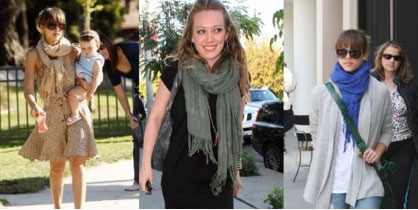 Subscribe to our Newsletter