Guest Editor: Jeni Elizabeth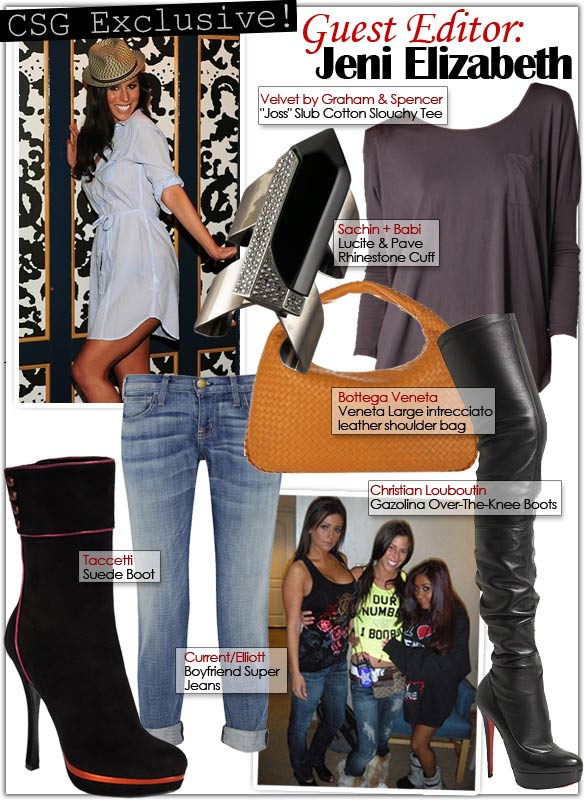 We're ecstatic to welcome Jeni Elizabeth as our guest editor for the day. Stylist (and friend) of the cast of Jersey Shore, Jeni began her stylist career at Henri Bendel in NYC and has been styling the stars ever since. Her latest projects include the infamous Jersey Shore cast, as well as the stars of The Wedding Wars and The Bachelor/Bachelorette. Jeni's style tips? Color and fun, as well as a good spray tan. So without further ado, here's what Jeni has to say about fall fashion:
"Fall is absolutely my favorite time of year. Watching the colors change and the feeling of the brisk air sends me running to every designer store to pick up the latest fashion trends!
This year there was no shortage of color and fun on the fall runways. Every designer seemed to be channeling all of my color thoughts! I always have such a blast pairing an amazing high winter boot with a fun colored bright top or dress. I love the idea of mixing fun summer color with the perfect blend of a fall trench coat and boot.  These are some of my favorite Fall trends this year, so…have fun, stay warm and play with color!
FOOTWEAR
1. Christian Louboutin Gazolina 140 Suede Over the Knee Boot and Taccetti Suede Boot ($1235)
It dosen't matter if they are high or low. Boots have a way of introducing brisk weather in the best possible style! Christian Louboutin brings sexy to a whole new level with his thigh high. This boot can be paired with an adorable fun girls-night-out cocktail dress or even skinny jeans and the perfect army jacket. Taccetti also stole my heart with their suede low boot. I just adore how perfect they are with the splash of color and perfect heel. Makes any set of legs look amazing!
EVERYDAY STYLE
2. Velvet Lauti Top and the Current/Elliott The Roller Low Rise Boyfriend Fit Jean ($229)
Cotton is a girl's best friend. Velvet Graham has been stealing the hearts of women for years. I am in love with this slouchy tee. It is not only completely affordable, but also makes an everyday outfit sexy and fun. I feel like I could pair this shirt with my favorite pair of  boyfriend jeans or an adorable pair of yoga pants for a relaxed rainy day.
ACCESSORIES
3. Sachin + Babi Coachella Cuff ($450) and the Bottega Veneta Large Intrecciato Leather Shoulder Bag ($1750)
Accessories are like the icing on a cake…most of the time they are the best part! I never have a shortage of cuffs and fun bags…but what girl doesn't? There is nothing like a throwing together a casual pair of jeans with the perfect statement piece to finish the look. Making a statement with a ring or cuff says a lot about your style and who you are. Often that last blast of color is exactly what you need to take your look to the next level. This Sachin + Babi Lucite Pave Cuff is one of my favorites for this season; it absolutely makes a statement. Paired with this amazing Bottega Veneta bag you are SURE to have heads turning everywhere you go!"
Thank you, Jeni Elizabeth! We're sure to add color, bold accessories, and show-stopping boots to our wardrobes this fall…not to mention a spray tan!
Most Read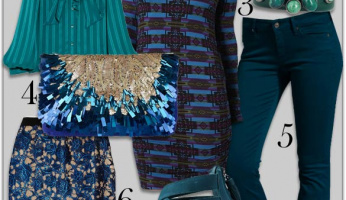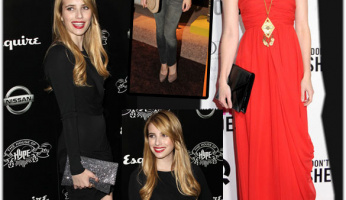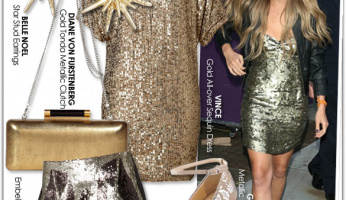 Subscribe to our Newsletter