Florence by Mills Review: Is Millie Bobby Brown's Beauty Brand Worth It?
Florence by Mills is a beauty line by Millie Bobby Brown, British actress and model best known for her role in Stranger Things.
At only 17 years old, Millie Bobby Brown has accomplished a lot, and her beauty line is no small feat. It launched in Ulta store in 2019 but has recently come out with more products that have impressed beauty bloggers and editors alike.
But, we're always skeptical about celebrity-owned beauty brands. We've seen some hits like Rare Beauty by Selena Gomez and Fenty Beauty by Rihanna, but we've also seen some flops like Kylie Skin and R.E.M Beauty by Ariana Grande. What makes Florence by Mills different?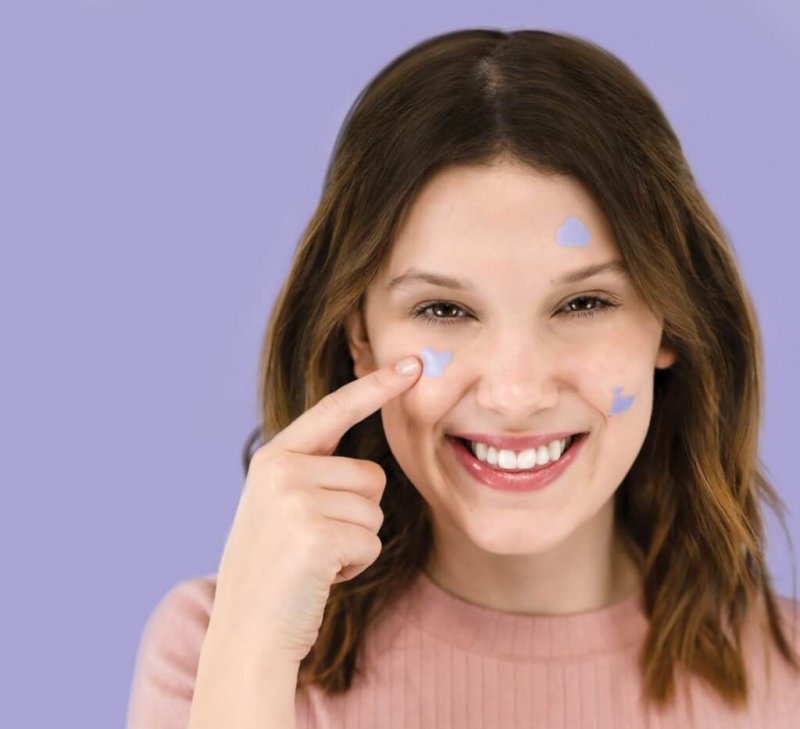 The whole line of products is all PETA-certified, cruelty-free, and vegan. It's recognizable through its fun but minimalistic purple packaging. They have a great mix of skincare and makeup, focusing on moisture which is essential to the skin's natural barrier.
It's supposed to be a user-friendly brand, easy to use, for all skin types and generally fuss-free, making it great for both beginners and pros!
There are quite a few beauty products in the Florence by Mills roster, so we're going to cover a few of the most popular ones and tell you our honest thoughts.
1. Cheek Me Later Cream Blush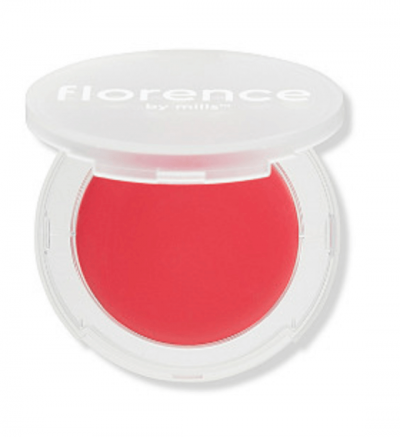 While we're on this cream blush craze, we've got to talk about the Cheek Me Later Cream Blush. It applies creamy but dries down to a powder finish that doesn't slip or separate the makeup underneath. It uses Kaolin clay, an oil-absorber that helps the color stay on longer.
This cream blush is super easy to blend, melting away into your skin. Like most Florence by Mills products, this cream blush focuses on moisture. Candelilla wax is a vegan plant that helps your skin retain its natural hydration.
While we love the affordable price point and the ingredients in this cream blush, we noticed one concern right away. There aren't many shade options available in this formula, so our concern is that the variety isn't enough to cover a multitude of skin tones.
That being said, the shades they do have are bright, bold, and beautiful.
Glow Yeah Lip Oil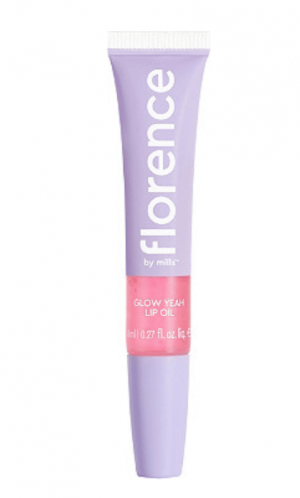 We've heard such great things about the Glow Yeah Lip Oil. This is a non-sticky, high shine lip balm oil that nourishes your lips all day long while giving your lips that luxurious, plump look we all want from a lip oil.
It's formulated with a unique blend of ingredients, including African Mango butter, a super nutrient-dense hydrator, and paracress flower, which will help blur, smooth, and soften dry lips.
This lip oil comes in one ultra-sheer, universally flattering pink tint. It's not marketed to add any pigment, but rather some serious moisture and a high shine to your lips. That's why this lip oil is so well-loved.
It's a versatile product that can be applied over lip gloss, tinted balms, and more without changing the pigment or worn on its own.
Hit The Snooze Lip Mask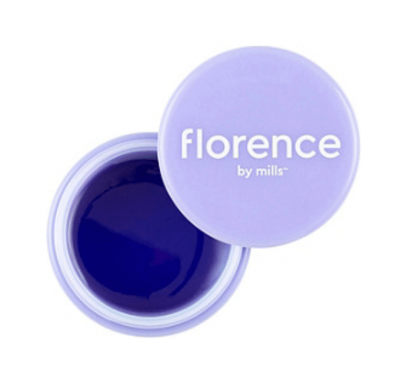 We all love a good sleeping lip mask. The purpose of a sleeping lip mask is to help protect, repair, and soften lips overnight so that you wake up with a smooth and supple pout. Hit The Snooze Lip Mask is a hydrating, jelly lip mask that will condition your lips and seal in moisture.
It uses Squalane, a natural moisturizer made from olives, and Apricot Kernel Oil, which is also a great hydrating ingredient. The texture is cool and lightweight but packs a punch.
If you love lip sleeping masks don't want to go over budget, this one is only $16 and has an extremely effective formula.
Built to Lash Mascara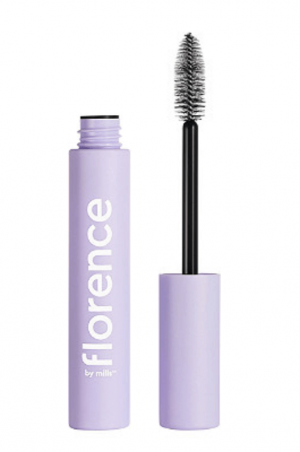 The Built to Lash Mascara has been compared to the Glossier mascara because it gives your lashes a natural enhancement without going overboard. It's made with plant-based ingredients and super-black mineral pigments. But the best part about this mascara is how it builds.
You can keep your eyelashes quite natural with one coat, which will simply darken and lengthen your lashes to look effortlessly wonderful. You can also layer a second coat for something more dramatic.
Although, I wouldn't expect to get a falsie effect with this. This mascara seems to be a go-to for the girls who like a little lift and some length.
This mascara doesn't flake or irritate the eyes, giving extra points in our books. It's easy to control as, easy to layer, and doesn't come off too strong.
See You Never Concealer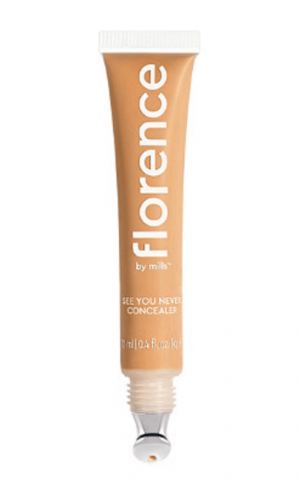 The See You Never Concealer is a light-coverage, weightless formula designed to even out skin tone without covering up your natural beauty.
It doesn't cling to dry areas or settle into creases but rather melts into the skin for an impossibly natural look. Think "your skin but better." It's creamy and easy to blend, and the cooling metal applicator is great for depuffing tired eyes.
The great thing about this concealer is the formula. It has caffeine which is a dark-circle corrector. It helps to brighten skin visibly. It also contains vitamin E, which soothes the skin and protects it against pollutants and other environmental factors.
This concealer may not be full coverage, glam-focused product, but it's unique and a great addition to your everyday routine. It can help you minimize your insecurities without covering them to embrace your individuality.
Is It Worth It?
Is this just another mediocre celebrity-owned beauty brand? After looking at the most popular products, it's safe to say that the ingredients in Florence by Mills are the shining star.
They have some great, effective ingredients that are moisture-focused, which is essential in a great skincare routine. Caffeine, Squalane, Vitamin E, and so much more are proven to improve skin texture and brightness.
We think the price range is reasonable for the benefits packed into those tiny purple tubes. Most products fall between the $14 to $19 mark. This is in the middle of drugstore and high-end, fair and affordable.
We also love the packaging. The light purple packaging is fun and flirty, and the rounded font of Florence is minimalistic and clean. Given that Millie Bobby Brown is a teenager, this packaging is very age-appropriate without feeling juvenile.
When looking at whether or not a brand as a whole is worth it, you have to look at the reviews by customers who have actually bought and used these products. Many of their products have between 1,000 to 2,500 reviews and average about a four and a half star rating.
This is very promising and shows that many people really have tried and loved their products.
Most Read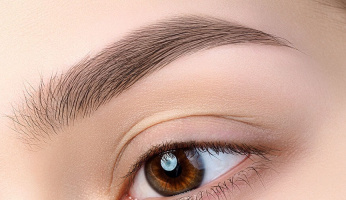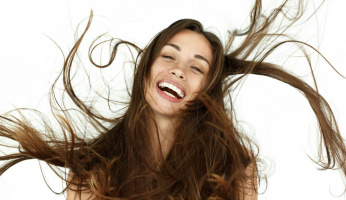 Subscribe to our Newsletter