Celebrities Approve Of Gold & Gray's Beachy Jewelry
Summer always has me reminiscing on breezy and beachy times by the ocean. With the sand in my toes, all the worries from my busy day to day schedule seem to just disappear. While living in Austin doesn't exactly offer the opportunity to take a trip to the coast every weekend, the bohemian-esque brand Gold & Gray brings a small touch of the ocean into my daily wardrobe. Gold & Gray's exceptional designs are inspired by the natural beauty from some of California's most extraordinary scenery.
The jewelry brand's designer, Lily, founded Gold & Gray in Los Angeles. The combination of the splashing tides, sunset reflections on the mountains, and the big city lights are all evident inspirations in her beautiful products. Very much true to the style of jewelry designed in Los Angeles, the highlights of each piece come from the quality of material and simplistic details. The featured precious and semi-precious stones range from a variety of the most sought after selections. You can find color palettes taken right from the sea in the jewelry constructed of Sunstone, Opal, Amazonite, and many more.
Hannah Brown's Turquoise Necklace
Celebrities are also taking note of Gold & Gray's one of a kind products. Hannah Brown, The Bachelorette on Season 15, may undoubtedly go down as one of the most stylish bachelorettes from the reality TV show. She was spotted wearing the delicate Wire-Wrap Turquoise Dangle Choker with her floral dress while filming. The necklace is a perfect offset of refreshing color, pulling out the blue tones in her floral dress. The sizing of this specific choker is 12.5″ long with a 3 inch chain extension. While Turquoise is one of my all time favorite stones to accessorize with, this choker is also offered in creamy white pearls and gold wiring. Opting for a more neutral tone may also give a chance to accessorize with more than one necklace.
Layering The Beauty With Long Necklaces
Sometimes I find brands that have too many great options to pick from, which happens to be the case with Gold & Gray! To go with a choker style like the one that Hannah Brown wore, layering a second longer necklace could add more depth to an overall look. Gold & Gray have some really fun beaded necklaces with tassels and bone spikes. My personal favorite is the Aqua Chalcedony And Silky Tassel Necklace. This piece features hand knotted Chalcedony beads and a tassel consisting of ultra silky soft strands. It is evident that so much thought was put into the details, all the way down to the gold fill ball to add more multi-elements. One could categorize a necklace like this as a statement piece but in a not so loud way. The subtle tones of the beads won't distract if paired with a summer dress. I would also take a second to check out a more exotic pick, the African Turqouise And Bone Tusk. It has a similar color scheme but a slightly bolder choice.
Not Your Average Wood Bead Bracelet
When I go shopping for new additions to my style, I look for products that evoke positive emotions and good vibes. This Gray Wood Tassel Bracelet has me envisioning a cool morning walking on the beach and seeing sun soaked logs brushed up on the shore. Gold & Gray's designer, Lily, does such a great job at capturing the essence of nature in her designs. Many of the bracelets, just like this one, even give a selection of color choices for the three tassels pictured. I'm all for a little personal touch and customization. If you are on the fence about the tassels, the wood bead bracelets are also offered with pom pom details. The brand also offers some great bead bracelets for men as well. The Men's Circles Bead And Gray Picture Jasper is a solid choice for a gift for him.
Dainty Detailed Anklets
The brand's designs are combined by both a mixture of natural minerals and sterling silver or gold. While the stones are definitely the shining factors, the silver and gold details make for some incredibly unique products, especially in the anklets. This adorable Pink Opal And Gold Flowers Anklet has tiny intricate gold floral drops. Each anklet is 8 1/4″ long with a 1 1/2″ inch chain extension. Once again, any and all of these amazing accessories work perfectly for layering. You can stock up on three favorite design, or you can also choose to mix and match for a little more of a playful look. This summer's jewelry trends have been centered around a very eclectic feel. The anklets available by Gold & Gray are super complementary to one another.
Delicate Drop Earrings
Making Gold & Gray a one stop online shop for your next favorite jewelry finds, I can't forget to mention the lovely little earrings they have available. A selection of mini hoops and stone detailed drops are all available in a variety of styles. The simplicity of these Mini Pyrite Threaders caught my eye. The thin gold threader is lightweight and another great highlight piece. I try to shop for jewelry that is versatile, especially when you are paying for quality. The 2 1/4″ length earrings are exquisite additions that I can see working in my day to day life, on vacation, or dressing up for a night out.
Gold & Gray has taken my vision of a perfect beach getaway and brought it to life through the ultimate accessory details. Classic jewelry styles have been refreshed with a splash of the ocean and the beautiful soft aquatic colors. Everyone has their own preference of minerals, and the large selection with still an intimate feel will leave no one empty handed. There's still a little over a month of summer left. I plan on soaking it all in while wearing some of these fabulous pieces, and you can too.
Don't forget to use my promo code to get 25% off anything available on Gold & Gray's store: celebritystyleguide25
Hannah Brown's Wire-Wrap Turqouise Dangle Choker is sure to sell out fast!
Most Read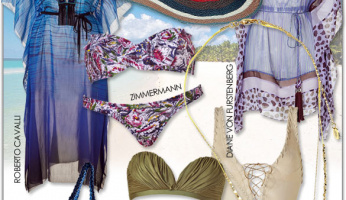 Subscribe to our Newsletter