Back-to-School: Celebrity Style Inspiration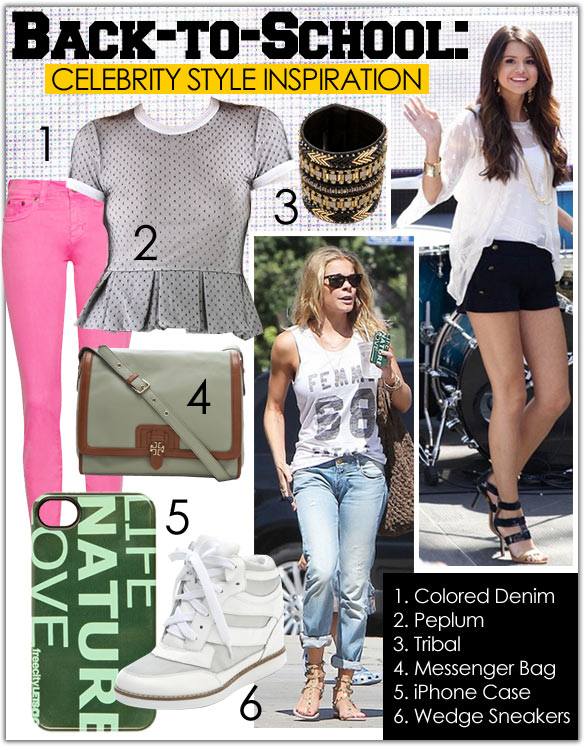 With the last weeks of summer come some of the most intense shopping days of the year. Get your back-to-school inspiration from the celebrities, whether you're actually hitting the books or just taking advantage of the end of summer sales. Take a cue from Selena Gomez, who balances her summer whites with studious black pieces, or LeAnn Rimes, who tricks out her iPhone with a fresh skin. Our favorite back-to-school pieces to capitalize on? Tribal accessories, colored denim, wedge sneakers, peplum tees and schoolgirl-inspired messenger bags.
1. Tribal: Deepa Gurnani Tribal Metallic Beaded Cuff: Blending the tribal trends with moto-metallics, this Deepa Gurnani cuff signals your cool-girl status. Pair back to a simple tee and jeans combo or a black and tan office ensemble.
2. iPhone Case: FREECITY Life Nature Love iPhone Case: Trick out your treats. Ron Herman's new line of iPhone cases have been seen on all the A list celebrities. This iPhone case is as fresh as those crisp book jackets. Impact-resistant polymer snaps over your iPhone for protection and style. As seen with LeAnn Rimes!
3. Wedge Sneakers: Jeffrey Campbell Gio Hidden Wedge Sneakers: Cool kid kicks, these Jeffery Campbell sneakers have a hidden wedge and fine metallic mesh inserts for girls with too-cool-for-school attitudes. Pair back to skinnies and a sporty knit, but add a chain strap shoulder bag for a grown-up finish.
4. Peplum: RED Valentino Peplum Tee: A mix of the girly-girl cheerleader and the fashion-forward bad girl, this tee is the best of both worlds. A sheer back and black dotted lace provide the edge, while peplum pleats lend a certain sweetness. Just add black skinnies and your favorite heels for an outfit worthy of the first day of school!
5. Colored Denim: J.Crew Toothpick Cropped Mid-rise Skinny Jeans: No back-to-school list is complete without the perfect pair of jeans. Get a fresh pair with slim, toothpick legs in your favorite hue, from hot pink to minty green. Pair with a simple tank now, and layer up with black and gray pieces for fall.
6. Messenger Bag: Tory Burch Dash Messenger Bag: Big on style, big in shape. Fit your laptop, your files, or your schoolbooks in this sturdy, studious messenger bag. Khaki green is edged in rich brown leather and sealed with the Tory Burch logo. A classic done in superb fashion, this bag works for school girls as well as it does for office girls.
Most Read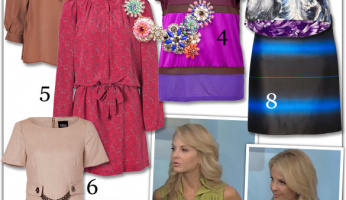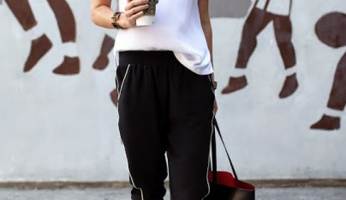 Subscribe to our Newsletter