The 5 Best Yeezy Dupes (2023 Edition!)

We need to talk about the trending Yeezy slides. These simple sandals from Kanye West are popping up everywhere, and retailers can't keep them in stock. 

As I looked out the window, pondering what I would say about these shoes, my neighbor walked to her car wearing a pair of Yeezy slides. Everywhere I go, I see someone wearing these shoes - or at least a very passable knockoff. 

Not only are they stylish and straightforward (the nude shade pairs with everything), but they are insanely comfortable. If you can get your hands on a pair of these in-demand slides (or sneakers), be prepared to pay a pretty hefty price tag. 

The good news is that the very simple design of Yeezys makes them very easy to replicate and very cheap to manufacture. 

Why Are Yeezy Slides So Expensive? 

The retail price of the Yeezy slip on is incredibly affordable and costs about as much as a basic pair of Adidas Yeezy sandals. The problem, however, is that once they hit the market, they sell out almost immediately, and resellers mark them up between 125 to well over 500 percent!

Addidas restocks their slides every two months, and they likely sell out before you can even open your browser. 

Why Are They So Popular? 

Supply and demand, baby! When supply is limited, demand skyrockets. Since it's challenging to get your hands on a pair, it makes them even more appealing.

They first made their debut in 2018, but they weren't met with much fanfare. In 2018, it was all about the sneakers and pumps. Then, something shifted. 

Enter 2020. Do you remember 2020, or have you successfully blocked it from your memory? When were we all stuck at home, leisurewear took off like a rocket ship.

We traded our jeans for sweatpants and sneakers for sandals. Suddenly, everyone wanted a pair of comfy Yeezy slides, and even online retailers couldn't keep their virtual shelves stocked. 

The Yeezy sandal stayed as we apprehensively rejoined society in the following years. And now you can't turn around without spotting these sandals around town!

Yeezy Dupes

If you can manage to get your paws on a pair of retail sandals - do it! Odds are, however, that once they drop again, they will immediately sell out. You could opt to snag a pair on eBay for ten times the retail price, or you can catch a pair of dupes and make your car payment that month. 

Since there is no branding outside the sandal, and the silhouette is simple, you can rock one of these dupes, and your friends won't be able to tell the difference!
Our top 3 picks
Our Top Picks!
1

. LitFun Platform Pillow Sandals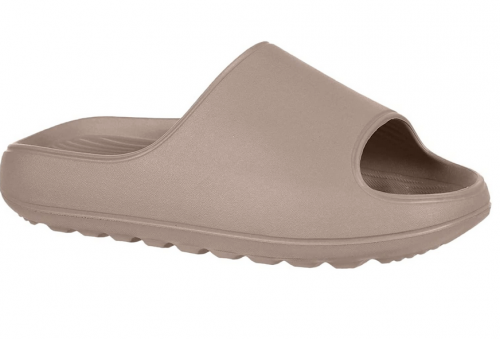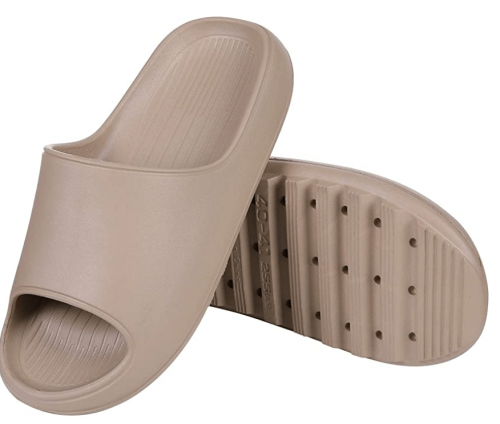 These sandals from Litfun are available on Amazon for a super affordable price point and can easily pass as the real thing!
Read more
The treads on the outsole aren't as sharp as Yeezy's, but many won't immediately recognize the difference.
Weighing in at just .3 pounds, they feel like you are walking around on light and fluffy clouds. Plus, they have added arch support and a 15-degree incline to protect those toes.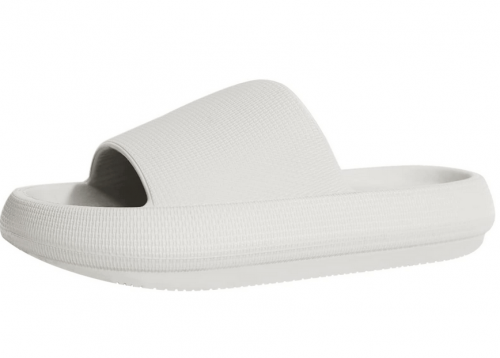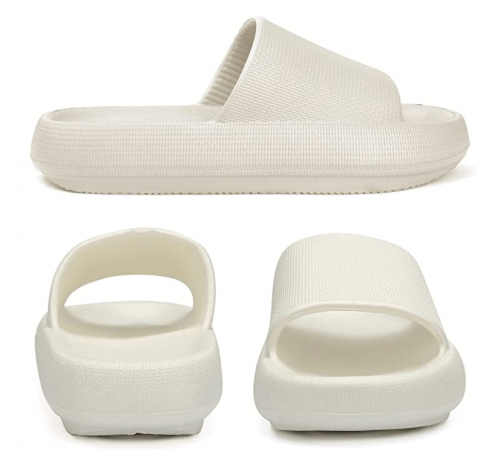 Unlike the Litfun sandals, this option from EQUICK isn't a carbon copy. However, if you love Yeezy sandals' comfort and general style and want something a little different, this is a great option.
Read more
These sandals boast a platform outsole that makes you a bit taller while also absorbing the impact of the ground under your feet for an insanely comfortable sandal.
I also love this design because it comes in a ton of bright and punchy color options that will get you noticed at the pool this summer!

3

. Joomra Pillow Slippers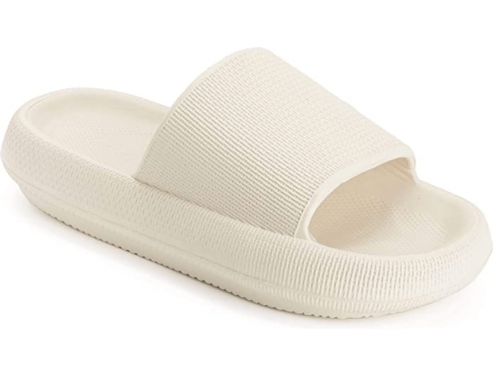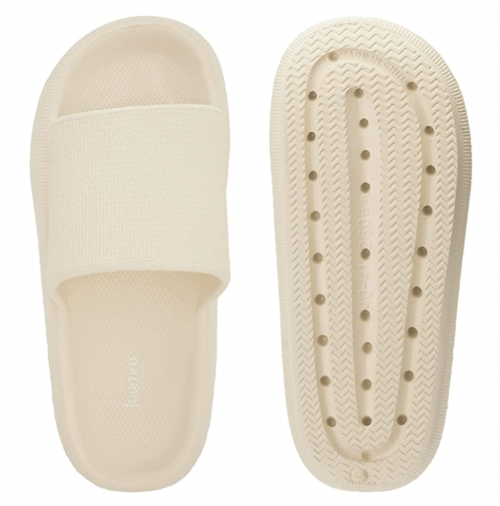 Are you looking for something with a print? This design is available on Amazon for a super affordable price.
Read more
It comes in a fun, eye-catching pattern that is bound to generate a few compliments. It's composed of high-Elastic EVA foam (much like Yeezys) with a super thick outsole and grippy treads.
It boasts a very similar overall silhouette without that painful price tag. 

4

. RUNSOON Unisex Slide Sandal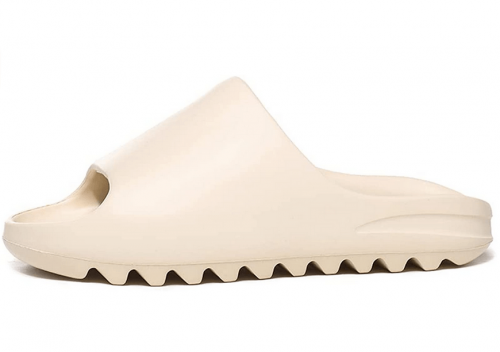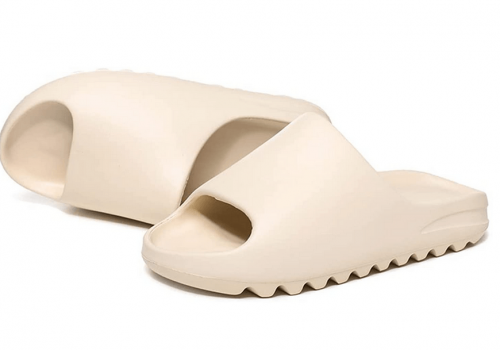 The RUNSOON sandal boasts the same nude color tones that match just about anything you own and have the same design features as Yeezy's sandals.
Read more
It's constructed from environmental-friendly EVA foam that wraps your feet in 360 degrees of plush comfort with a non-slip texture on the outsole. They're great for the pool, slumming around the house, or running errands. 
These sandals have a reputation of running a little large, so be sure to consult their sizing chart and size down if needed.

Conclusion
q:

The Verdict

a:

When compiling this list of affordable dupes, I noticed something. Online retailers are even having trouble keeping dupes in stock!

When I stumbled across a near replica, I quickly discovered that they were sold out. 

When it comes to Yeezy slides and Yeezy slide dupes, one thing is abundantly clear - you need to act fast!
Celebrity style guide Writers
Tara
Apr 21, 2022
marakas_csg
Aug 04, 2022
Subscribe to our Newsletter