4 Free People Ruby Jacket Dupes!

The Free People Ruby jacket is perfect for those days when the weather can't quite decide what it wants to do.
This warm and fuzzy fleece shacket can be worn buttoned up on those cold winter days or layered with a great
crop top
to t-shirt to shed in the heat of the day. 
If you can't snag it on sale at Nordstrom, check out some affordable Free People Ruby jacket dupes that deliver that fresh oversized shirt feels without the painful price tag!
Why is it so popular? 
This oversize fleece jacket has been seen just about everywhere due to its blend of sleek style and versatility. Who says that great style can't also be practical? 
It's a great neutral staple piece that you can dress up or dress down while preparing for any weather.
It works great in the winter as a stand-alone shirt, but you can also rock it in the springtime or summer when the nights get a little cooler. 
It comes in a handful of neutral shades that pair well with just about anything in your wardrobe, and subtle accents (like fun elbow pads) add a touch of style. 
How To Wear It
What's great about this button-down shacket is that it is somehow dressy and casual at the same time. You can pair it with a hoodie, leggings, and sneakers for running errands to stay warm and cozy. 
Pop on a crop top, jeans, and ankle boots for a more dressed-up look. It seems subtly to toe the line between a dress shirt and military surplus. No matter your style, this oversize shirt translates to most wardrobes. 
Plus, it's perfect for layering on those days when the weather is warmer in the afternoon and cooler in the evenings. 
Budget-Friendly Dupes
The only downside to the Free People Ruby jacket is that it's pretty expensive.
If you are constantly on the hunt for the day this shirt hits the sale rack (and are disappointed continuously!), check out some of these more affordable fashion finds that still give a Ruby jacket vibe. 
Our top 3 picks
Our Top Picks!
1

. Astylish Casual Coat Long Sleeve Shacket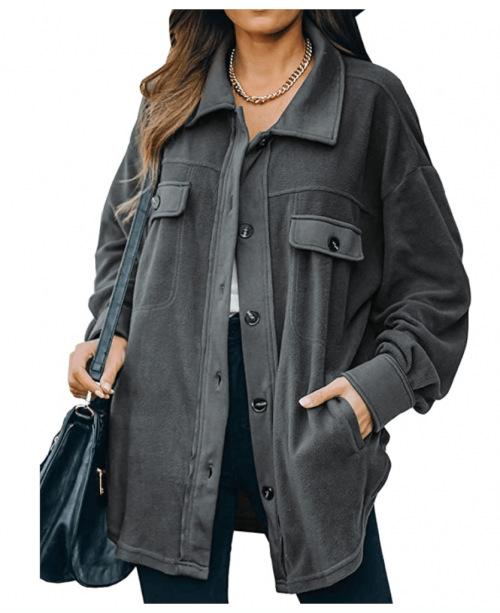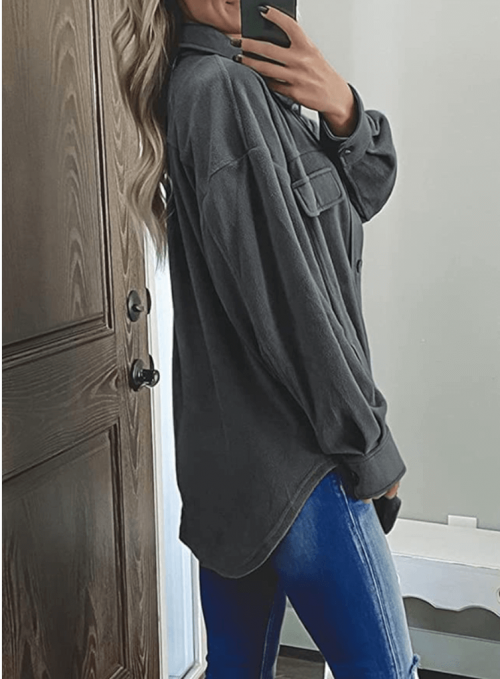 The Astylish Casual Coat is another great affordable option with many colors to match your style.
Read more
It's so affordable that you can pick up a few different colors for the same price as one Ruby jacket. Plus, it's available on Amazon for super fast and free delivery for Prime members.
It's made from a warm and cozy polyester fleece with slouchy shoulders and oversize pockets that looks almost identical to Free People's Ruby jacket.
It runs a little small, so be sure to opt for a size or two larger than average to maintain that oversized fit!

2

. BlankNYC Sherpa Shacket
If you are a sucker for a cozy, casual jacket, this option from BlankNYC is worth checking out.
Read more
It's not as versatile as the Ruby jacket, so you can't play around with dressing it up or down. This fuzzy Sherpa Shacket screams 'cozy night by the fire' and pairs better with jeans and sneakers.
It's offered in only one color option (a yummy warm caramel), which may not pair with everything in your closet.
3

. Forever 21 Fleece Button-Front Shacket
You can always count on Forever 21 for affordable and trendy styles. This option strikes the same cozy feel and striking silhouette at a more reasonable price.
Read more
This option is great because it is offered in more bright and punchy color options than the Ruby jacket, making it an excellent choice for those who love to rock bold colors.
Some found that the colors fade once washed, so take extra care when washing this jacket (steer clear of hot water and the dryer).
4

. ASOS DESIGN Washed Oversized Shacket
If you are on a tight budget, this outerwear option is one of the most affordable designs making the list.
Read more
It doesn't offer many of the same sleek accents as the Ruby jacket, but it gives those same oversized vibes. It boasts a drop shoulder for that slouchy feel and a curved hem that is still figure-flattering. 
It's only offered in one color (stone) that will pair with just about anything in your wardrobe, but I wish it were offered in just a few darker color choices. 
Celebrity style guide Writers
Tara
Apr 14, 2022
Ana
Apr 14, 2022
Subscribe to our Newsletter